Exploring the Carrier Heat Pump reveals why it's a preferred choice for efficient home climate control. Balancing performance and energy savings, this heat pump meets the diverse needs of Southern California's climate. As specialists in AC repair Santa Clarita, we provide insights into how this system can be a valuable addition to your home, ensuring comfort throughout the year."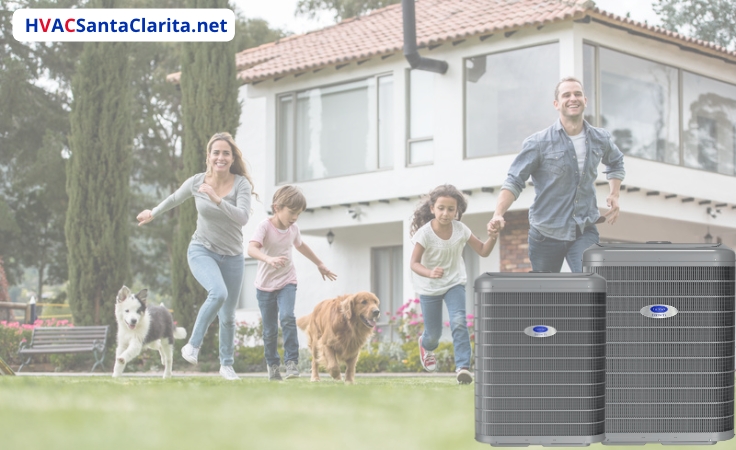 You made a great decision if you already have a Carrier heat pump.
Carrier has been a recognizable mover and shaker in the HVAC world. They have often trailed in front of many other heat pump brands.
But is this enough for you to know whether Carrier heat pumps suit you? Certainly not.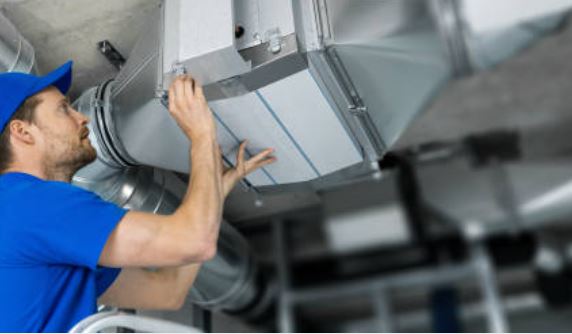 call 661-888-0248
Contact us 24/7 for HVAC services!
We look at the remarkable features, pros and cons, and why or why not buy Carrier heat pumps.
This post is also for you if you want Carrier AC service Santa Clarita.
Let's dive straight in.
What is Carrier?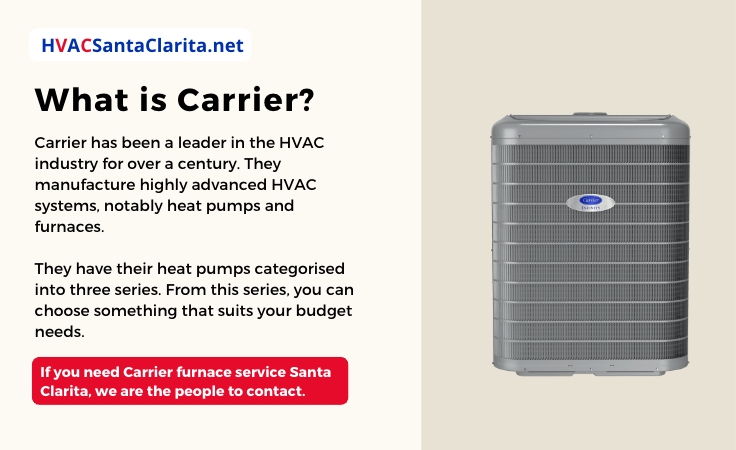 Carrier has been a leader in the HVAC industry for over a century. They manufacture highly advanced HVAC systems, notably heat pumps and furnaces. If you need Carrier furnace service Santa Clarita, we are the people to contact.
They have their heat pumps categorized into three series. You can choose something from this series that suits your budget and heating and cooling needs.
Shall we now look at the features of Carrier heat pumps?
Carrier Heat Pump Series
Carrier manufactures their heat pump into three series, namely: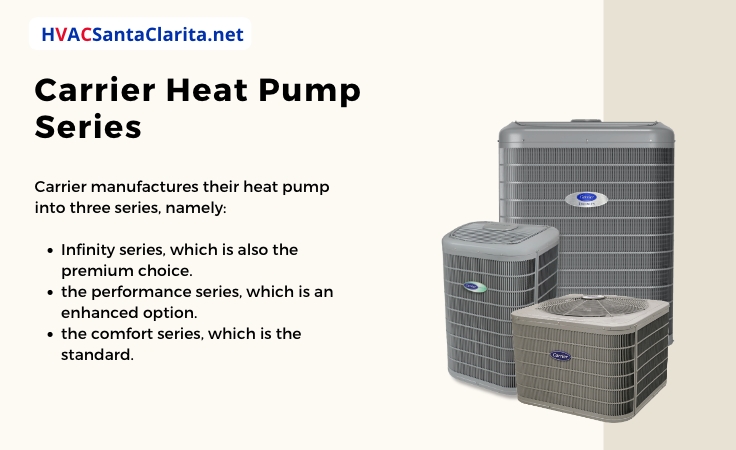 Infinity series, which is also the premium choice,
the performance series, which is an enhanced option,
the comfort series, which is the standard.
We look at these series below, and we will be mentioning them throughout the article.
Infinity Series
If you would love a top-notch performer, you should highly consider heat pumps in this series. With these, you can be sure you will reduce your heating and cooling energy efficiency.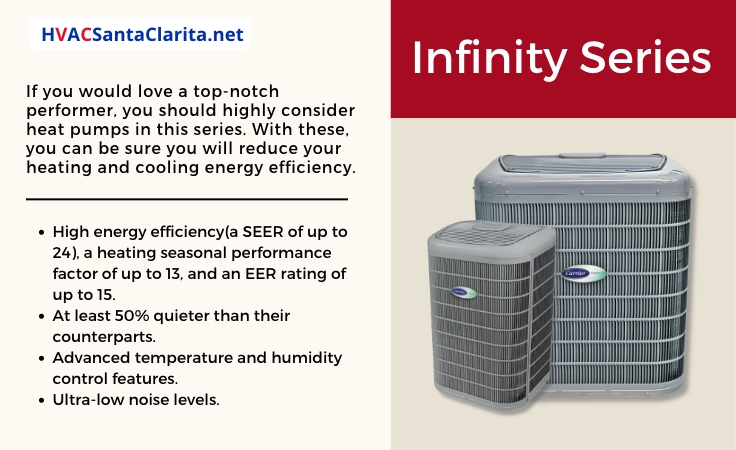 One of the Infinity Carrier owners notes that he cut down his energy expenses by an incredible 30 %. It is if you are looking for an HVAC system to help you save money.
All of the seven heat pumps in the Infinity series come with:
high energy efficiency(a SEER of up to 24), a heating seasonal performance factor of up to 13, and an EER rating of up to 15,
at least 50% quieter than their counterparts,
advanced temperature and humidity control features,
ultra-low noise levels,
aesthetically pleasing, low-profile,
either two-stage or variable stage compressors,
Sound compressor blanket.
Carrier Performance Series
If you are looking for something mid-range that still offers high flexibility and efficient performance, then you should go for one heat pump in this series.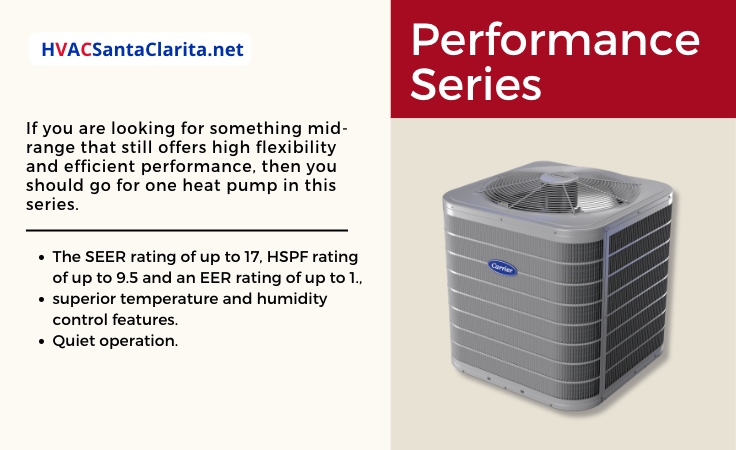 They are great performers, just like their name suggests.
They come with the following features:
The SEER rating of up to 17, HSPF rating of up to 9.5 and an EER rating of up to 13,
superior temperature and humidity control features,
Quiet operation.
Carrier Comfort Series
We typically recommend these heat pumps to people living in temperate climatic areas. The Comfort series was created with you in mind if you do not have consistent heating or air conditioning.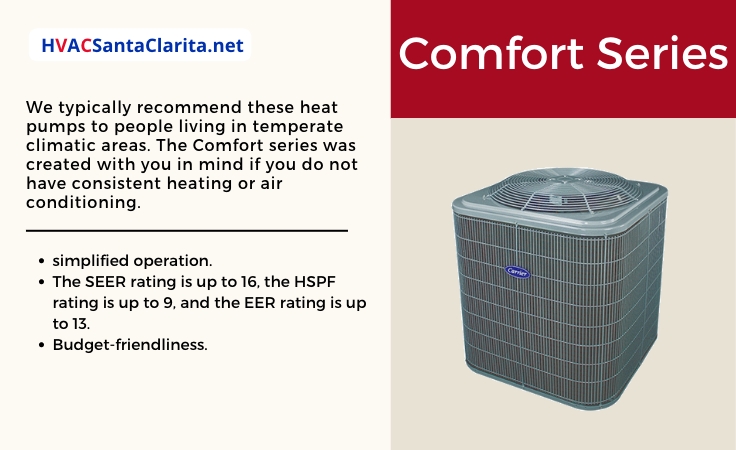 This economical option comes with the following features:
simplified operation,
The SEER rating is up to 16, the HSPF rating is up to 9, and the EER rating is up to 13.
Budget-friendliness.
What Equipment Can I Pair with the Carrier Performance 16?
When buying a heat pump, many look out for whether they can pair it with their existing heating systems.
Good for you; Carrier heat pumps are compatible with:
a single-stage Carrier air handler,
Furnaces.
Just be sure to verify with your local dealer which models of heat pumps are compatible with which models of furnaces.
These systems are also dual fuel. You can use either electricity or gas to power them.
Who is a Carrier Heat Pump a Good Fit For?
If you are a homeowner on a slim budget, but would still like to get high energy efficiency, then Carrier heat pumps are an excellent choice.
If you live in cold temperatures, this would also be an excellent option for you. As you probably already know, heat pumps lose effectiveness as soon as the winter temperatures drop. You can read more about this in the heat pump vs air conditioner guide.
However, with Carrier heat pumps, you will have adequate heat in winter, even when the temperatures drop to -10 degrees.
Thirdly, Carrier heat pumps are budget-friendly. Therefore, if you are not planning on living in your current residence for more than a decade, these heat pumps would be ideal for you.
Besides, if you plan on selling your current residence, a Carrier heat pump installation would add value to the asset.
Carrier has something designed specifically for you if you live in coastal regions because of the always high humidity. They have heat pumps designed to gracefully absorb the excess humidity while still withstanding the salty environment.
Standard Noise
Carrier heat pumps are not the quietest out there.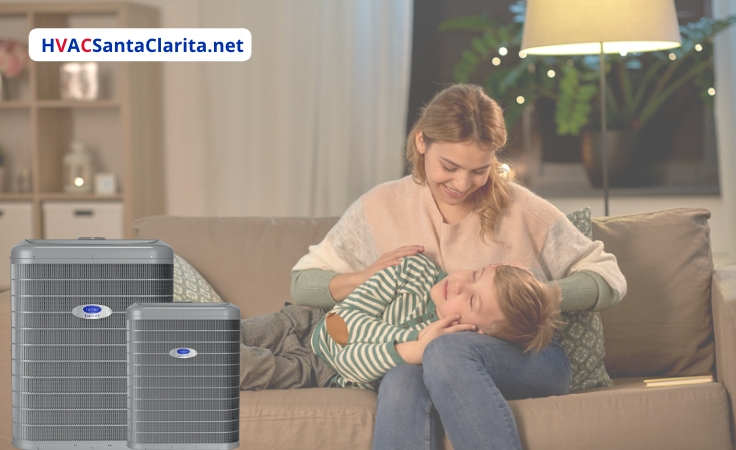 If the noise from your HVAC system is something that distracts you, you may want to look at something else other than Carrier heat pumps.
Carrier HVAC products produce a noise of 60-70 decibels(1), depending on your model. This is three times noisier than quieter models such as Mitsubishi heat pumps.
The heat pumps in this superior series come with the following noise reduction feature:
a silencer top,
a forward swept fan blade design,
split-post compressor, sound hood that minimizes vibration while still maximizing airflow
an isolator plate that absorbs vibration noises.
Top Notch Humidity and Temperature Control
While buying a heat pump, all that is in mind is typically temperature control. However, there is more to heat pumps than just that.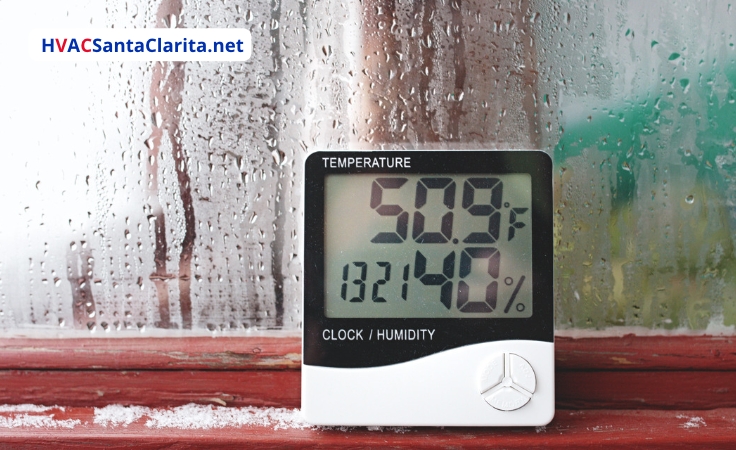 If you are from a highly humid climate, you want a great heat pump for humidity control. That is Carrier for you.
With Carrier heat pumps, you can choose a slower operating speed. These are great as the system will extract humidity from your indoor space.
Decent Warranty Terms
Carrier has pretty decent warranty coverage for their products.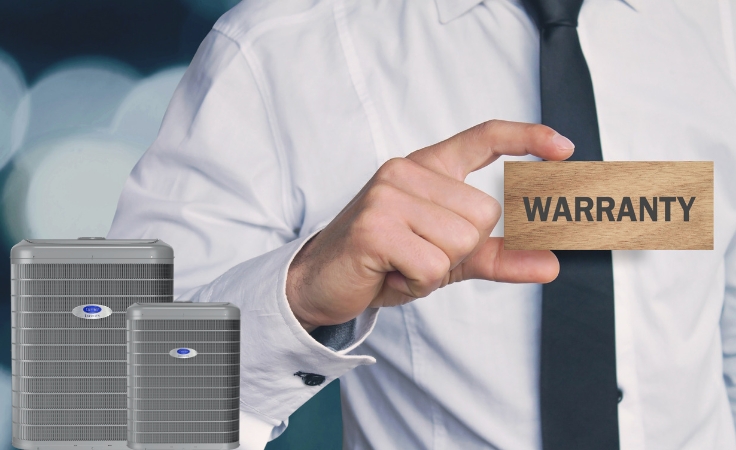 You will enjoy a ten-year warranty for all parts if you purchase their HVAC products.
However, there is a catch. You have to register your system on time. Failure to which the warranty terms would be subject to change. You are also safer having a professional install your system. It is not uncommon for homeowners to lose their warranties after messing up their systems in DIY attempts.
Feel free to contact us for heating installation Santa Clarita.
Different Sizes and Speeds for different needs
Carrier heating and cooling systems come in different sizes and compressor speeds to lower energy expenses while ensuring the most comfort.
For instance, if you do not need heavy heating and cooling, you may as well go for a Carrier single-stage heat pump.
Consider using a dual or variable speed compressor if you have ample space. This way, you can be sure to lower heating and cooling energy expenses.
Also, you want to get the correct heat pump size depending on how much air you want to cool. Luckily, Carrier heat pumps and air conditioners come in a wide range of BTUs you can select from.
You, however, have to find a local carrier to help you select the correct speed and size of your cooling and heating system.
GreenSpeed Intelligence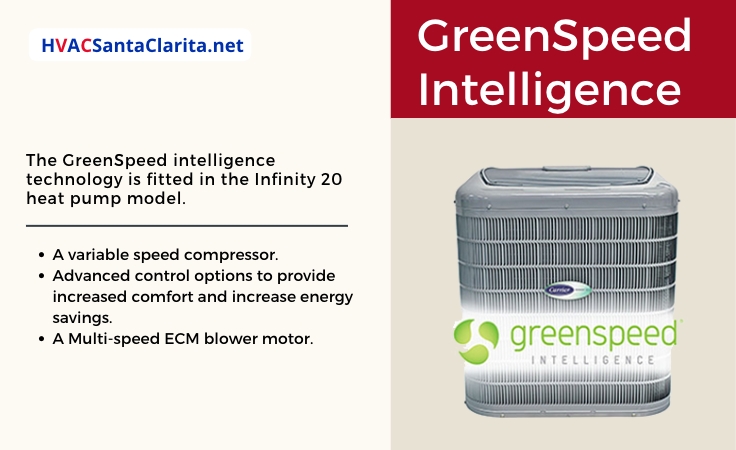 The GreenSpeed intelligence technology is fitted in the Infinity 20 heat pump model.
This system incorporates :
a variable speed compressor,
advanced control options to provide increased comfort and increase energy savings,
a Multi-speed ECM blower motor.
With these features, your Carrier heat pump can adjust the compressor, and the blower fan speeds to give you optimal heating and cool at reduced costs.
Besides, this technology allows the heat pump to intelligently track outdoor temperatures.
If you live in mild temperatures, use the GreenSpeed intelligence features well.
Hybrid Heat Options
If you want to combine two heating technologies into a single unit, the Carrier hybrid heat options may work the magic for you.
For instance, you can pair a heat pump or furnace with a single thermostat. This applies to all three series of heat pumps.
In this case, you can alternate between a heat pump and a furnace, depending on external conditions. There is no better way to maximize temperature control and coziness while saving big.
For instance, when it is the heating season, you can go with the furnace. When it is the cooling system, the heat pump could take over.
Contact your local HVAC contractor to discuss options for hybrid heating and cooling products.
Con: Carrier Dealers
After going through thousands of Carrier reviews, we concluded that Carrier does not vet their dealers keenly.
For instance, some of the clients complained of receiving heating and cooling products different from what they ordered. There are many other complaints involving repair services. Therefore, as you search for "heating servicing near me" for your Carrier system, be sure to do your due diligence.
At first glance, this may come out like the dealer's problem and not Carrier's. However, we believe Carrier could do a better job ensuring its dealers deliver precisely what their clients order.
Carrier Heat Pump Frequently Asked Questions
How long do Carrier heat pumps last?
Your Carrier heat pump system should last you approximately 15 years. However, the newer designs are built to last longer.
You, however, should know that the lifespan is primarily affected by your heat pump maintenance practices.
How much are Carrier Heat Pumps?
Residential Carrier heat pump prices range from $2000 to $4000. This will depend on the model, efficiency rating and the heat pump size you select. This is also the price for just the unit.
However, if you get professional heat pump installation services, the initial cost could be as high as $6000 to $10,000.
Do Carrier heat pumps work in cold weather?
Many heat pump brands will not work below a freezing point. This makes them not a good option for people who experience extreme winters.
However, Carrier has worked to go beyond that. Their modern heat pumps can now comfortably sustain you until -10 degrees.
Are Carriers suitable heat pumps?
Carrier heat pumps are some of the greatest in the market. If you look at different ratings of heat pumps in the market, Carrier has taken the first or second position. With its excellent performance ability, it is clear why it has been on top of the list for a long time.
Final Thoughts on Carrier Heat Pumps
Carrier heat pumps are one of the best in the market. Their performance and incredible features have ensured they remain on top of the list.
The trick is selecting the best Carrier heat pump model and size for you. If you have any doubts about this, contact HVAC Santa Clarita.
Also, feel free contacting us also for Gas Furnace repairs, gas furnace installations, gas furnace replacements and other HVAC needs.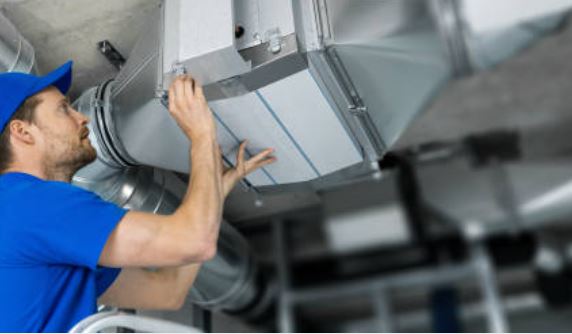 call 661-888-0248
Contact us 24/7 for HVAC services!
Our Address is
HVAC Santa Clarita
26893 Bouquet Canyon Rd
Santa Clarita CA 91350
Opening hours
Monday 8 am – 8 pm
Tuesday 8 am – 8 pm
Wednesday 8 am – 8 pm
Thursday 8 am – 8 pm
Friday 8 am – 8 pm
Saturday 8 am – 8 pm
Sunday 9 am – 5 pm
Learn more
Bryant Heat Pump >>>
Lennox Heat Pump >>>
LG Heat Pump >>>