Ductless AC is becoming one of our air conditioning services. If your house or condo doesn't have ductwork, you have a limited budget, or you just want to enhance one of your rooms, this is for you.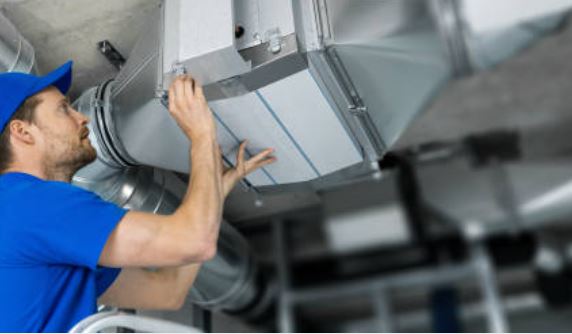 call 661-888-0248
Contact us 24/7 to schedule AC Service!
To start it off, what is ductless AC? You guessed right; it is an Air Conditioner with no ductwork. 
But why are they becoming popular? Why are homeowners now choosing Ductless Mini-Split vs Central Air? Could it be more efficient? 
Well, that is what you are just about to find out. Everything from ductless AC installation to its costs. When we say we are giving you all the details you need to know about ductless air conditioners, we mean it.
Now, shall we get right into a business? Let's go!
What is a Ductless AC?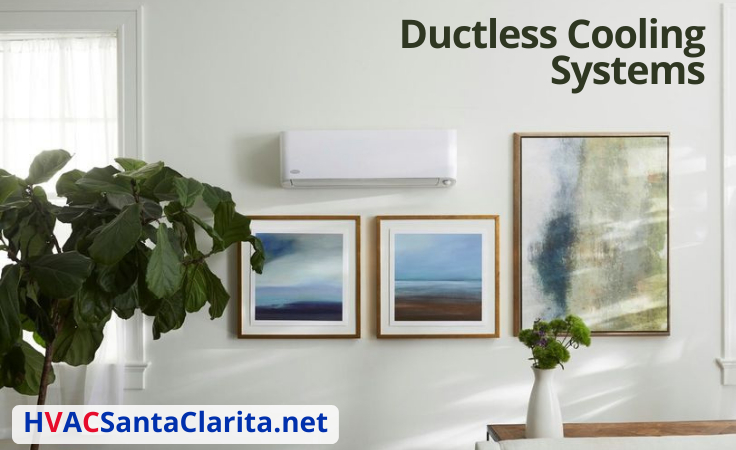 The straightforward answer would be a ductless AC is an air conditioning system with no ductwork.
Or you can call it a mini-split air conditioner. 
Typically, the ductless air conditioner system consists of indoor and outdoor units. The indoor unit is usually connected to electrical wiring and refrigerant tubing. The indoor unit, usually mounted on the wall, delivers cooled or heated air directly to the space. No ductwork is necessary for the delivery process. This scenario is called a single-zone system because it provides cooling or heating to one area. 
However, the outdoor unit is sometimes connected to up to 5 indoor units, each located in different rooms. With this, a small hole in the wall for wiring and a refrigerant line interconnects the entire system.
How do Ductless Air Conditioners Work?
A ductless air conditioner functions just like a traditional ducted system. However, the central air conditioning uses one centrally located indoor unit to deliver cool air into the entire space. It does so through a series of vents and ducts.
On the other side, a ductless indoor unit will blow air directly to your living space. The indoor unit of ductless air conditioners has a blower fan and an evaporator coil. The outdoor unit has a fan, condenser coil and a compressor.
The indoor and outdoor units are interconnected with electrical wiring and copper refrigerant tubing.
The outdoor compressor delivers chemical refrigerant via the refrigerant tubing into the indoor unit's coil. During this process, the liquid refrigerant turns into gas. With this transformation, humidity and heat are removed from your indoors.
AS the heat and humidity exit, the space is replaced by cooler and less humid air.
Now in gas form, the refrigerant cycles back to the outdoor unit, where it is reconverted to liquid form. This is the process that continues to keep your indoor cool and fresh.
Ductless Air Conditioner benefits: Are they better than Central Air Conditioning?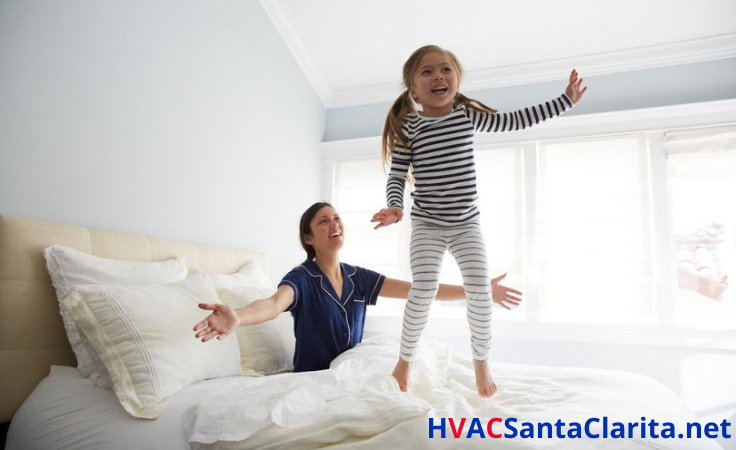 What are some of the reasons we recommend ductless air? Are they any good than central air conditioning systems?
Read the ductless air conditioning benefits below.
Appropriate for Houses with No Ductwork
Many older historic houses have no ductwork. If your house has no ductwork, we recommend that you go for a ductless mini-split system. This is because installing ductwork can be costly.
Ductless air conditioner installation can already be expensive. Therefore, starting with the installation of ductwork will escalate the costs further. This is not worth it.
Also, if you have a central air conditioning system but no ductwork in some spaces, such as the attic or garage, consider going for ductless mini-splits for these spaces. Yes, you can make a ductless extension of your central AC. If this describes your situation, contact us at HVAC Santa Clarita, and we will gladly do the ductless AC installation for you. 
Highly Customizable
You will love that ductless air conditioner allows you to customize its functioning to suit your needs. Ductless air conditioning units come in a wide variety of power capabilities. With this, you can choose something suitable for a single room or a suburban house. 
Also, you will love the zone control aspect of these ductless mini-splits. For instance, if you need to keep one area of your house cooler than the other, you can control that with individual remote controls. All mini-split indoor units are controlled separately. This is not something you enjoy with a central air conditioner.  
Energy Efficient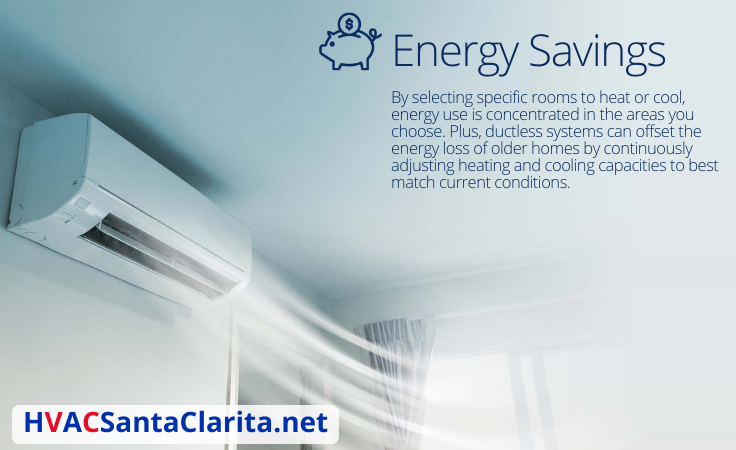 Ductless systems are way more efficient than traditional HVAC systems. First, ducted systems are not zoned. They, therefore, suffer a lot of energy loss. They typically use more energy than ductless air conditioners.
With ductless air conditioning, chances are high you will enjoy lower monthly bills.
More Allergy-friendly
If your home has people with allergic reactions, it would be best if you got ductless systems.
Since the central ACs are not zoned, they quickly spread allergens through the house. This is made even worse if the ductwork is dirty. Also, if you are not keen on general AC maintenance such as regular air filters changes, you will increase the allergic reactions.
With mini-splits, you lower allergic reactions since air are not blown all through the house but in specific zones.
Ductless Air Conditioner Cost – Factors that Affect the Entire Cost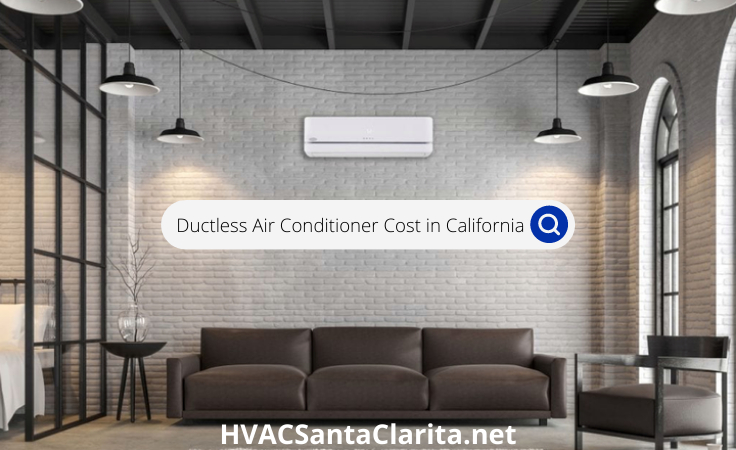 If you are looking for a ductless air conditioner, you may be wondering how much you should pay. Typically, the AC installation will cost you anything from $5,000 to $30,000. The average cost is around $15,000.
Why the vast range, though? You may ask.
This is because several factors affect the installation process and the final costs.
We discuss them in detail below.
Size Consideration
You will need more outdoor units and air handlers to cool large air spaces. This implies that you will cash out more money than someone with a smaller space.
We will show you the British Thermal Units (BTU) you need for your space. BTU is the energy needed for your AC to get rid of heat and humidity effectively.
For up to 400 sq. ft you need 9000 BTU
400- 500 sq. ft – 12000 BTU
500- 750 sq. ft – 18,000 BTU
750- 1000 sq. ft – 24,000 BTU
1000 – 1250- 30,000 BTU
1250- 1500 sq. ft – 36000 BTU
If you need more BTU for your space, you will have to pay more for equipment with that power capacity. There is equipment that can offer as high as 5400 BTU.
If you would love to get free estimates depending on your space, feel free to contact us through contacting us at HVAC Santa Clarita.
The Number of Rooms You Want to Cool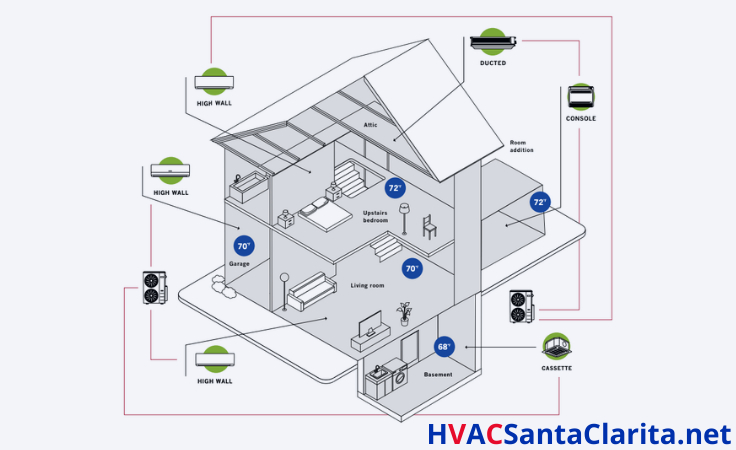 When getting a mini-split system, you need to first think of how many rooms you want to cool down. '
If it is four rooms, you will need four indoor units. More indoor units. Also, remember that it is ideal to have outdoor unit support at most five indoor units. If you go above five indoor units, it is recommended that you get an additional outdoor unit.
If you are unsure how many indoor units you need for your ductless system, feel free to call us at HVAC Santa Clarita.
The system's efficiency
Your system's efficiency will determine how much you pay. Of course, the more efficient systems will cost more than the less efficient systems. This is just for the AC installation. However, the monthly bills for an efficient ductless AC system will always be lower than that of a less efficient one. Therefore, it is on you to decide how to spread the money. 
The efficiency of ductless AC units is measured in the SEER rating. SEER stands for seasonal energy efficiency ratio.
The SEER rating is the ductless AC system cooling output divided by energy consumption.
However, if you doubt, our team of HVAC professionals will help you determine which energy-efficiency equipment suits your home. 
Are You ready to get your Ductless Air Conditioning?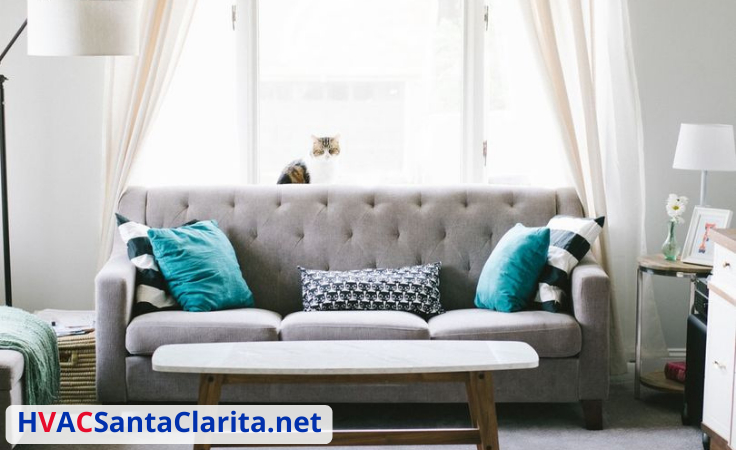 We are always disposable for your ductless air conditioning installation at HVAC Santa Clarita. 
Feel free to contact us to acquire the following information on ductless systems:
One-on-one conversations with HVAC professionals in ductless HVAC systems, 
Mini split system purchasing guides, 
Ductless systems maintenance tips, 
All cost estimations, 
Sizing considerations, 
General heating and cooling needs you will require from your mini-split systems. 
On-site viewing for installation of the cooling systems. 
This is a sure way to work with professionals and ensure everything goes right in the installation process. We will then ensure all the ductless units are well-mounted and properly functioning. 
Feel like you can do it yourself? You might be skilled enough for DIY Ductless Mini Split
Ductless AC System Frequently Asked Questions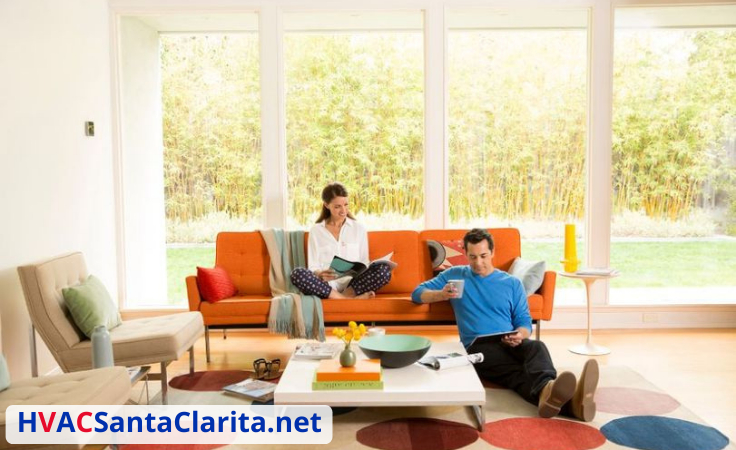 We answer a ductless air conditioner below. Hopefully, these will help give you the needed information before investing your money.
How much does ductless AC cost?
The cost of your ductless AC installation will depend on how many indoor units you get. It will also depend on the power abilities of the equipment you choose. Remember, highly efficient ACs are expensive.
However, to give you an estimation, many people spend between $10,000 and $20,000 on AC installation. 
Do ductless air conditioners work?
Yes, ductless air conditioners are super-effective. They function as well as traditional HVAC systems. You, however, will have the ability to control individual units. And, that is a plus on their functionality.
How many rooms can a ductless AC cool?
Usually, one indoor unit cools one room or zones. However, ductless units can be expensive. You sure want to know if a system can cool multiple zones. Yes, you can get what we call a multi-zone ductless outdoor unit. With this, you can connect your outdoor unit to an indoor unit that cools two zones or spaces.
How to install a Ductless Mini Split?
If you would like to save money and learn how to install a ductless mini split, you can follow instructions and try doing it yourself.
Final Thoughts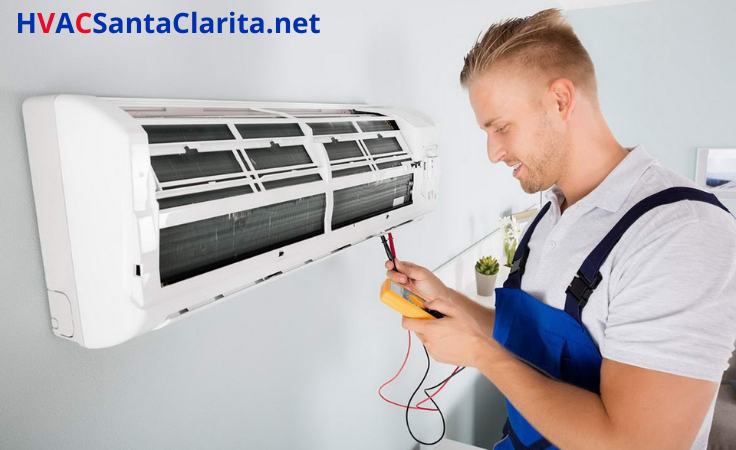 To this point, we trust that you are knowledgeable to proceed to understand your ductless air conditioner. However, we stay at your disposal if you need any complementary information or a one-on-one with a professional HVAC technician.
Contact us for your ductless AC installation, free estimates, and AC repair. You will work with professionals who have been doing it for years. We would gladly hold your hands through your journey of having a perfectly functioning ductless AC at all times.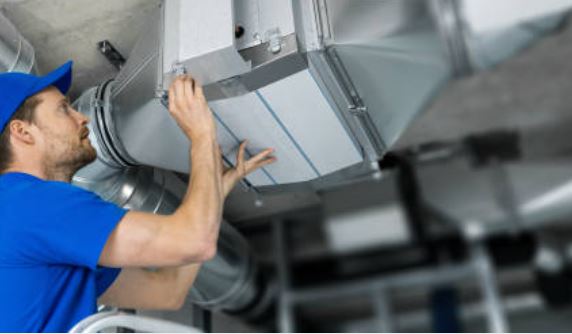 call 661-519-6264
Contact 24/7 our scheduling department today to make an appointment.
Why Us?
SEE WHAT OUR FRIENDS HAVE TO SAY
I turned my garage into my painting room. I spent hours in the garage painting with my daughters. But as we got deeper into extreme summer, it was becoming unbearably hot, and our central AC did not cover the garage. When we called HVAC Santa Clarita for advice, they recommended getting a ductless AC extended to the garage, which they did for us. The garage and our painting activities are now fun and so smooth! We are happy with the service.
– Luke, artist
We bought an old house that had neither air conditioning nor ductwork. We were to get duct networks fixed before getting SAC installed. But HVAC Santa Clarita changed our minds. They recommend getting ductless AC, and we gave it a go. We saved so much money and are so happy with our new ductless conditioner.
Frank, Car wash owner
One of my first clients left a review saying that he wished the place had air conditioning when I started my coffee shop. Saw that it was a cue to get one. But, the shop did not have ductwork. HVAC Santa Clarita was servicing my home HVAC system. When I told them about this, they installed a ductless AC in my coffee shop, and it has been a great experience with my customers. I am so happy with the service.
– Jessica, coffee shop Owner
I was looking to get AC installed, but duct networks' costs were pulling me behind. When I talked to HVAC Santa Clarita, we weighed on both conventional and ductless AC sides. I finally went with ductless air conditioner, which they installed for me. This is the most excellent investment I have made so far. I love it.
Aaron, Body Shop Manager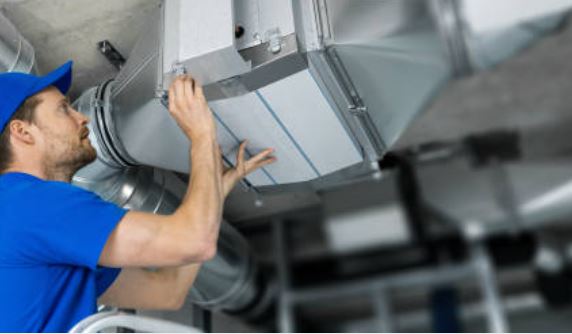 call 661-888-0248
Contact us 24/7 to schedule any of Ductless AC Service!
Our Address is
HVAC Santa Clarita
26893 Bouquet canyon rd
Santa Clarita CA 91350
Opening hours
Monday 8 am – 8 pm
Tuesday 8 am – 8 pm
Wednesday 8 am – 8 pm
Thursday 8 am – 8 pm
Friday 8 am – 8 pm
Saturday 8 am – 8 pm
Sunday 9 am – 5 pm