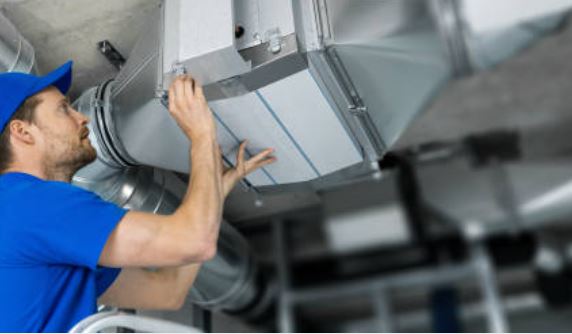 call 661-888-0248
Contact us 24/7 for duct seal services
Hello, are you looking for a duct seal service in Santa Clarita? We are glad you bumped into us.
In many homes with forced-air heating and cooling systems, duct networks are used to distribute conditioned air all through the house. However, unfortunately, due to different reasons, many homes lose approximately 20% of conditioned air through disconnected ducts, holes, cracks and leaks.
And, sometimes, the homeowners do not even know this.
With this, you will have trouble keeping your house comfortable, no matter how much you set and adjust your thermostat.
In this case, the only possible savior would be getting duct sealing. But before you go searching for "duct sealing near me," allow us to break everything down for you.
Shall we get started?
What is Duct Sealing?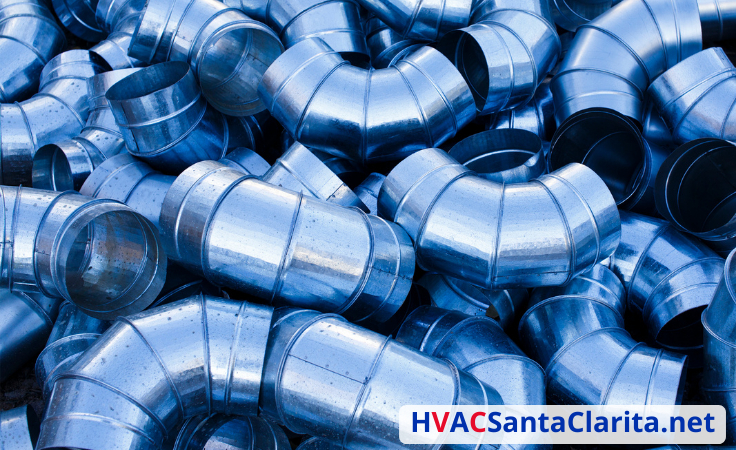 Duct sealing is a process to prevent air loss from the air duct system. It, therefore, involves eliminating any loose connections, cracks and holes on your air duct system.
Air ducts are designed to be air-tight to prevent any air leakage. However, it is expected that deterioration will occur after wear and tear. Also, the ducts supply forced air around your house. And if they work all year long, it is expected that they will develop holes and cracks.
In such cases, air escapes and does not get to the intended destination. For this reason, your HVAC system will have to work harder to cover the deficit that was lost. And this means one thing, more energy is used.
Always ensure that your air ducts are well sealed to avoid such problems.
What Does Air Duct Sealing Process Involve?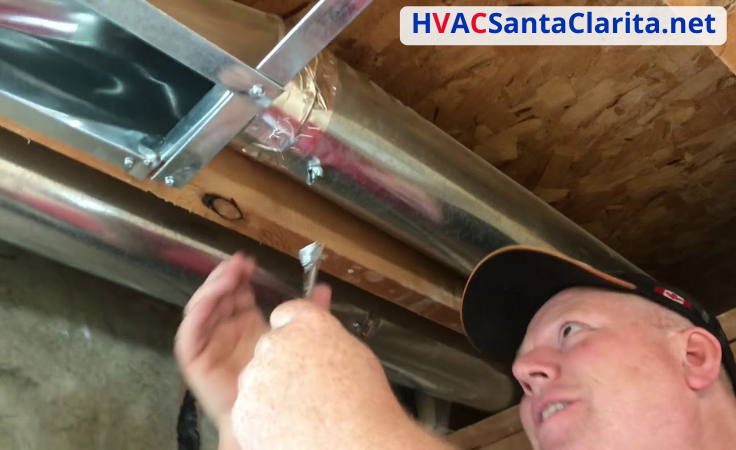 When you contact us at HVAC Santa Clarita for duct sealing, we will follow the following process:
Licensed HVAC professionals will come on-site and access the entire system.
Then, we will indicate trouble spots such as holes, disconnections and cracks.
Next, we will find the most appropriate duct sealing method for your air ducts, depending on the material used in making your duct.
Finally, we will give you a report on how to spot poorly connected ducts and other troubles on your duct system. We want you to know when to call for air duct sealing services.
Why is Duct Seal Important

Your ductwork system may work well after installation. However, at some point, it will just need professional duct sealing. With the air pressure it handles, it is inevitable.
Here is why you should get air duct sealing:
Regain energy efficiency: the air loss from the duct strains the heating and cooling system. It has to work overtime to cover up the lost air to achieve the desired temperature set on the thermostat. This will result in higher energy bills. Therefore, to regain energy efficiency, you need to seal the holes and gaps in the ductwork.
Improved air quality: Air will slip in and out of the network with a faulty duct network. The air getting in can have pollutants, odor, moisture and contaminants. These can cancel all the air conditioning done by your heating and cooling system. And the final result will be indoor air pollution.
Less wear and tear on your system: If you do not solve the issue on your stressed duct network, the wear and tear will advance and eventually get out of hand. And in such a case, you will need air duct replacement, which is more expensive than duct sealing. Therefore, if you notice any problems or leaks, get duct sealing services as soon as you can.
Improve comfort in your home: When air leaks from the ductwork, there will be a drop in pressure in the HVAC system. This, in turn, will cause reduced airflow from the air vents, which will eventually undermine the comfort in your house.
Tell-tale Signs you Need Duct Seal Services.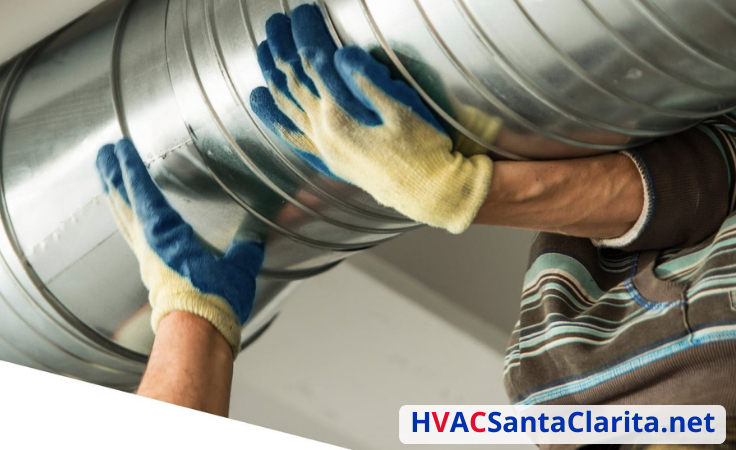 How will you know you need duct sealing services? How will you know it is time to contact HVAC Santa Clarita to come to fix the air leakage from your duct network?
When you notice any of these, chances are high you need duct sealing:
An unexplained rise in monthly electricity bills,
Poor air quality resulting in dusty surfaces, sneezing and triggered allergies,
Moldy and musty odors,
Rattling noise for the HVAC equipment,
Decreased comfort in the house.
Duct Seal Methods: How do we solve the Issues on Ductwork System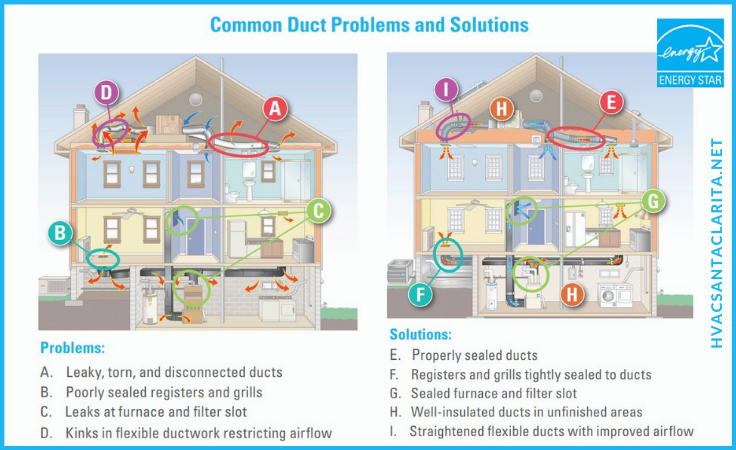 There are different methods we seal the gaps, wear and tear on your ductwork. However, the first step will be to establish where the trouble is. Establishing where precisely the problem is is not always as straightforward. This is why you need to have experienced technicians do it for you.
HVAC Santa Clarita experienced team members have been doing this for decades and will have no problem identifying the trouble spots.
After that, there are several solutions(1) we will administer to solve the gaps, wear and tear on your system. We discuss them in detail below.
Duct Sealing Tape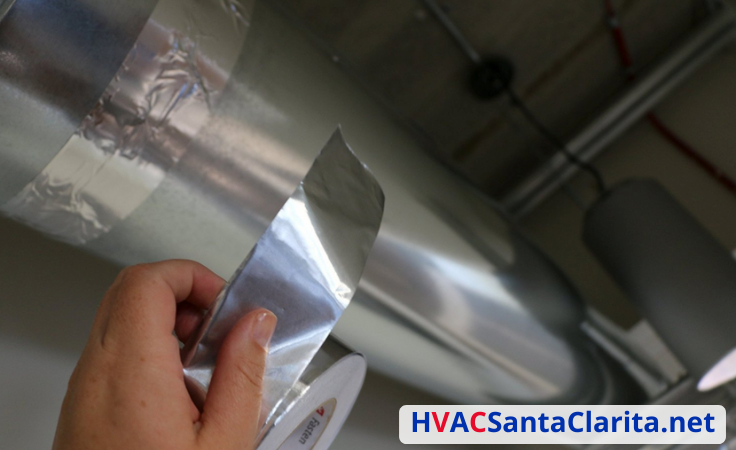 Using duct sealing tape is one of the ways to seal a leaky air duct. It is vital to use HVAC-specific duct sealing tape, also known as aluminum foil tape.
This sealing method is the cheapest, less time-consuming and preferred when the mess is not huge. However, it is not long-lasting, and you may need to call for duct sealing services sooner.
Also, if your duct network often gets dirty with dust and oil, duct tape is likely to fail
Mastic Duct Sealant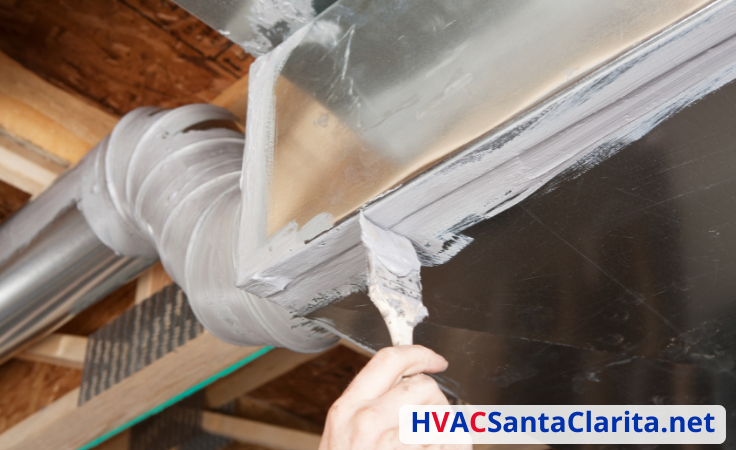 This is a gooey substance that will harden some time after an HVAC professional applies it on your HVAC ductwork.
Using water-based mastic duct sealant is best as it dries up faster and lasts longer. An HVAC professional will first determine the size of your leak. And depending on that, they mix the mastic duct sealant with another product such as fiberglass mesh tape.
This is why it is necessary to have a professional perform this process for you.
Aeroseal Duct Sealant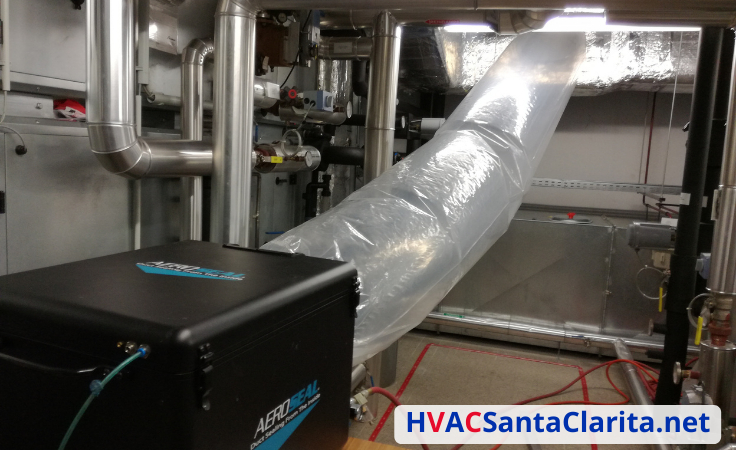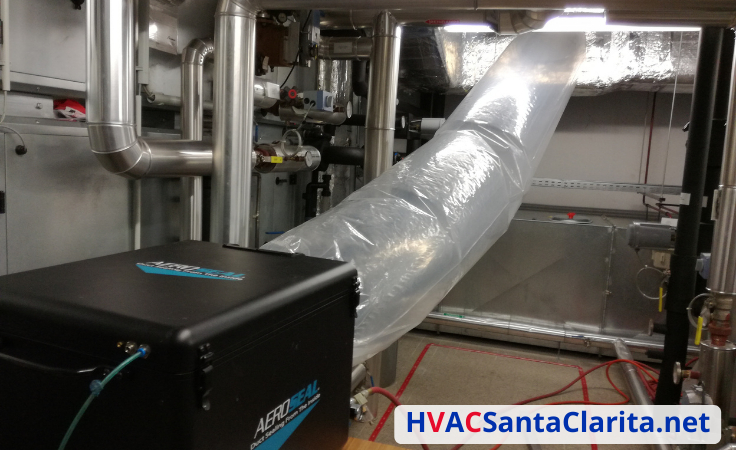 Mastic duct sealant and tape are often used in areas that are easy to access. However, the aerosol duct sealing is used for difficult-to-access areas such as ceilings. This will help fill up the holes and cracks on areas that cannot be accessed easily.
This process involves a technician blocking the vents and the registers to build up the air pressure. After that, computer technology identifies all cracks, holes and loose connections.
The next step will involve the technician determining how much leakage occurs. After this is done, the distribution of mastic sealant throughout the duct is done. This technology is precise to ensure the precise amount of sealant is used on areas with issues.
Once this process is done, the HVAC professional will measure the performance of your ductwork. This is to compare the before and after results. And the goal is to ensure that there is no leakage at all.
We offer Duct Sealing Service in Santa Clarita and Nearby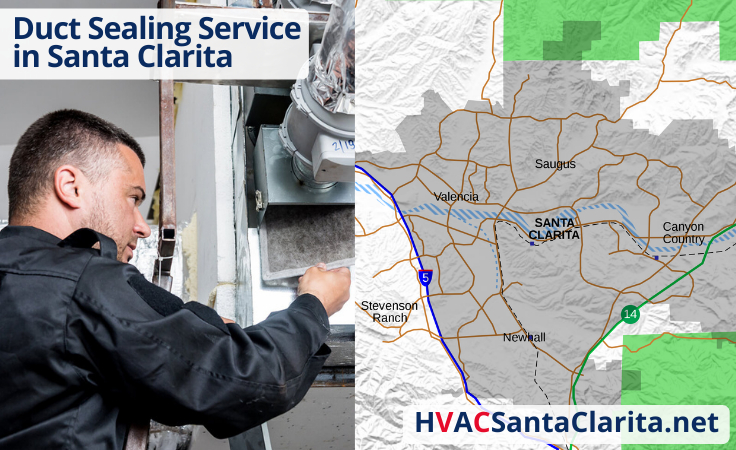 If you are looking for duct seal services in the following areas, HVAC Santa Clarita has got you covered:
Santa Clarita Valley area,
San Fernando Valley,
Canyon Country,
Ventura County.
With our duct sealing services, we assure you:
No gaps will be left behind as we technologically inspect for holes, cracks and loose connections.
Will receive a before and after report to show that the gaps are fully covered,
get proper duct sealing that will last longer.
Feel free to contact us for expert advice and free estimates and quotations. We also offer duct repair services and duct replacement and cleaning services in Santa Clarita.
Sealing Ductwork Services Frequently Asked Questions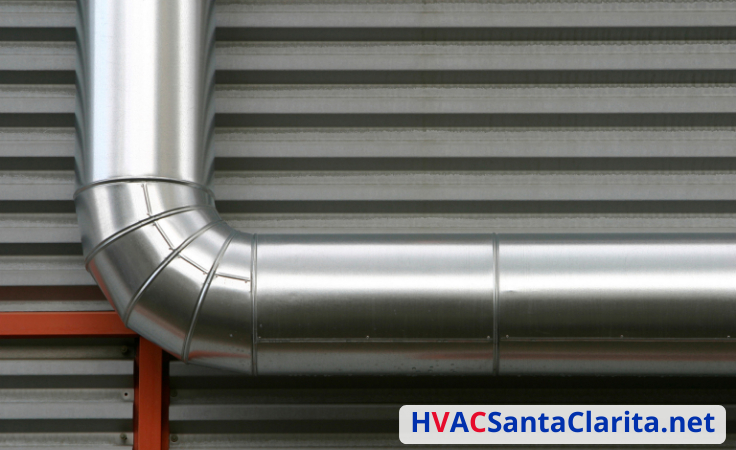 We answer some sealing FAQs below. We hope that this knowledge helps you understand how duct sealing can improve your indoor air quality and support general air conditioning.
What is duct sealing?
This is the process of covering gaps such as holes, cracks and loose connections on your duct network. The goal of this is to prevent air leakage from the duct network.
How much does it cost to seal leaky ductwork?
The average professionally sealing ductwork would be $1000-$4000. This will depend majorly on the size of the house and the duct network.
Is duct sealing worth it?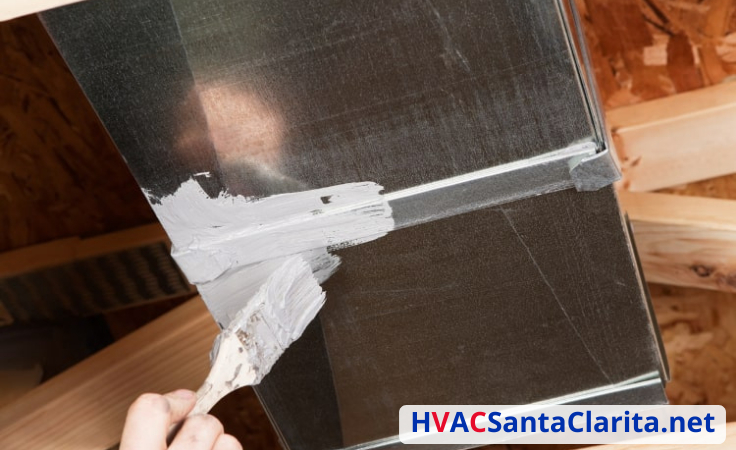 It is 100% worth it as it will first improve the air quality in your house. It will also save you lots and lots of money on energy bills. Failure to seal your ducts in a bid to save on the service money will amount to more losses. This is because the air loss from the system will keep digging deeper and deeper into your pocket.
How do I stop my ductwork system from leaking?
By getting professional duct sealing. This will help cover all the holes, cracks and loose connections.
Can I sell my ductwork?
You certainly can. However, we recommend professional duct sealing services as we have specialized equipment to detect even minute holes and cracks. And, we have equipment, knowledge and experience that lets us professionally fill any gaps. Finally, we will access before and after results to ensure that no gaps are left behind.
How Long Does Duct Sealant take to dry?
They typically take 12-24 hours to dry. If you are planning on insulating it, we recommend that you wait for 24 hours. However, you can turn on the fan before 24 hours with a regular low-pressure residential duct system.
Final Thoughts on Duct Seal
Time to wrap it for our duct seal service. Our goal is to let you know when to call for duct sealing services. This is because the negligence of your air ducts will result in poor indoor air quality and a spike in your energy bills. Yes, faulty air ducts can increase your energy bills by over 20%(2).
If you notice that something is amiss, feel free to write us a message or call us. There is always an HVAC technician that will take you through the process and organize how to get the ducts sealed. We would be glad to help you have top-quality air in your house.
Why Us?
SEE WHAT OUR FRIENDS HAVE TO SAY
Our electricity bills were ridiculous for the past two summers and winters. There was a problem, and we're not moving ahead with it. We figured the victim was the HVAC system. We dialed our service provider HVAC Santa Clarita, and they figured out we needed a duct seal. They did, and the bills last summer and this winter are back to normal. It is a service I recommend to everyone.
– Helen, Interior Designer
We had trouble achieving the set temperatures in the rooms. At first, we thought the problem was with the thermostat, but it turned out the thermostat was perfectly working. We found HVAC Santa Clarita online. They came on-site and gave us a duct seal. We achieved the results we wanted the same day!
– Dennis, Speech Therapist
Our house had several cold spots while the room close to the HVAC system remained unbearably hot. We called for duct seal service as it was clear that we were losing treated air. The cold spots are now a thing of the past. We appreciate the good service HVAC Santa Clarita!
– Alvin, Pilates Instructor
Our living area had been stuffy for a few weeks. We did everything, but the air was not just it. When she visited one evening, I complained about this to a neighbor, and she recommended HVAC Santa Clarita. Long story short, we got our HVAC duct sealing, and the air here feels like the fresh breeze from the ocean!
– Vanessa, nurse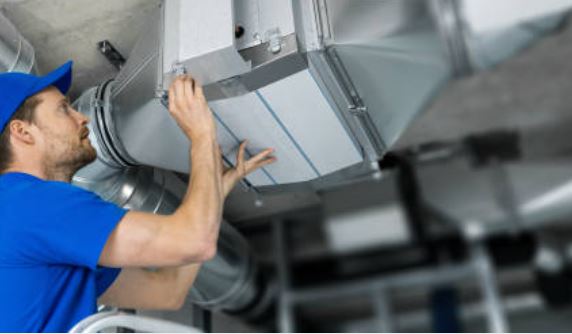 call 661-888-0248
Contact us 24/7 for duct seal services
Sources
https://www.energystar.gov/campaign/heating_cooling/duct_sealing
https://www.energy.gov/energysaver/minimizing-energy-losses-ducts