Timely Emergency AC Repair is super important. We take each situation seriously, whether it's air conditioning or heating. Your quality of life is the most important factor ,so that we will pick up the phone any time of the day or evening to provide you this, probably the most important of all air conditioning services.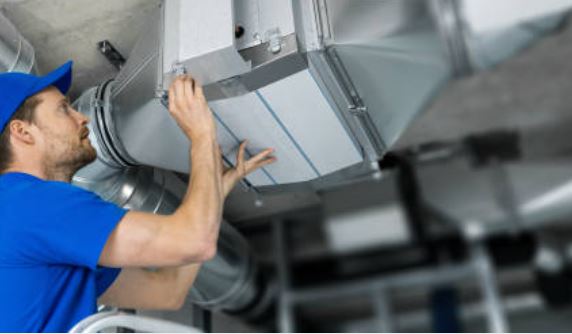 call 661-888-0248
Contact us 24/7 to schedule your Emergency Repair now!
Are you looking for emergency AC repair in Santa Clarita? 
As homeowners, we are told to go strong on AC maintenance to keep our air conditioning running. This is true, and we encourage you to go for it.
However, just like any machine, your AC system will need repairs. Sometimes, it will be kind enough to give you a notice. You will notice something amiss and have time to call for HVAC repair. However, this will not always be the situation. Sometimes, your air conditioning will break down. No notice, no time to try and fix something.
So, what do you need in this case? Emergency air conditioning repair. Yes, you need to dial for one. In such a case, it would help if you got your emergency HVAC repaired in 24 hours. You need to learn how to reset an air conditioner unit in case your problem is not an emergency but a simple glitch.
But, many people are not well versed with emergency air conditioner repairs until their air conditioning shuts down. How do you know it is an emergency? What do you do?
Find all emergency HVAC repair details below.
When Should a broken AC Unit be an Emergency?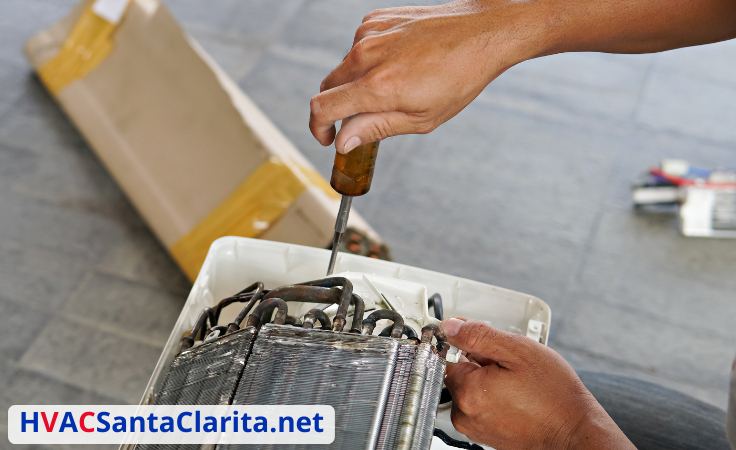 Yes, your AC may break down, but it may not be an emergency.
However, sometimes, you may need to dial emergency services. So, how do you know whether it is an emergency or not? Contact emergency air conditioning repair immediately if the breakdown threatens your health or causes discomfort. 
If any of these describes your AC situation, you need an emergency air conditioning repair:
when your air conditioning breaks down on hot summer days, above 90 degrees, 
when there are people in the household sensitive to heat, such as children, older adults, or immune-comprised people, 
If your AC is leaking and causing water damage, 
Your AC unit has electrical problems such as frequently tripping the breaker, a burning electrical smell, or dimming the lights when you turn it on.
When is AC repair Considered a Non-emergency?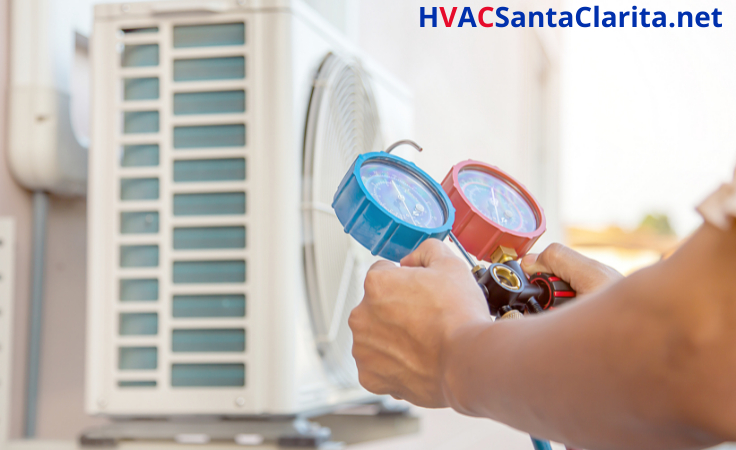 There is no need to dial an emergency air conditioning repair if your situation is any of these:
The weather outside is chilly, and there is not a huge difference,
the air filters are dirty and need replacement,
The money you are spending on AC repair is becoming too much if you need to explore more efficient options such as replacements than repairs.
You can schedule to receive air conditioning services with these, but they are not usually considered emergencies.
How can AC Maintenance help Prevent Emergencies?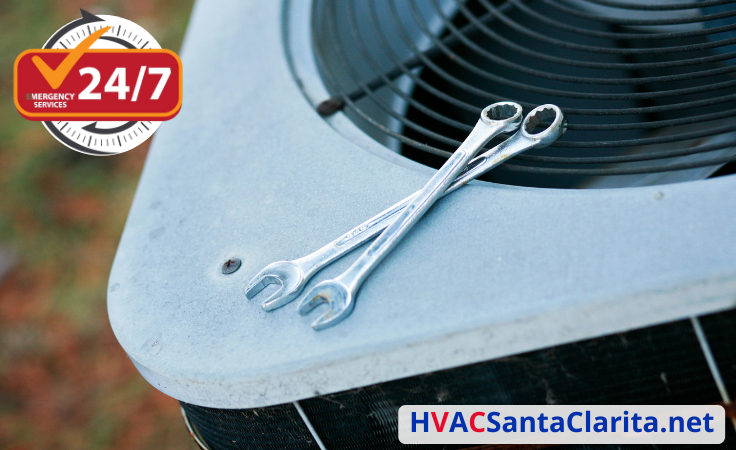 Good AC maintenance practices can significantly lower the chances of emergencies. A routine air conditioning checkup involves inspecting your HVAC equipment for any brewing problems. 
Here are some of the things your routine air condition services and maintenance should entail:
Inspecting the compressor
Checking the condenser
replacing the air filter
Vacuuming out the air ducts
Examining the thermostat
lubricating the fan blades and belt
Feel free to contact us today for the a
What are The Common AC Emergencies?

Many people know that unexpected breakdowns can cause a lot of discomfort in your house. The house can turn from the home people loved to hell in just a matter of hours. 
What people don't know is what this exact problem is. What could have caused that unexpected breakdown? And how is the HVAC expert going to handle it?
Leaking Refrigerant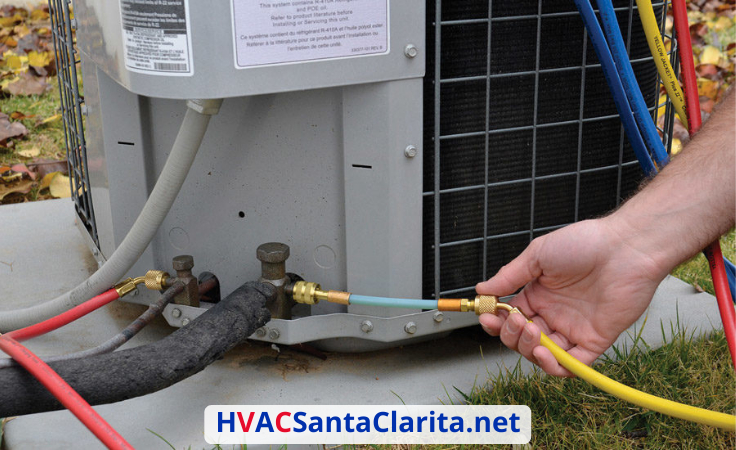 If you notice refrigerant leaks in the coolant lines of your air conditioner, that is a big problem. Your AC system will struggle to keep up with the heat outdoors with low refrigerant levels. 
First, this means that your AC will be overworking. And with this, a breakdown may hit you at any time. Also, this means that electricity bills are shooting high rapidly. Contact us for an emergency air conditioning repair service in Santa Clarita whenever you realize a refrigerant leak. We will help you fix things before you end up with a broken-down Ac on the hottest day. 
Electrical Problems
Some of the electrical problems you may experience with your AC system include:
equipment that keeps tripping breaker,
a burning smell from the HVAC,
a total breakdown.
Any electrical problem with your HVAC is an emergency. With these, you need to contact a technician to solve the problem before it escalates.
As you know, electrical issues could lead to potentially more significant problems. You, therefore, need to have a technician fix the wires and the issue on-site as soon as possible. Also, such issues emerge from problems such as an overloaded capacitor or burned-out wires. You need HVAC technicians on-site to help solve this. 
And, our team will give you an outstanding service at that. Ignoring these issues or attempting to fix them yourself could
Frozen Coils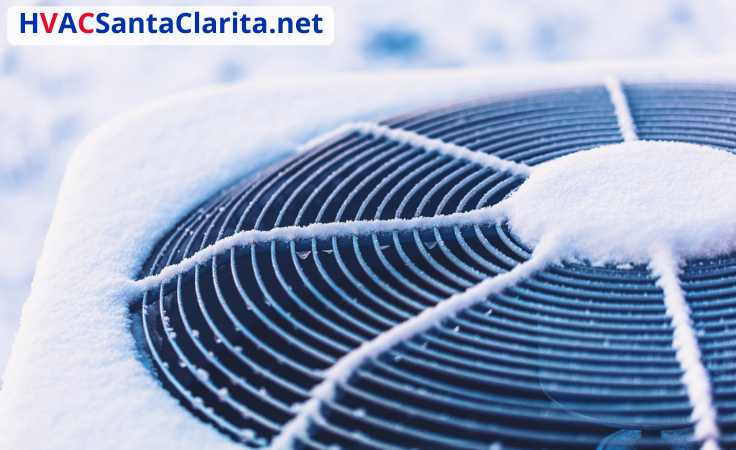 When your AC unit drops below freezing, it will likely cause condensation and freeze moisture in the air around it. And this will result in coils enclosed in ice. If you continue using your HVAC equipment in this situation, you will seriously damage it. 
Frozen coils occur due to many reasons, such as:
setting your temperature too low,
running it when it is already too chilly outside,
neglecting the cleaning of your intake filter.
 If you notice the AC temperatures dropping low, you need to act fast before getting stranded. 
Clogged Drains
Your AC eliminates moisture from your air through a drain line. The moisture is then redirected from a pan down to a drain. You can see how vital the drain line and drain system are. 
If this system is faulty, water leaks will destroy your ceilings, furnishings, and walls. And on the worst side, this can cause the growth of molds. You do not want to buy any time if it is a matter that involves water damage and mold growth. When you notice any leaks, contact us in HVAC Santa Clarita, and we will fix that promptly. 
Fan Malfunction
Your air conditioning unit has a fan that blows air over the evaporator coils, which eventually cools your home. Another fan blows over the outdoor system. This second fan helps eject heat outdoors. If any of these fans malfunction, you will have heating and air conditioning problems. If its colder time you would need to look for heating repair nearby Santa Clarita.
Many times, the fans break due to:
lack of lubrication,
motor problems,
worn-out belts,
debris accumulation in the fan,
You may end up with a broken-down air conditioner at any time with a fan malfunction. Call for an emergency AC repair as soon as you notice a fan problem. 
What to Look for in an Emergency Air Conditioning Repair Company

When looking for heating and cooling systems repair service, you want to get nothing but perfection. This is more applicable, especially if you are having an emergency.
So, what do you look for?
First, at HVAC Santa Clarita, we advise our readers not to wait for breakdowns to look for emergency air conditioning repair. Yes, get in touch with HVAC technicians when everything is well. Be in contact with technicians from AC installation.
Then, any company you choose should work seven days a week, 365 days a year. Every day, including holidays. Yes, your AC may be unkind to break down on weekends or holidays when nobody is working. What do you do on such occasions? See why it is safe to trust a company that works daily. 
That is one reason you should choose HVAC Santa Clarita. With us, you will also enjoy:
rapid responses for emergency repairs,
free consultation and price estimates,
HVAC system maintenance tips from technicians,
working with licensed and experienced HVAC technicians,
100% customer satisfaction.
Contact us today for AC repair nearby Santa Clarita, even when everything seems right. You don't know when the system decides to disappoint you. 
Emergency AC Repair Frequently Asked Questions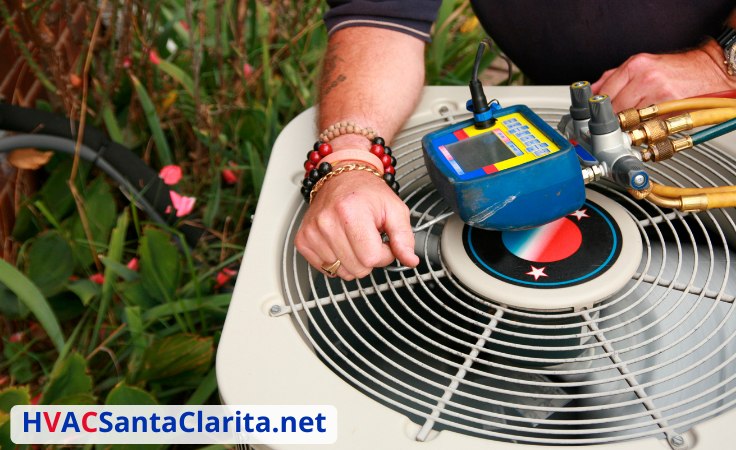 We answer emergency AC repair services below. This will help you get quality service whenever your system gets a problem.
What is considered an emergency for AC?
It is an emergency if your HVAC malfunctioning or breakdown poses any health threat or discomfort to anyone in the household. Many think of it as an emergency when the AC entirely breaks down. However, a simple malfunction can cause an emergency; watch out. 
However, over 90 degrees outside, a broken or malfunctioning air conditioner calls for emergency repair.
How much is an emergency AC call?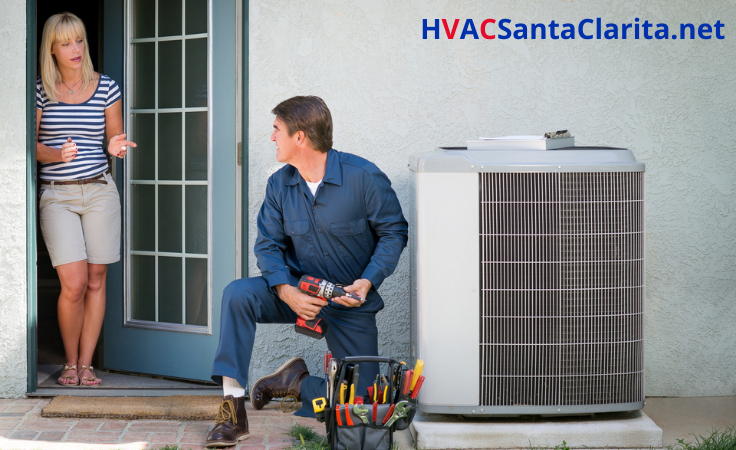 Many emergency repairs cost a little more, usually on very short notice. However, how much you pay will significantly depend on the problem. Many times, you will pay up to $200 hourly.
What Does an Emergency AC Repair Service Involve?
What the entire process involves will depend on what the problem is. However, the process will always start with troubleshooting and diagnosis. This can be both on-call or on-site. The next step would involve on-site fixing, which would involve fixing the faulty parts.
Finally, you will receive tips to maintain and prevent future breakdowns.
Final Thoughts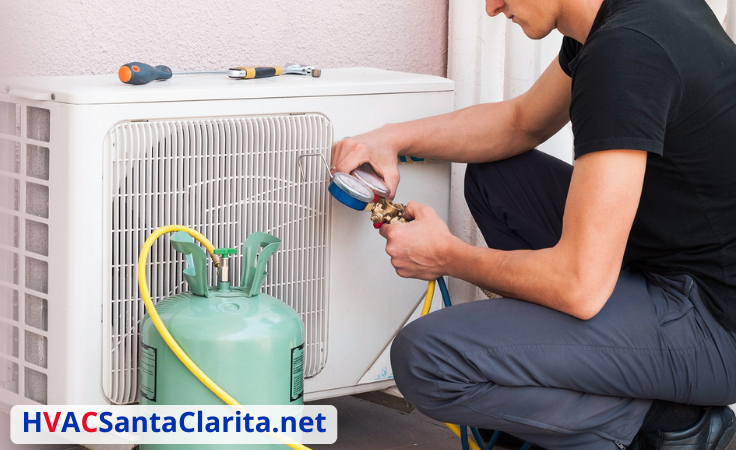 There we go for emergency AC repair in Santa Clarita. HVAC malfunctions and breakdowns can leave you stranded in very odd hours. And getting an appointment with an HVAC technician can take some days. You do not want to wait days if it poses health issues and discomfort.
Contact us today to contact HVAC technicians, who will gladly step in whenever you need emergency HVAC repairs. We assure you nothing less than timely and 100% satisfaction.
Sources
https://www.onehourheatandair.com/services/emergency-hvac-services/
https://www.ars.com/emergency-hvac-services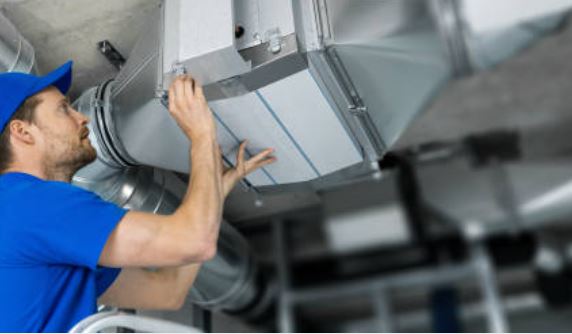 call 661-519-6264
Contact 24/7 our scheduling department today to make an appointment.
text goes here
Why Us?
SEE WHAT OUR FRIENDS HAVE TO SAY
One weekend, there was a burning smell coming from my AC unit. I could not wait as I knew that was an electric hazard and could be dangerous to my family. It was hectic to get a quick repair service that weekend, and we could not just sit back and wait until Monday, and the smell was even getting stronger. We searched for an HVAC company that worked 365 days, and we met HVAC Santa Clarita. The wiring issue on our AC was fixed on Saturday, just two hours after we got in touch with them!
– Helen, Wedding Planner
My AC broke down, and not so long after, my asthmatic daughter started having breathing problems. We had to fix that immediately. When we explained our emergency to HVAC Santa Clarita, they immediately sent us technicians. They solved the issues almost an hour later. We are so glad we got an HVAC company to contact whenever we need prompt AC repair services.
– Chris, High School Teacher
My AC stopped working suddenly for the Easter weekend. It did not show any signs that led to the breakdown. It was a nightmare as our house would be packed during Easter. We used HVAC Santa Clarita for other AC services, but we did not know whether they would be offering emergency AC repair, especially when many other businesses were closed. Lucky for us, we quickly got an appointment with them over the holidays! And, we were impressed by the incredible and prompt service.
– Michael, General Contractor
My air conditioner was running but not cooling down the house (imagine, it was middle of August). It was getting hot and unbearable for us. We could not wait so long as it became too uncomfortable. And to say that the universe worked in our favor when we called HVAC Santa Clarita would be an understatement. They sent us HVAC contractors the same day, and we had our system back running in a few hours.
– Peter, Paralegal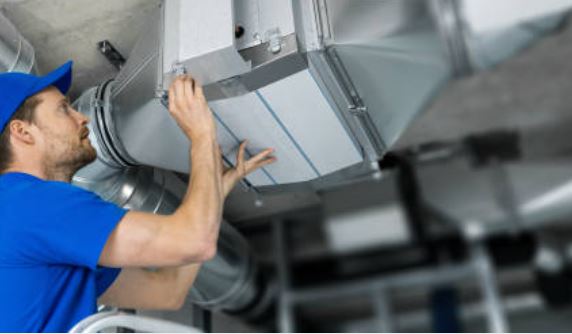 call 661-888-0248
Contact us 24/7 to schedule your Emergency Repair now!
Our Address is
HVAC Santa Clarita
26893 Bouquet canyon rd
Santa Clarita CA 91350
Opening hours
Monday 8 am – 8 pm
Tuesday 8 am – 8 pm
Wednesday 8 am – 8 pm
Thursday 8 am – 8 pm
Friday 8 am – 8 pm
Saturday 8 am – 8 pm
Sunday 9 am – 5 pm