One thing about a Lennox heat pump is its outstanding performance.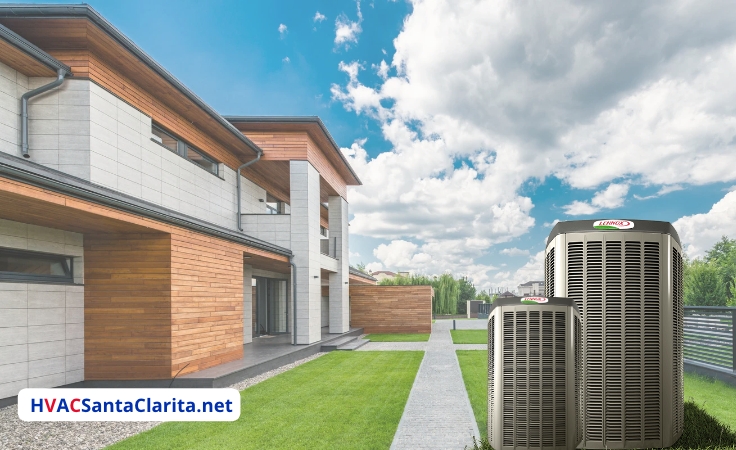 They rank high in the charts if you have been perusing central air conditioner brands. So when you tried everything you could about gas furnace repairs, its time to think about switching to heat pumps….And Lennox is one of the greatest ones.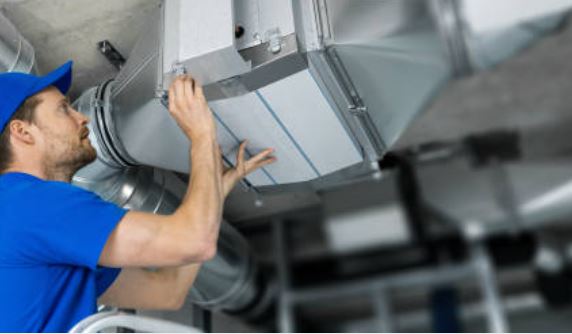 call 661-888-0248
Contact us 24/7 for HVAC services!
It is not by mere luck; these heat pumps are good at what they do. If you are planning to buy a Lennox heat pump or own one, we wrote this article for you.
This article is also for you if you are looking for Lennox heat pump, heating installations or replacement, and air conditioner repair in Santa Clarita.
Shall we get going?
What Is Lennox?
Dave Lennox is the founder of the Lennox HVAC brand. He introduced the company in 1895 by creating the world's first riveted steel furnace.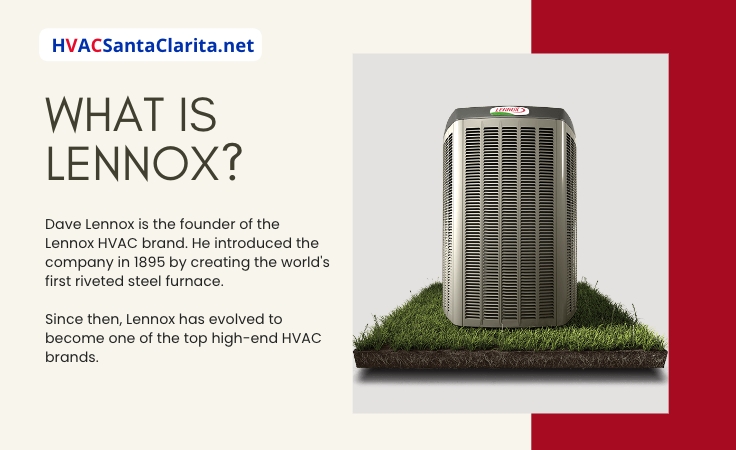 Since then, Lennox has evolved to become one of the top high-end HVAC brands. Today, the Texas-based company makes some of the best air conditioners, boilers, furnaces and heat pumps.
They are also known for having certified reliable HVAC technicians to offer emergency furnace repair to homeowners across the country.
Energy Efficiency
One of the top factors to consider when choosing heat pumps is energy efficiency.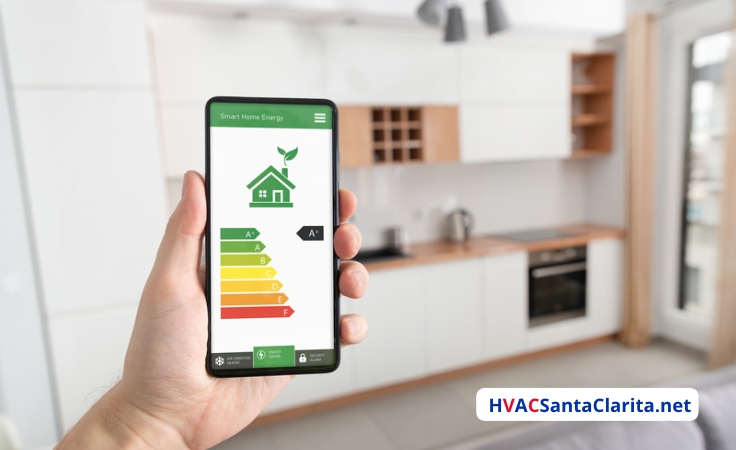 When it comes to this, Lennox does not play.
For starters, all their heat pumps are Energy-star qualified. Besides, their most basic heat pump has an impressive SEER rating of 16. On the other side, their most sophisticated heat pump has a SEER rating of 24.
Furthermore, the heat pumps have settings that allow you to obtain maximum output while using minimal energy.
If you want to save a lot of energy, a Lennox heat pump will serve you best.
Dual-Fuel Compatibility
You can power your Lennox heat pump using gas or electricity. This is not something you get with other heat pumps.
If you have these two options, you can choose which energy source is most efficient for you.
If you are not sure of what fuel is suitable for you, feel free to read this heat pump vs gas furnace comparison.
Cost
To get straight to the point, Lennox heat pump prices can be outrageous.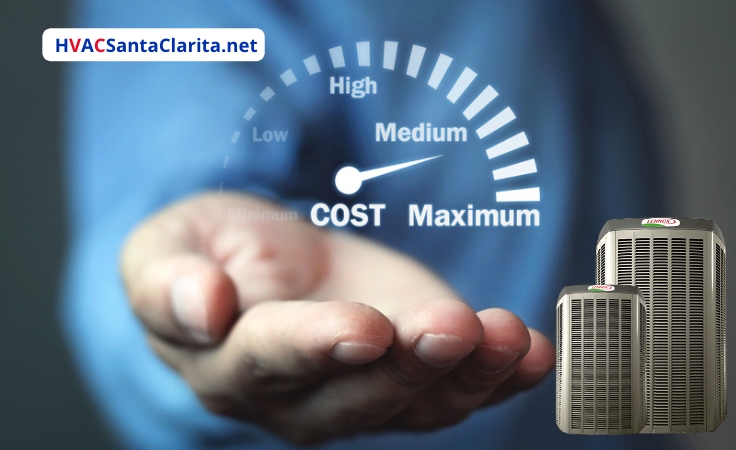 Because of the ridiculously high prices, many homeowners settle for other HVAC brands, such as Mitsubishi or Goodman heat pumps.
We understand that it is a high-end brand with super high energy efficiency. However, if you are looking for a budget heat pump, then a Lennox is not for you.
Repairs
If you already own a Lennox heat pump, you already know how expensive Lennox HVAC unit repairs are.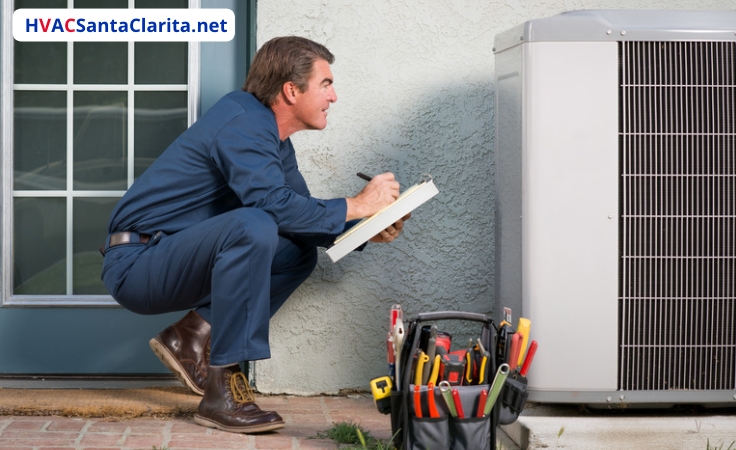 Yes, they are sustainable and sturdy heat pumps. But buying those spare parts and having a technician do the job may make you wonder whether you should have gotten other mid-range brand heat pumps such as Goodman.
Note: Lennox heat pump repairs are expensive because the company uses proprietary parts.
Noise Levels
According to many Lennox heat pumps owners, the first thing they would change about their system is the noise level.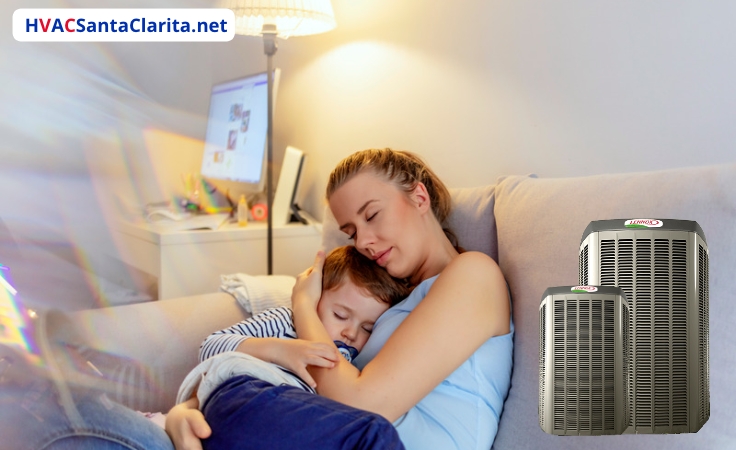 These heat pumps can be noisy, unless you have a heat pump in the attic.
The quietest Lennox heat pump produces 59 decibels. However, the average noise of the heat pumps comes to around 70. Many other brands, such as Day & Night heat pumps, produce an average of 60 at most.
Some others, such as Mitsubishi heat pumps, produce an impressive 19 decibels.
If you are after acquiring quiet models, you may want to go for brands such as Mitsubishi.
Warranty
Lennox heat pumps have a pretty basic warranty.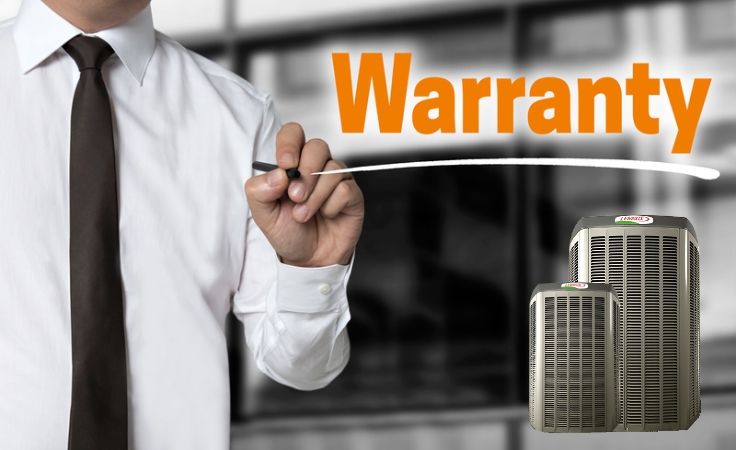 They cover their compressors for five years. This is not the worst out there, but we think it is pretty basic compared to other brands, such as Mitsubishi heat pumps which have ten-year warranties.
On the other hand, Goodman has a lifetime warranty on its compressors.
Five is not bad for a warranty, but Lennox can definitely do better..
If you want better protection, you must go for the Lennox Signature series heat pumps. These come with:
Ten years on designated parts,
Ten years on the compressor,
lifetime on the heat exchanger.
Lennox HVAC systems are very expensive, you want to have better coverage for them. Do not mess up things by trying to install the system yourself. Search for "heat pump installers near me" for better coverage.
How Much Does Lennox Cost?
Lennox does not list the prices of their heat pumps on their website. The reason behind this is that the prices may vary depending on:
local taxes,
amount of ductwork needed,
installation fees.
However, they cost more than many other heat pump brands. Their signature series is more expensive than the Merit series.
Many homeowners state that they bought the heat pumps expensively. However, they are content with the lower monthly bills they pay, thanks to the high energy efficiency of these systems.
Also, you need to remember that heat pumps are generally more expensive than air conditioners as you will find out in the heat pump vs air conditioner comparison.
Lennox Products
Lennox divides its HVAC products into three different series:
The signature series, which is top tier when it comes to energy efficiency, and certainly the most expensive,
The Elite series, which offers reliability for less money than the Signature series,
and the Merit series is the most budget-friendly of all Lennox heat pumps.
The Lennox Signature
The highlights of the Signature series include: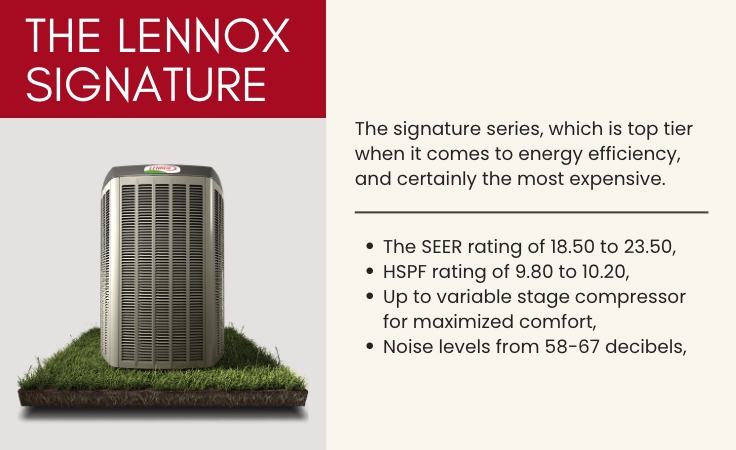 The SEER rating of 18.50 to 23.50,
HSPF rating of 9.80 to 10.20,
Up to variable stage compressor for maximized comfort,
Noise levels from 58-67 decibels,
Compatibility with PureAir air purification system,
Ten-year limited warranty,
Steel-galvanized construction to prevent corrosion.
The Lennox Elite Series
Here are the highlights of heat pumps in the Elite series: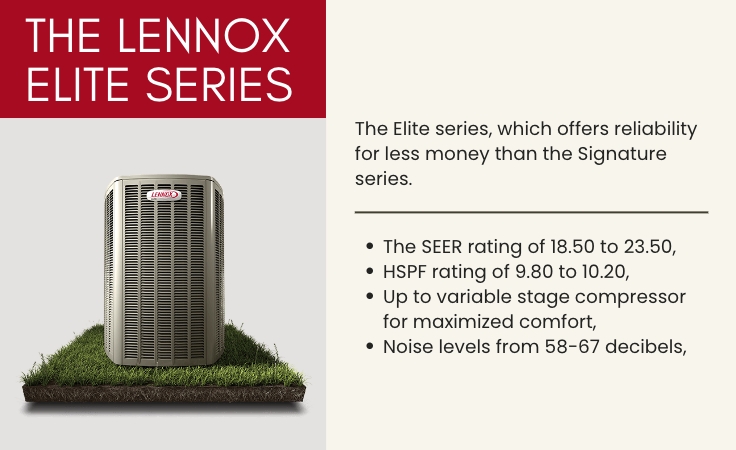 The SEER rating of up to 16 to 17,
HSPF rating of 9.00 to 9.50,
Either single or two-stage compressor,
Ten-year limited warranty on the compressor and five years on the rest of the parts.
Noise level of 65 to 74 decibels,
The Lennox Merit Series
This budget-friendly series comes with: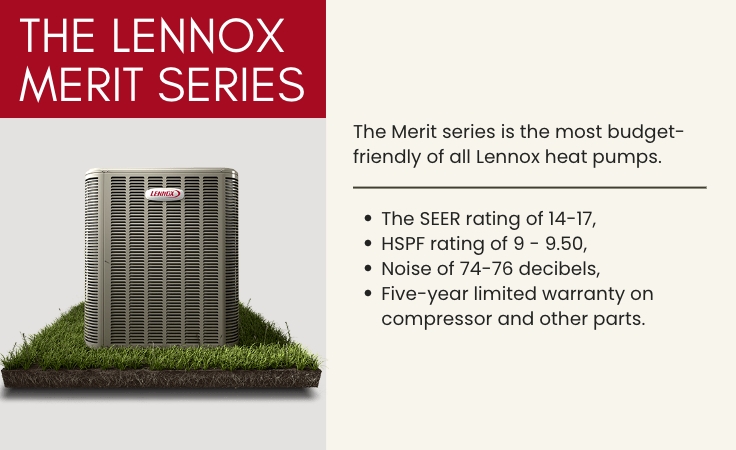 The SEER rating of 14-17,
HSPF rating of 9 – 9.50,
Noise of 74-76 decibels,
Five-year limited warranty on compressor and other parts.
Frequently Asked Questions
Is Lennox a good heat pump?
Yes, it is a good HVAC brand. They are popularly recognized for their high energy efficiency and excellent heating and cooling capacity.
How long do Lennox heat pumps last?
Typically, Lennox heat pumps last 10-15 years(1). However, this will depend largely on your climate, usage and maintenance.
What is the most reliable heat pump brand?
There are several reliable heat pump brands. You have to review several of them to find something that suits your cooling and heating needs.
Some top heat pump brands include Day & Night, Mitsubishi, Goodman, Carrier, and Bryant.
Which is better, Lennox or Carrier heat pump?
Lennox and Carrier are top heat pump brands, thanks to their high energy efficiency and heating and cooling capacity.
However, a Lennox will serve you better if you want a heat pump with more advanced technology.
How much are Lennox heat pumps
Although it is not clear about their prices, we found out that a 1.5-ton heat pump costs $6960 while a three-ton heat pump costs $8500.
If you compare Lennox's heat prices with other heat pump prices, you will realize that Lennox is the most expensive.
Final Thoughts
Lennox is a top HVAC brand. The highly-advanced system will be a great selection if you are looking for high-energy efficient systems.
The thing, however, is you will pay dearly to acquire these high-end heat pumps. Luckily, the monthly bills will be lower.
Contact us if you want a heat pump installation in Santa Clarita.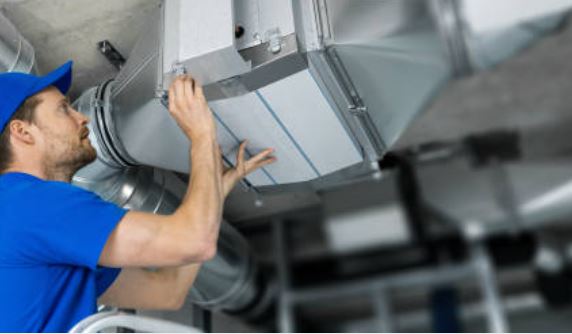 call 661-888-0248
Contact us 24/7 for HVAC services!
Our Address is
HVAC Santa Clarita
26893 Bouquet canyon rd
Santa Clarita CA 91350
Opening hours
Monday 8 am – 8 pm
Tuesday 8 am – 8 pm
Wednesday 8 am – 8 pm
Thursday 8 am – 8 pm
Friday 8 am – 8 pm
Saturday 8 am – 8 pm
Sunday 9 am – 5 pm
Learn more
LG Heat Pump >>>
Bryant Heat Pump >>>