HVAC Westlake Village service from us is a sure way to transform the ambiance of your home. At Santa Clarita Air Conditioning company, we are expanding our services to the 91361 and 91362 zip codes. So if you search for "HVAC service in my area", you will find us.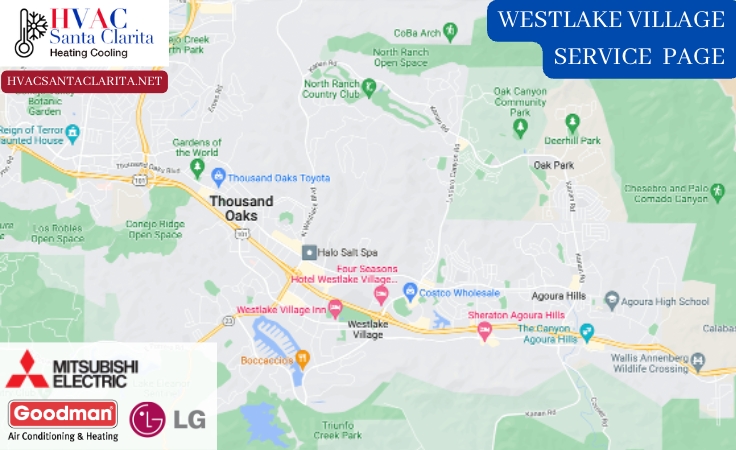 Having your cooling and heating system in place is one thing. (if you don't have them yet, we are the HVAC company to contact). However, conditioning these systems to give you the best results is where the real struggle comes in.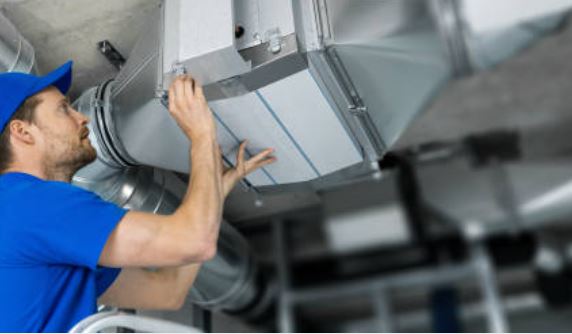 call 661-888-0248
Contact 24/7 for air conditioning services!
With HVAC Santa Clarita, Westlake residents have nothing to worry about. We go out of our way to ensure our clients have reliable heating and cooling systems.
Read on as we look at our HVAC Westlake services in detail.
Air Conditioning Service Westlake Village, CA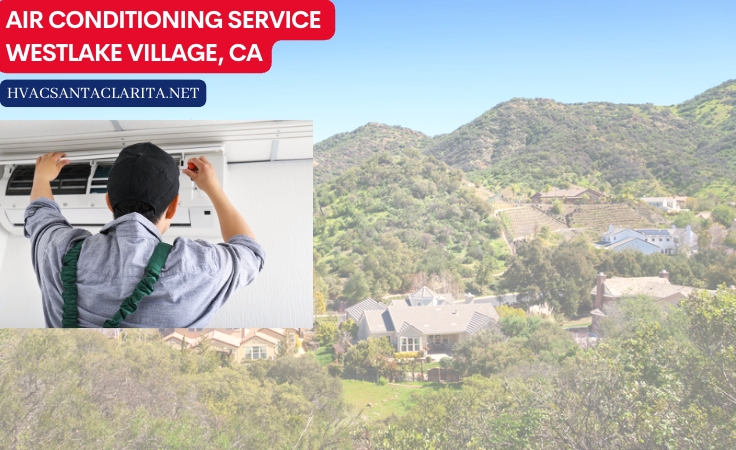 We offer all kinds of air conditioning services for all kinds of systems. Whether you have or want a central, ductless or window AC , our team has got you covered. The location of the AC system should not worry you; our technicians have their way of getting to the rooftops, ceilings, crawlspace, basement and attic. Contact us today for top-notch air conditioning service.
AC Repair Westlake Village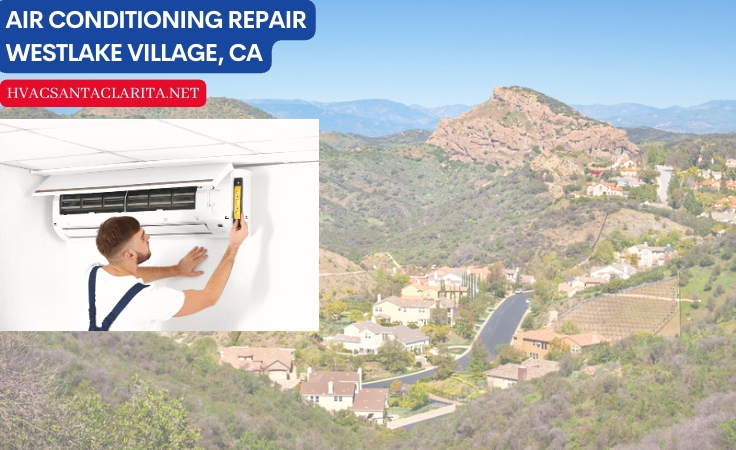 Many homeowners wait until their systems break down to call for air conditioning repair. This is the wrong way to treat your air conditioning system. We advise our clients to call for AC unit repair as soon as they notice any peculiarity, however slight. Contact us for AC repair if you experience a breakdown or if it is not functioning normally.
AC Installation Westlake Village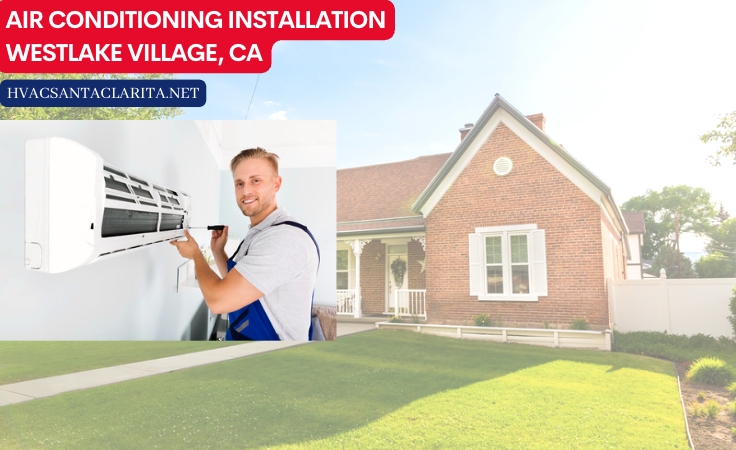 Are you looking to acquire a new air conditioning system? Whether it is a ductless system, a window or central AC, our HVAC contractors will do an excellent installation job. Our installation services come with great starting snippets and support, such as selecting HVAC systems if you still need to select one. After the installation, we not only ensure you are adequately covered warranty-wise by the manufacturer. We normally go above and beyond to ensure you have all the tips to help you use your new air conditioner effectively.
Contact us today for AC installation service.
AC Maintenance Westlake Village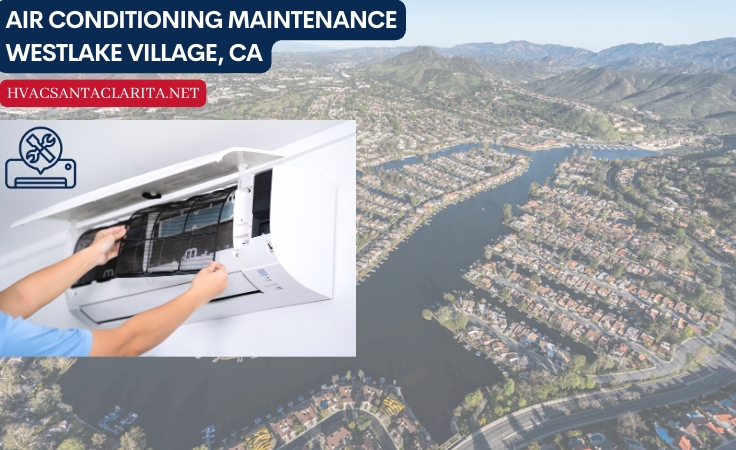 The only way to have your air conditioning system properly functioning is to maintain it periodically. Failure to service your AC as needed will cut short its lifespan. Take good care of your AC by servicing it at least twice annually, once on the onset of fall and once in spring.
Our AC maintenance service will ensure all the parts are clean and functioning well to give you the most optimal results.
Emergency AC Repair Westlake Village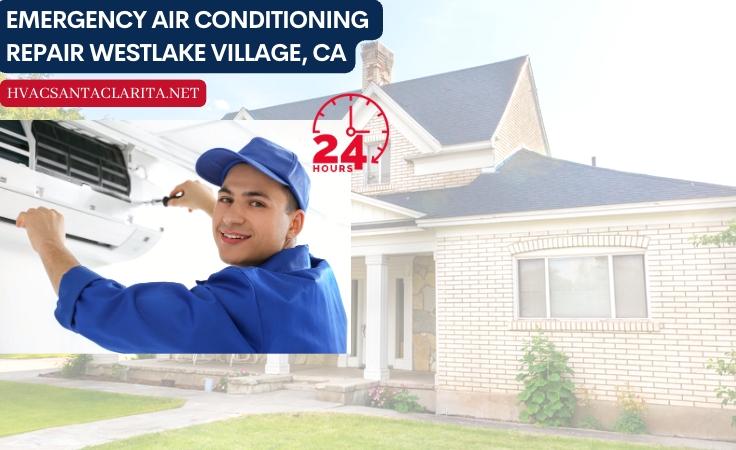 Sometimes, we like to think of air conditioners as very unforgiving devices. You may give it all the needed care, but it will still break down when you least expect it. When this happens, do not dilly dally and try to figure out the next move.
Call for our emergency AC repair service, and we will fix things for you. It doesn't matter when this blunder happens; we run our emergency air conditioner repair service 24/7.
Ductless Mini Split Westlake Village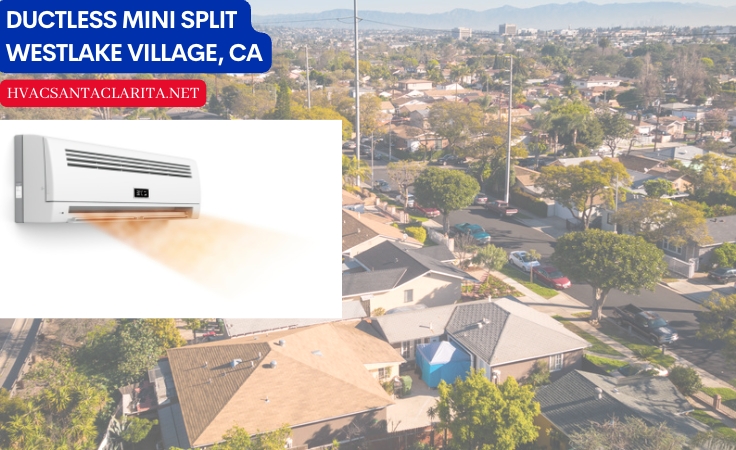 Ductless mini splits are great for zoning. We will gladly step in with our ductless mini-split installation if you want to cool one small space. And as always, we love to step in and offer our clients professional advice regarding system selection if necessary.
Contact us for repair and maintenance services if you already have a ductless mini-split system. Do not hesitate to reach out to us if you are looking for ductless mini split services.
Heating Services Westlake Village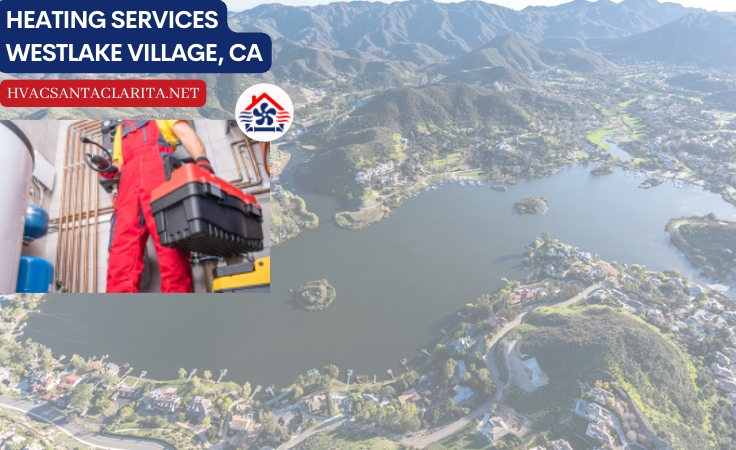 Let us help you keep warm all winter long with our heating services. We offer varied services such as heating installation, repairs and maintenance services. It does not matter if you want to acquire or own an oil, gas or electric furnace; let our professionals do the job that will keep your household cozy all winter long. 
Furnace Repair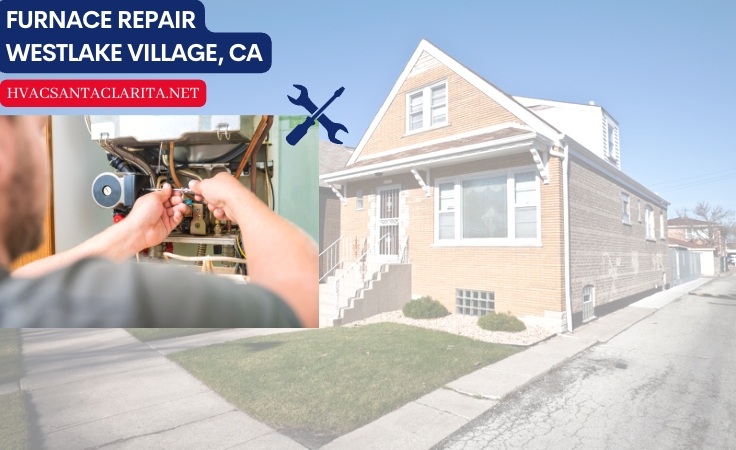 The last thing you want to experience is furnace problems in winter. If your furnace breaks down or develops issues such as not cooling as efficiently as before, you know who to call. Our furnace repair service will ensure your system is in excellent working condition. Do not wait until things get out of hand; contact us today, and we will instantly fix your heating system.
Furnace Installation Westlake Village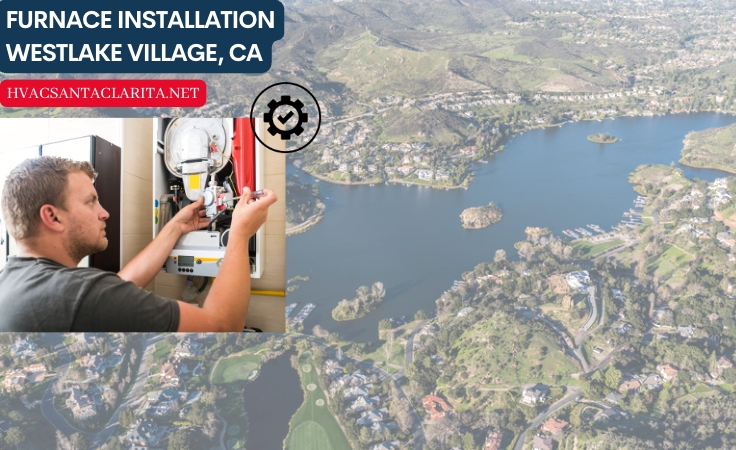 We all dread winters without heating systems. Do not put yourself in that situation. Whether replacing an old and worn-out furnace or getting a new one for the first time, HVAC Santa Clarita has got you sorted out. It does not matter the type of furnace you want; we will get the work done for you.
Contact us today for furnace installation.
Heating Maintenance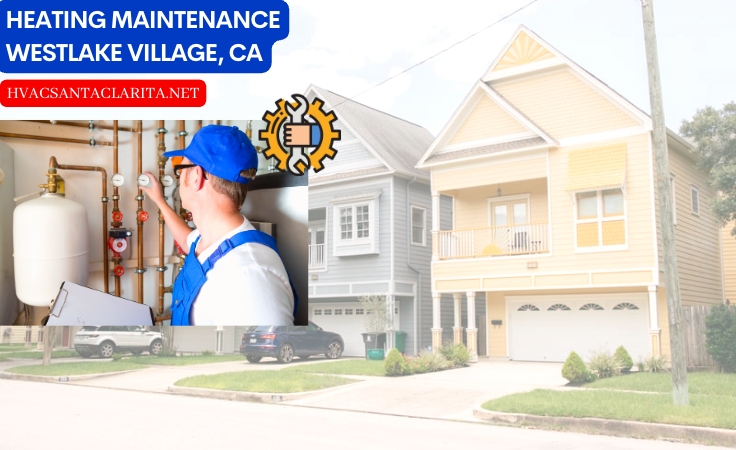 One way to enjoy efficient heating is to be vigilant with heating maintenance services. Many overlook this service and still wonder why their energy bills are outrageously high. Our heating maintenance service ensures your furnace is functioning well and also lasts longer.
There is no better tactic to keep your heating system at its optimal functioning.
Heat Pump Service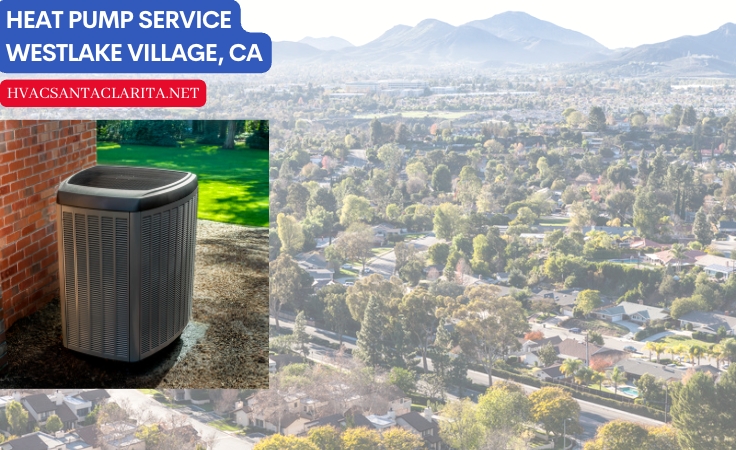 If you like to kill two birds with a stone, a heat pump system was designed for you. If you want heat pump installation in Westlake, contact HVAC Santa Clarita. Also, we will gladly offer repair and periodic maintenance services if you already have a central or ductless heat pump system installed. Get in touch with us for the best heat pump services.
Air Duct Westlake Village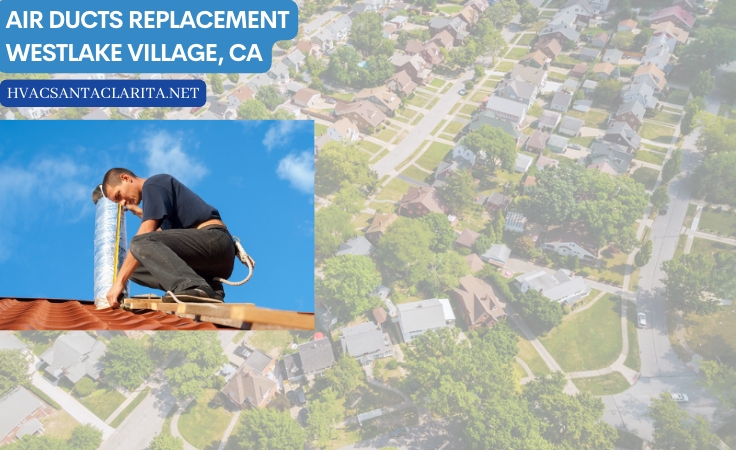 If you have a central air conditioning system or heat pump, you must take care of both the air ducts and the HVAC system. At HVAC Santa Clarita, we offer services that help keep your air ducts in good health. The goal is to ensure an effective air conditioning process without losing conditioned air.
Get control of your cooling and heating processes; call us today for air duct services in Westlake Village Ca.
Air Duct Sealing Westlake Village
How long has it been since you checked for holes and gaps in your air ducts? It is not uncommon for this to occur on the ductwork. Holes and gaps allow for conditioned air to escape, a process that will eventually escalate energy consumption. It also has many other side effects, such as poor air quality and destroyed HVAC parts. Do not wait until it's too late; contact us for air duct sealing services in Westlake village as soon as you notice any anomaly.
We will take you through the different kinds of air duct sealing, diagnose your system and get the sealing job done.
Thermostats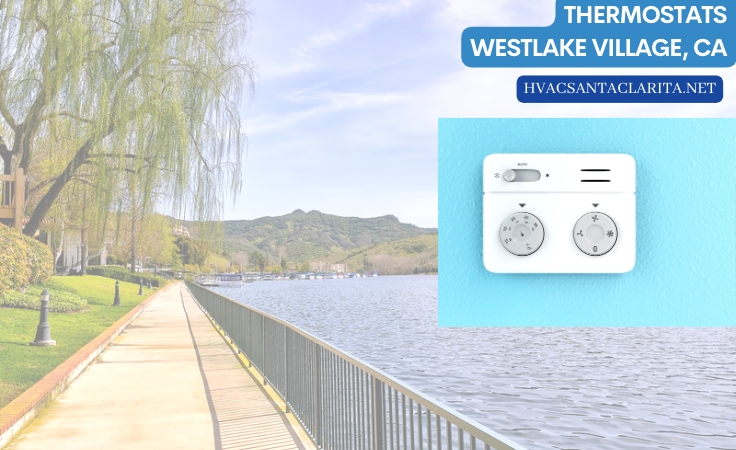 Are you looking to upgrade from your old thermostat? Or would you like to repair a faulty thermostat? Your HVAC system will only function well if your thermostat is properly maintained.
Whether you are looking to purchase a new one or fix your current thermostat, our thermostat services in Westlake Village would serve you great.
Commercial HVAC Westlake Village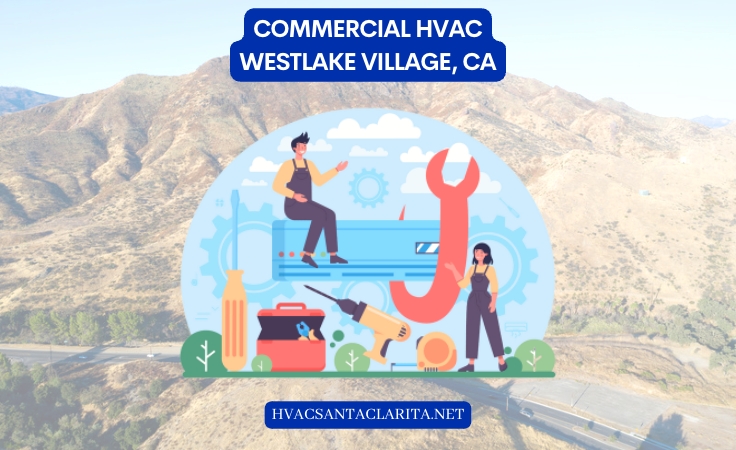 Are you looking for commercial HVAC services in Westlake Village? We offer HVAC installation, repairs and maintenance services for commercial spaces and buildings. Our goal is to make your workers, tenants and clients comfortable. There is no better way to make the occupants and users of your commercial space comfortable.
Brands We Work With
For our HVAC Westlake Village services, we pride ourselves on ensuring our clients have the best. We are firm believers in making living spaces comfortable and healthy. We show this in the services we deliver to our clients and the HVAC brands we work with. 
 HVAC Santa Clarita partners with the following top brands to make them easily accessible to all Westlake CA residents:
Goodman,
Day & Night,
Mitsubishi,
LG.
We also install, repair and maintain other HVAC brands, such as:
Amana,
American Standard,
Bryant,
Carrier,
Daikin,
Rheem,
Ruud,
Lennox.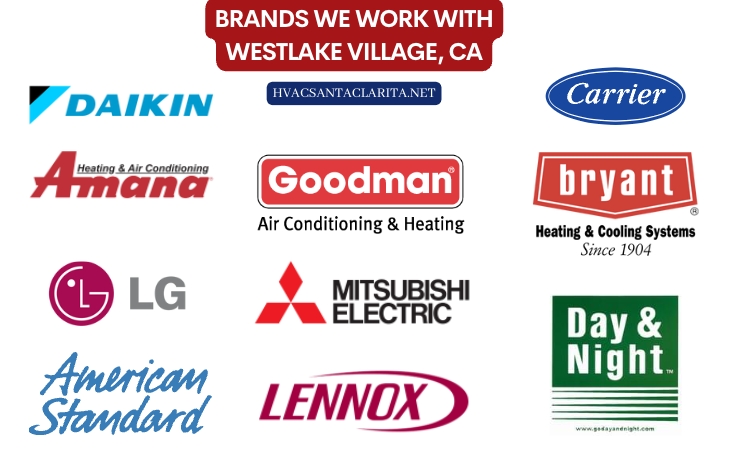 Neighborhoods We Serve – HVAC Westlake Village
We service the larger Westlake Village area. 
Feel free to contact us for reliable and reasonably priced HVAC services if you are in the following neighborhoods:
Southshore Hills, Westlake Island,
Testimonials  – HVAC Westlake Village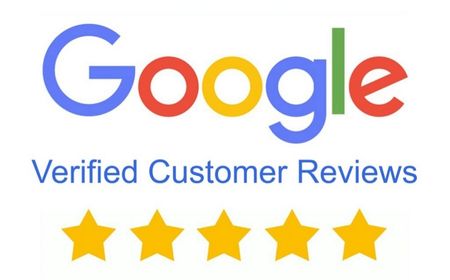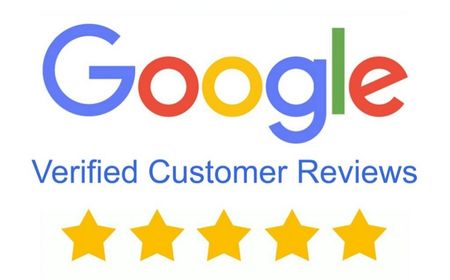 HVAC Santa Clarita has been doing my AC services since I moved to Westlake. They did everything for me right from installation to occasional AC maintenance services. They do a great job every time, and I highly recommend them.
Ethan, orthodontist.
My AC had ice all over it and was dripping water. We tried to ignore it as we thought the ice would eventually defrost. Several days later, everything stayed the same. We called HVAC Santa Clarita for AC repair, and they sent us contractors to our Westlake Village home. They fixed our system, and we are happy with the services. 
Benjamin, Software Engineer.
After serving us for over two decades, it was time to replace our air conditioning system. The old one had just lost its efficiency. We went online searching for AC installation services in Westlake Village. Luckily, we landed on HVAC Santa Clarita, who outdid themselves. We are impressed by the service they provided us.
Louis, psychiatrist.
When we moved into our current house, we didn't know how important AC maintenance was until our cooling system broke down. We contacted HVAC Santa Clarita for air conditioning repair. They did a great job but later revealed to us the issue was because of the failure of servicing the AC system. Since then, we have gotten two AC maintenance packages from them, and we can see the difference in the functioning of our cooling system. We are grateful for this service.
Austin, Airline Pilot.
Recently our AC system broke down in the middle of the cooling season. We spent days finding repair appointments with different AC companies in Westlake. We spent days trying to find AC repair services in vain. On the fourth day, we bumped into HVAC Santa Clarita emergency AC repair in Westlake. We called them, and they were on site within a few hours and did a great fixing job while at it. I would be using their services again.
Elizabeth, Advocate.
We were transforming our basement into a home gym. With the intense exercises and heat, we had to get a reliable cooling system. After intense consultations with HVAC Santa Clarita, they finally helped us settle on a ductless mini split air conditioner. They went further and installed the system for us. Thanks to HVAC Santa Clarita, we now have the liberty and comfort of working out from home.
Bella, Actuary.
Since the pandemic, my partner and I have been working from home. In winter, we had no choice but to create a perfect working environment. We had to get optimally functioning heating systems to keep us cozy all winter. Since then, HVAC Santa Clarita has been doing our heating services and working from home has never felt so good.
Jamilla, Financial Consultant.
Our furnace recently shut down and won't just turn on. HVAC Santa Clarita, who have been doing our air conditioning services, came through and fixed our system. This is the company to contact if you are looking for reliable yet reasonably priced HVAC services.
Andrea, Dentist
We recently bought a house that had a heat pump. I was never content with the heating capacities of heat pumps. So, we decided to get a separate air conditioner and a furnace system. HVAC Santa Clarita did both air conditioning and furnace installation for us. We are happy with the excellent service they offered us. I highly recommend them.
David, Anesthetist.
HVAC Santa Clarita does our heating maintenance every before the heating season. The service ensures no issues with our furnace when we need it the most. I recommend this to all Westlake residents. 
Bill, Ghostwriter.
HVAC Santa Clarita has been doing all our heat pump services, from installation to repairs and maintenance. They are so reliable we no longer have to worry about a malfunctioning system; they always affordably fix any issues with our heat pump.
James, Business Owner.
The first time we got air duct services from HVAC Santa Clarita was like a decade ago. We got new ductwork installed, and from that period, we have gotten duct cleaning services several times, and it was always a pleasure working with them. They give great value for money. Go for it if you have been second-guessing.
Boyd, Restaurant Owner
We recently got a duct replacement of our worn-out ductwork from HVAC Santa Clarita. They did a neat job, and we are delighted with the service. If you are looking for ductwork installation services in Westlake, this company will not let you down.
Bradley, Pulmonary Physician.
We just got our first duct sealing from HVAC Santa Clarita. They had very considerate and professional technicians that did a fantastic job. After a few days of the service, we can see a positive change in the air conditioning process. I would be using this service again.
Mark, Computer Hardware Engineer.
I have wanted to upgrade to a smart Honeywell thermostat for a long time. I am a DIY enthusiast, so I went ahead and tried the thermostat replacement myself. This led to a whole lot of problems. I just had to go looking for HVAC contractors in Westlake. HVAC Santa Clarita came on-site and redid the thermostat installation. They did a great job, and now I have the smart thermostat I have always wanted. I would be using their services again.
Adele, Sales and Marketing Consultant
HVAC Santa Clarita does commercial HVAC services for my commercial space in Westlake. They ensure our cooling and heating systems are in perfect condition to service the 20 offices in the building. They have made the work so easy I do not have to make follow-ups. Thank you so much for the excellent service HVAC Santa Clarita.
Matthew, Realtor.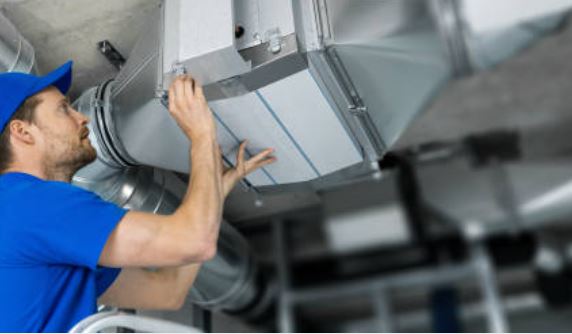 call 661-888-0248
Contact 24/7 for air conditioning services!
Our Address is
HVAC Santa Clarita
26893 Bouquet canyon rd #G
Santa Clarita CA 91350
Opening hours
Monday 8 am – 8 pm
Tuesday 8 am – 8 pm
Wednesday 8 am – 8 pm
Thursday 8 am – 8 pm
Friday 8 am – 8 pm
Saturday 8 am – 8 pm
Sunday 9 am – 5 pm
Our Address is
HVAC Santa Clarita
26893 Bouquet canyon rd
Santa Clarita CA 91350