Are you looking for Goodman heat pump reviews?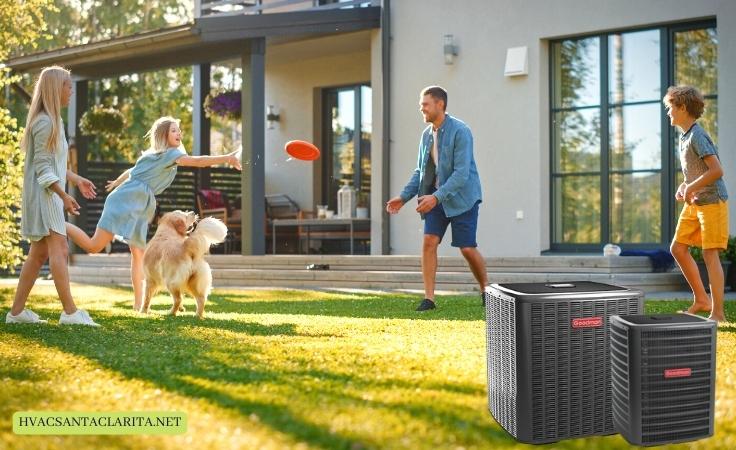 If you want a new heat pump, you are in the right place.
This Goodman heat pump review will help you make a good decision. It is no lie that Goodman heat pumps are one of the best.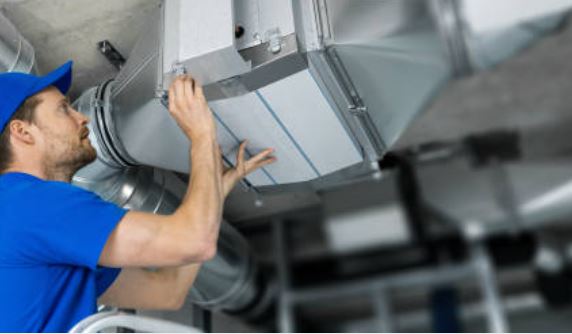 call 661-888-0248
Contact 24/7 for air conditioning services!
But if you are spending so much on it, you sure want to know the details. 
For instance, sure want to know the following:
How energy-efficient Goodman heat pumps
How do they compare to other popular heat pump brands such as Mitsubishi heat pumps,
Goodman heat pump prices,
Keep reading for these and many other factors to keep in mind while sampling out Goodman heat pumps.
Note: If you already have your Goodman heat pump or air conditioner, you can reach out to us for air conditioner repair Santa Clarita.
Alright, let's go straight into the Goodman heat pump reviews. .
What is Goodman?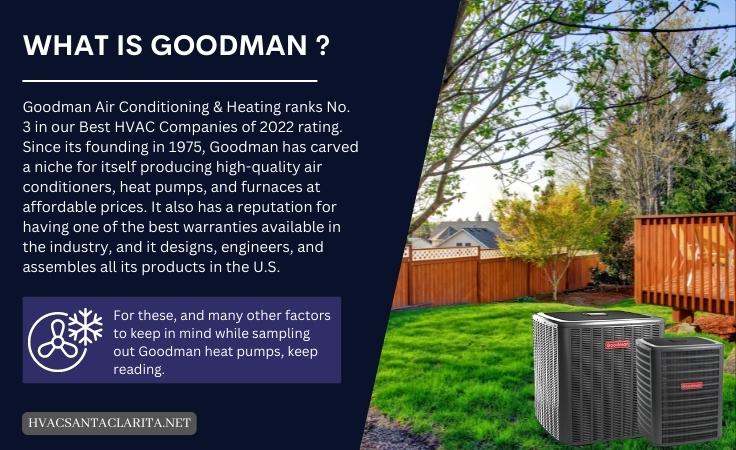 Goodman is an HVAC company founded in 1975. Since its inception, it has been manufacturing high-quality heat pumps, gas furnaces and air conditioners.
It has remained one of the top brands because of its affordability. It is not easy it find something affordable and
Goodman Heat Pump Reviews: The Pros
In general rankings for heat pumps and HVAC equipment, Goodman heat pumps have always come.
Compressors With Lifetime Warranty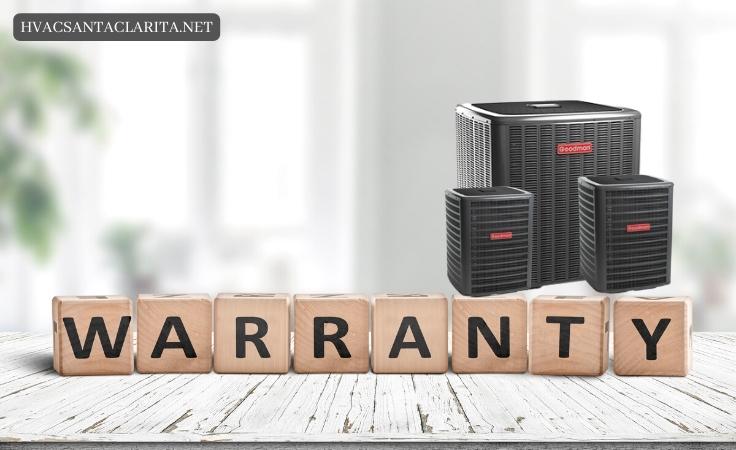 It would be great if you looked at the warranty of the heat pump you are buying. You sure want something that is well covered.
One way Goodman heat pumps win clients' hearts is attractive warranty terms.
For starters, their compressors come with a lifetime warranty. You, therefore, do not have to worry about replacing a faulty compressor. It is very costly to replace compressors; Goodman is indeed a savior for that.
They also offer lifetime heat exchanger warranties on all their products.
They offer ten-year warranties and even an entire replacement for select models for the other parts.
Such extended warranties tell you one thing; Goodman believes in the sturdiness of their heat pumps.
Copper Tube Coils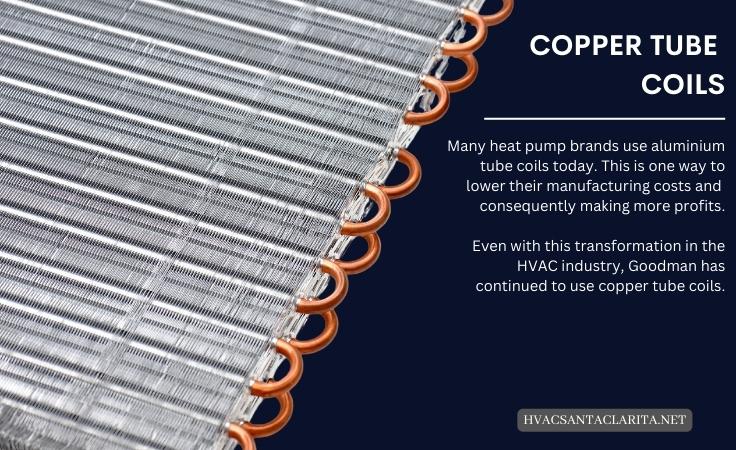 Many heat pump brands use aluminum tube coils today. This is one way to lower their manufacturing costs and consequently make more profits.
Even with this transformation in the HVAC industry, Goodman has continued to use copper tube coils.
You are probably wondering why copper tube coils are better than aluminum tubes…
Here is why:
You will not need to replace the entire coil if the coils develop holes if you have copper tube coils. You can patch the hole. However, you cannot do this with aluminum coils; you must replace the entire coil.
Repairing aluminum coils is several times more expensive than repairing copper tube coils.
Goodman Has a Great Customer Service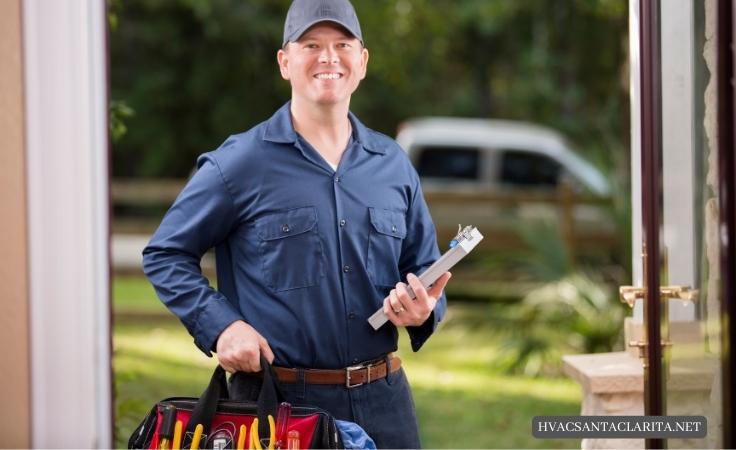 Many homeowners have had pathetic experiences with their heating and cooling equipment manufacturers.
Sometimes, it is a lack of response at all. And it may also be insensitive responses from the customer support guy.
Now, if you value good customer service(who doesn't?)Goodman is your go to company for heat pumps.
Contacting Goodman is very simple. The warranty claim procedure is smooth and straightforward. They have also made a point to take the fault and make it up to you. Many companies will make it look like it's your fault when trying to claim your warranty.
You paid some money for your heat pump; it should not be torture to air your grievances to the manufacturer.
Note: Goodman has maintained an impressive A+ on Better Business Bureau.
Affordable Prices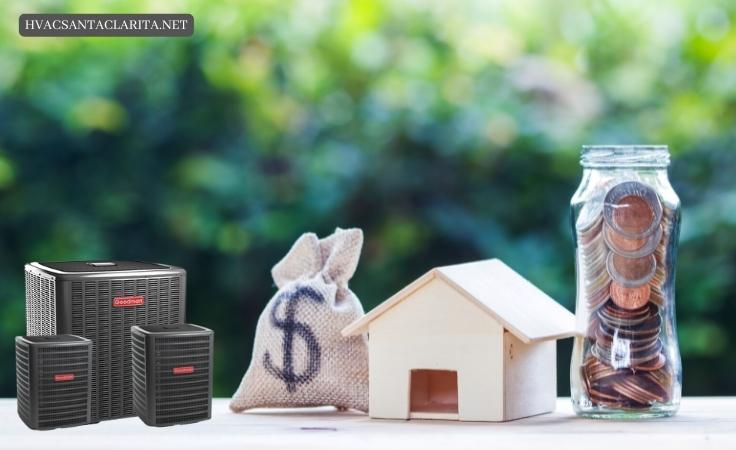 If you are looking for a heat pump that does not cost an arm and a leg but at the same time does not compromise quality, then what you are looking for is probably a Goodman heat pump.
These are the most practical heat pumps you will get on the market.
We like to think of Goodman heat pumps as beasts. Despite the lower prices, you will pay, they will work effectively day in and day out.
We look at Goodman heat pump prices in detail below.
Single and Two-Stage Compressors to choose from
Goodman has a wide variety of compressors to choose from. They have a single and two-stage compressor you can choose for efficient heating.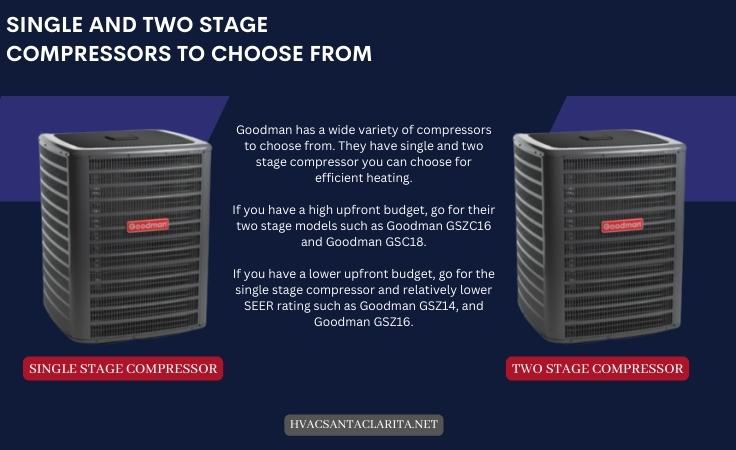 If you have a high upfront budget, go for their two-stage models, such as Goodman GSZC16 and Goodman GSC18.
If you have a lower upfront budget, go for the single-stage compressor and relatively lower SEER rating, such as Goodman GSZ14 and Goodman GSZ16.
With a higher upfront budget, go for the two-stage heat pumps for higher energy efficiency. A single-stage Goodman brand heat pump will complete the work if you have a lower upfront budget.
With Goodman, there is something for everyone. And it is not just in heat pumps and all. You can get an excellent gas furnace and air conditioning system.
If  you are looking for anything air conditioning Santa Clarita, we have got you covered. 
Customer Satisfaction
If you are buying equipment, you sure want to know the experience of the people who have it.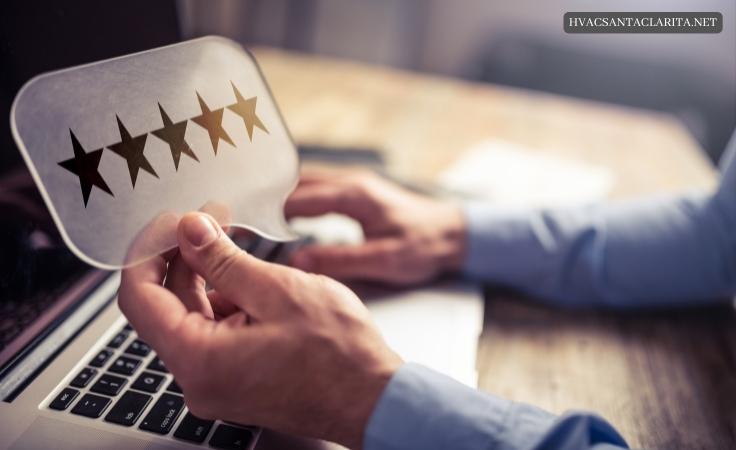 Checking on Goodman's website, one of their most common models has over 5000 five stars and less than 50 one stars.
This is impressive feedback you could get from owners of Goodman heat pumps. If you compare this to the performance of other brands, Goodman is far ahead.
Goodman SmartShift Technology
Goodman heat pumps are fitted with Ultra-tech scroll compressor technology for solid performance. With this technology, the coolant is compressed more to provide the needed cooling.
This technology makes the Goodman HVAC systems work less than other brands, such as Lennox and Bryant heat pumps.
Also, Goodman heat pumps come with SmartShift Technology. You know how HVAC systems struggle with defrosting. With this technology, your compressor will keep working even in freezing temperatures. This technology automatically turns off the compressor for 30 seconds. This short moment allows the pressure to balance back to normal before restarting the compressor.
This makes Goodman generally the best heat pump brand for those cold winters.
Compressor Protection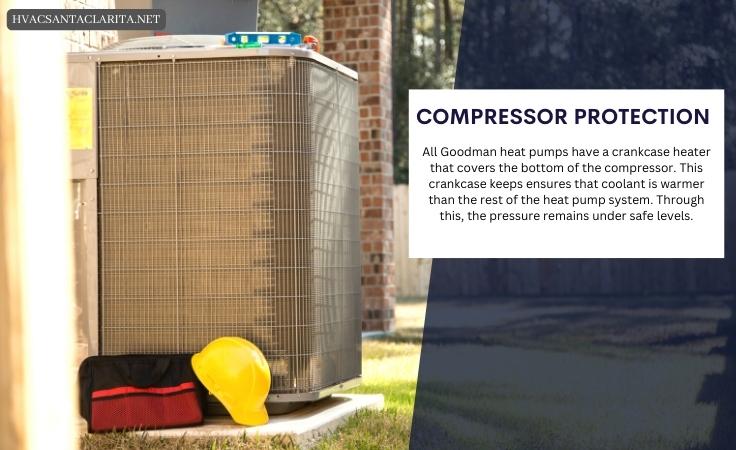 Pressure imbalance is one of the significant reasons heat pump compressors are damaged, and Goodman has put measures in place to help put pressure under proper levels.
All Goodman heat pumps have a crankcase heater that covers the bottom of the compressor. This crankcase ensures that the coolant is warmer than the rest of the heat pump system. Through this, the pressure remains at safe levels.
These heat pumps also have an accumulator that prevents flooding or refrigerant. When this flooding happens, the compressor is overwhelmed. In this case, the compressor will have to overwork but will soon become sluggish.
An accumulator keeps the liquid refrigerant and only releases it in vapor form.
You will not find this in other heat pumps like the Lennox heat pump. This means that Goodman heat pumps have a longer life span as they are protected from malfunctioning.
Goodman Heat Pump Prices
Goodman prices are on the lower side of the scale compared to other heat pump brands.
If you are looking for a heating and cooling system that will not break your bank account, it is probably a Goodman.
However, it would be most ideal if you did not buy a heat pump because it is affordable and has a lifetime compressor warranty. We know these are attractive winning points, but you must consider other factors.
Goodman heat pump prices range from $4,995 to $6,100(1).
Goodman heat Pump Reviews: Cons
These heat pumps are great performers. But this does not imply that they are pure perfection.
They do come with some cons that you have to put in mind while shopping for one.
Here are some common complaints concerning Goodman heat pumps.
Sometimes Noisier than Other Brands of Heat Pumps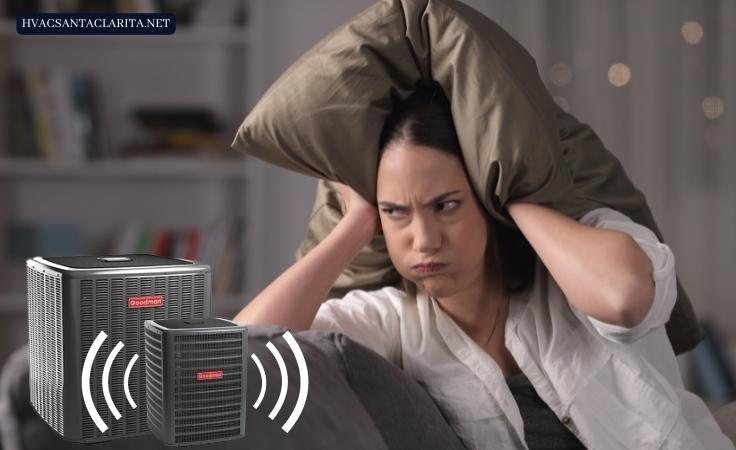 Many people focus on energy efficiency, lifespan, and upfront cost when buying an HVAC system.
What many people forget to verify is how much noise an HVAC system makes. When buying any HVAC system, be it an air conditioner or a heat pump, you want it to have a quiet operation.
Of course, they cannot be entirely quiet; but the quieter, the better.
Many Goodman heat pump owners complain of noisy operations. They produce noise as much as 72 to 76 decibels. This is a bit higher than their counterparts, producing noise as low as 46 decibels.
If you are easily distracted, a Goodman heat pump may not be a good choice.
No High-End Models
Goodman is more of a budget brand. But it still manages to win people's hearts because of its strong performance.
But one notable thing is they have no high-end models in terms of SEER ratings.
Many Goodman heat pumps have a SEER rating of 16-19. This is lower compared to other central air conditioner brands that go as high as 26.
Well, a SEER rating of 26 is a luxury to many people. However, some people would still want it. If you want such a high SEER rating, it is an excellent move for your energy efficiency; but you will not find such in Goodman heat pumps.
Goodman Heat Pump Key Takeaways
Goodman heat pumps are for you if you are:
a budget shopper looking for a good quality heat pump,
looking for attractive warranty terms,
after a sturdily made compressor.
These heat pumps are not for you if:
you are easily distracted by background noise,
you are after a high-end model with a high SEER rating.
Goodman Heat Pump Frequently Asked Questions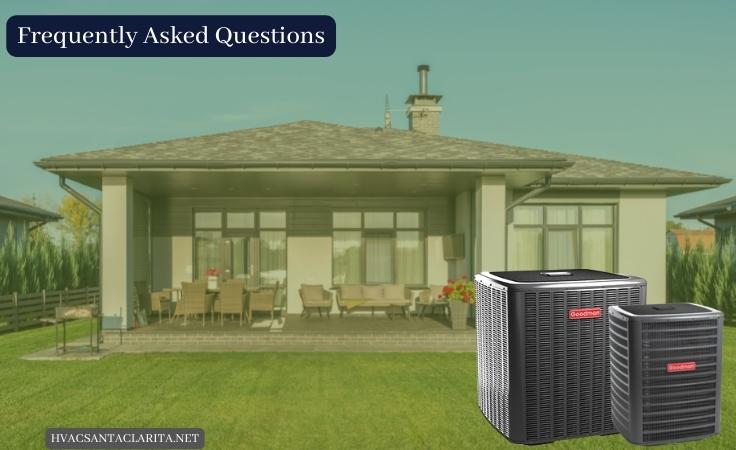 We answer some Goodman Heat Pump questions below. If you want to purchase a Goodman Heat Pump, feel free to contact us with any questions.
Is a Goodman heat pump any good?
Goodman is a great mid-range brand. They are budget-friendly and reliable. You, however, have to perform regular maintenance to achieve the best performance. Contact us today for any HVAC services in Santa Clarita. 
What is the most reliable heat pump brand?
There is no one size tailored to fit all when it comes to this. What works well for you will most probably not impress the next person. However, if you are looking for something pocket-friendly, mid-range yet reliable heat pump brand, then Goodman will probably suit you.
If you are looking for a high-end heating and cooling unit with high-efficiency ratings, you may want to go for Lennox heat pumps.
How long will a Goodman heat pump last?
Goodman heat pumps' lifespan will be from 10-15 years. This period may prolong depending on how you maintain your system.
Are Goodman heat pumps quiet?
They are not the quietest out there. Other brands perform more quietly. If the noise levels of your new system are disrupting you, you could invest in a compressor sound blanket.
How Much Does Goodman Heat Pump Cost?
Depending on the model, size and efficiency rating, you can pay up to $6100 for a Goodman heat pump.
If you are undecided of the model that will work well for you, finding the right contractor will help you get an excellent model to match your financing options and your cooling and heat needs.
Goodman Heat Pump reviews Final Words
Goodman heat pumps have a good reputation in the HVAC industry and it is not for nothing. They will help you save money as they are cheaper to purchase. You do not want to discuss their attractive warranty terms, something you don't always get with all HVAC products.
This well-known brand is impressive, especially for the amount you pay for them. Ensure you maintain it well for peak performance; it will not disappoint you.
Contact us if you need Goodman heat pump installation or heating Santa Clarita service. We will be elated to guide you and get the work done for you.
Also, read
Heat Pump vs Air Conditioner >>>
Also, Heat Pump vs HVAC>>> and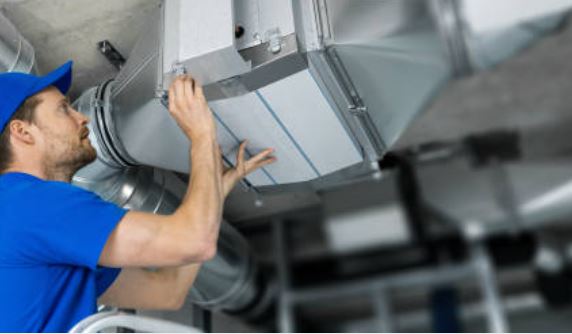 call 661-888-0248
Contact 24/7 for air conditioning services!
Our Address is
HVAC Santa Clarita
26893 Bouquet canyon rd #G
Santa Clarita CA 91350
Opening hours
Monday 8 am – 8 pm
Tuesday 8 am – 8 pm
Wednesday 8 am – 8 pm
Thursday 8 am – 8 pm
Friday 8 am – 8 pm
Saturday 8 am – 8 pm
Sunday 9 am – 5 pm