HVAC Thousand oaks services are designed to take your comfort to the next level. So, Thousand Oaks is now one of our service areas. Whether it is a residential house or a commercial building, our team of professional contractors will help you get the transformation you need.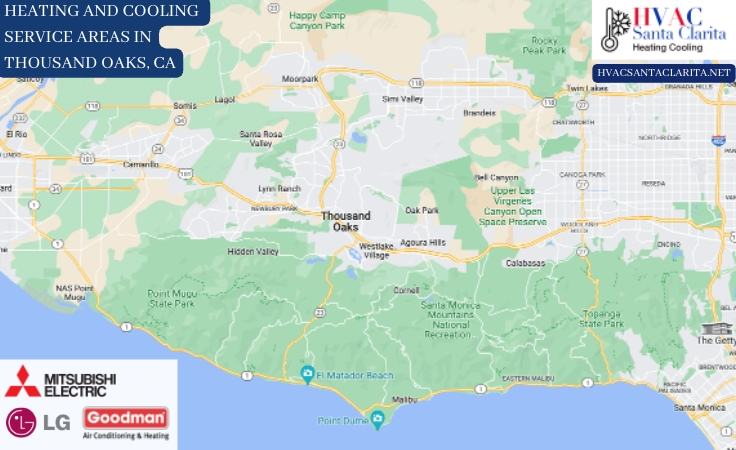 We service air conditioners, furnaces, heat pumps and other HVAC systems in Thousand Oaks and neighboring towns.
HVAC systems are expensive; you only want experienced professionals to handle them. Besides, messing them up may mean forgetting about comfort in your living space.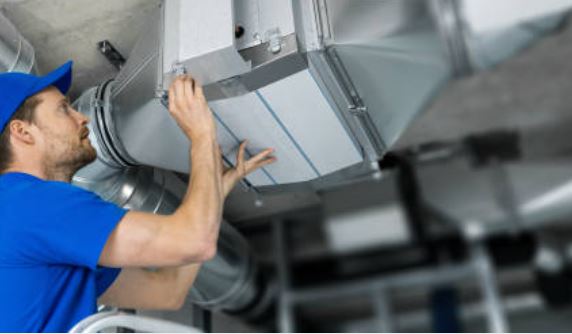 call 661-888-0248
Contact us 24/7 for heating repairs, including emergencies!
If you are in Thousand Oaks and the neighborhoods, let our professionals work on your HVAC system; you will not regret it.
Read more about our HVAC services ahead.
AC Service Thousand Oaks
Contact us today if you want any service for your central air conditioner or a ductless mini split. The location of the HVAC system should not worry you; our technicians have ways to get to your system, whether on the roof, attic, base, outdoor, ceiling or in the crawl space.
Call our AC company today.
AC Repair Thousand Oaks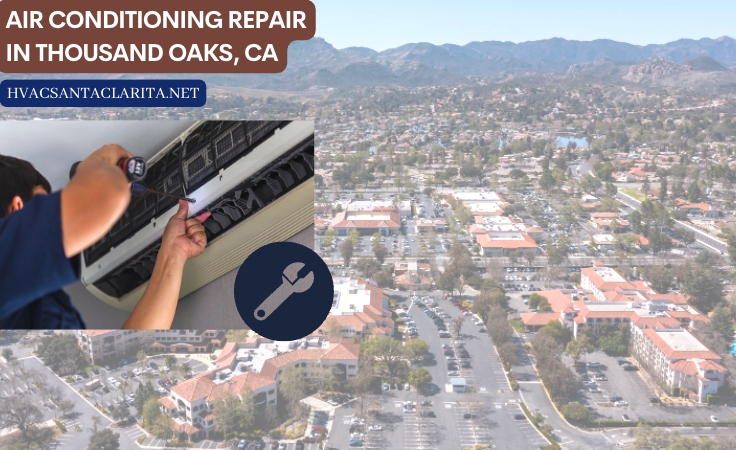 We are the company to call whenever your air conditioner needs professional fixing. Whether it is not working or malfunctioning, we will gladly come on-site and get everything back on track.
We repair different air conditioner brands and types; it does not matter what you have.
Get your system back on the right path; contact us for AC repair service.
Thousand Oaks AC installation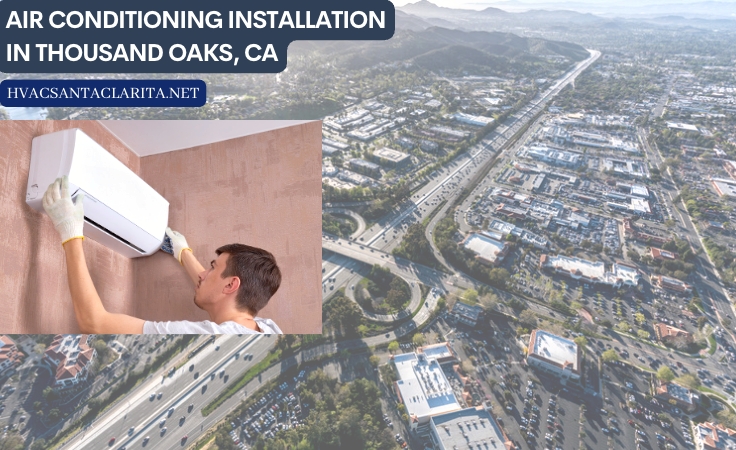 Are you getting a new air conditioning system? Let our professional HVAC contractors do this for you. Working with our technicians ensures excellent installation, system registration and above-average warranty standards.
Contact us today for AC installation service of central AC, ductless mini splits and window air conditioners.
AC Maintenance Thousand Oaks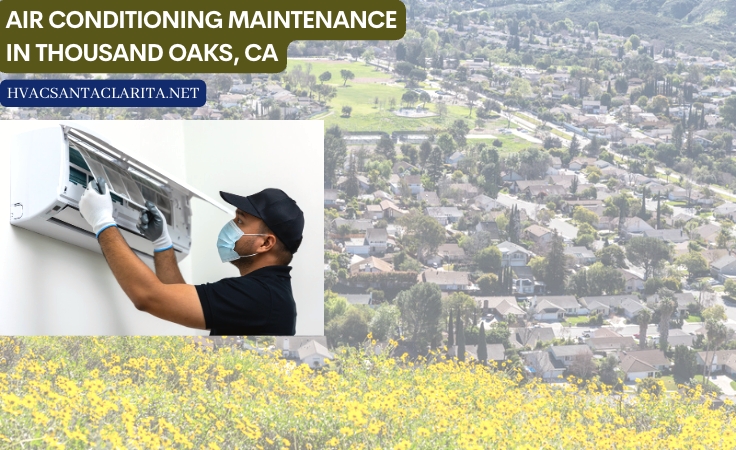 If you need maintenance of an air conditioning unit, contact us. Air conditioner maintenance service ensures your system lasts longer and functions efficiently. Failing to maintain your HVAC system as needed increases energy bills and shortens its lifespan. If you want to maintain your HVAC system in excellent working condition, we are the people to get the work done.
Emergency AC Repair Thousand Oaks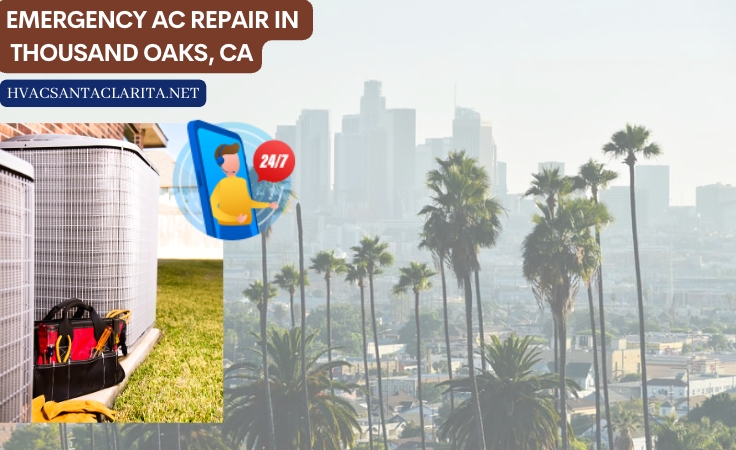 Sometimes, air conditioners can disappoint you. They will break down on you when you need them the most. If you have been in this situation before, you know how frustrating it is. In such situations, HVAC Santa Clarita comes to your rescue.
Our 24 hour emergency ac repair services are open for you
Ductless Mini Split Thousand Oaks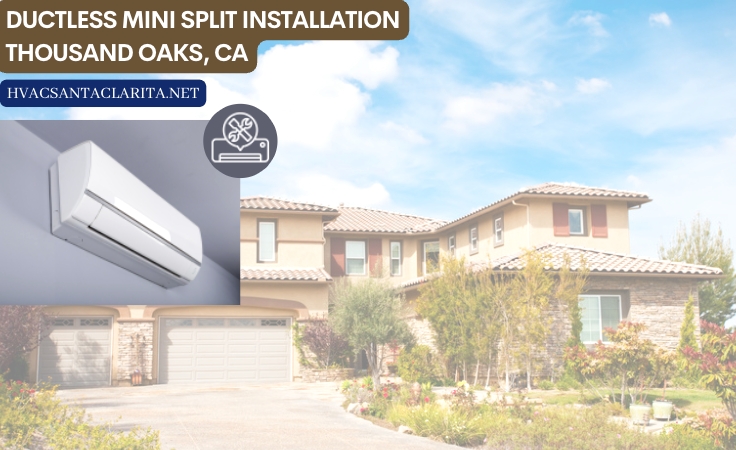 Are you looking for a ductless mini split air conditioner? Whether you are converting a room or want to condition a previously unconditioned space, a mini-split system is a great option. Contact us if you are looking for ductless mini-split installation, repair and maintenance. We will help you efficiently condition the small desired zone.
Heating Services Thousand Oaks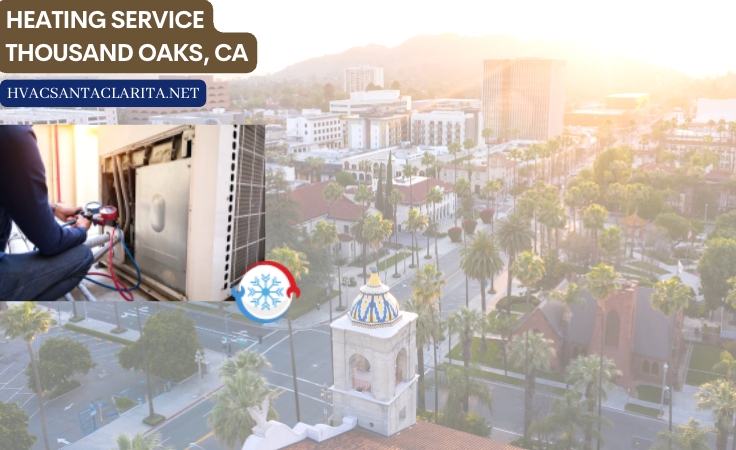 When winter knocks, you want your heating systems or furnaces to be in excellent working condition. For starters, if you do not have a heating system, call us today for furnace installation. If you already have a system in place, it is wise to have heating system maintenance before the start of the heating season. HVAC Santa Clarita covers all your furnace service, installation, maintenance and repairs.
Furnace Repair Thousand Oaks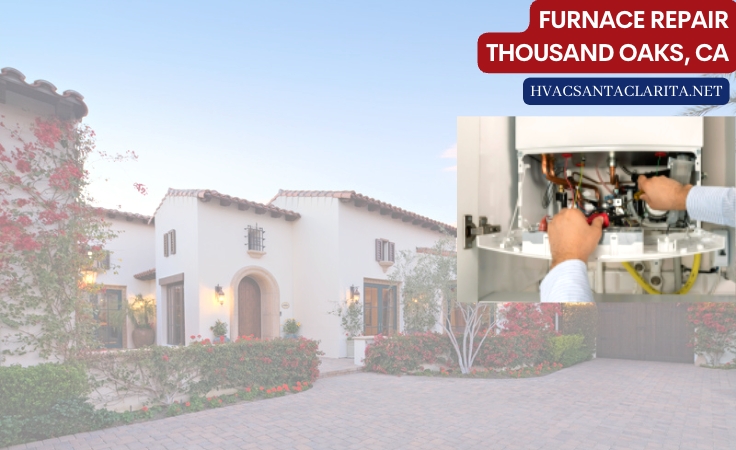 Furnaces can be overwhelmed during the heating season. It is not uncommon for them to break down or malfunction, especially if they have not been serviced for a long time. You need to call for furnace fixing services as soon as you notice any anomaly; do not wait until the problem is out of hand. Contact HVAC Santa Clarita for furnace repair service.
Heating Installation Thousand Oaks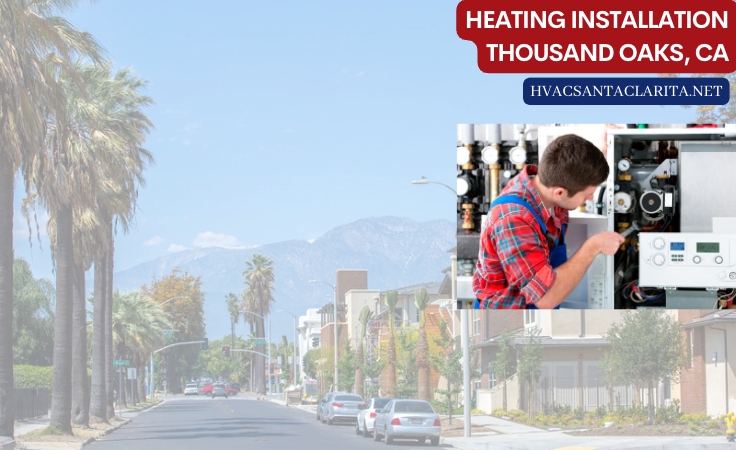 The arrival of winter can be a nightmare if you have no heating system. Our furnace installation & replacement will help you get a furnace that will keep you comfortable all year round. If you are undecided, our professionals will help you choose a furnace and a perfect installation location.
Thousand Oaks Heating Maintenance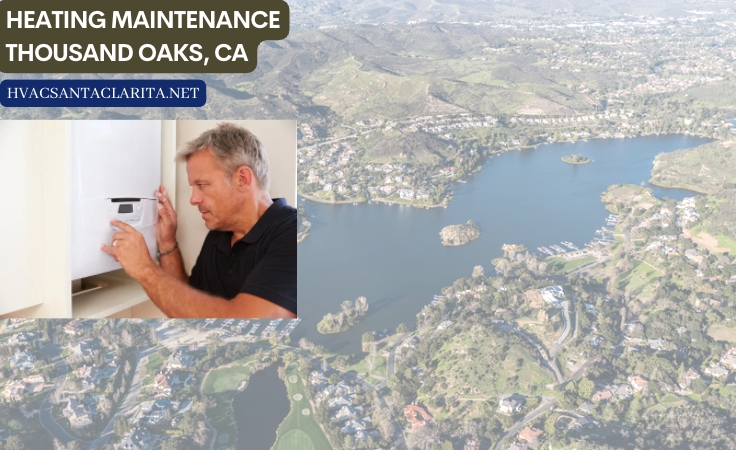 We often recommend that our clients get their heating maintenance service before it is time for full-blown heating. Our heating maintenance will help you comfortably use your furnace all winter. There is no better way to trust your furnace's functioning than servicing it before winter. Call us today for furnace maintenance service.
Heat Pump Service Thousand Oaks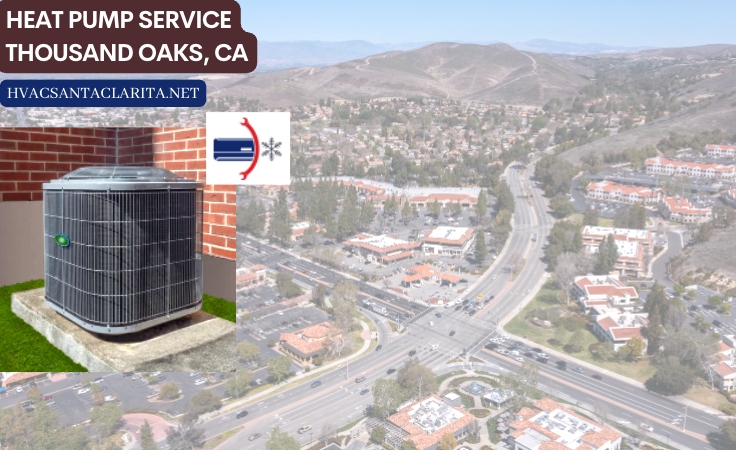 The versatility of heat pumps makes them a desirable option for homeowners. If you are among the many who would love a 2-in-1 system, feel free to call us for heat pump installation. If you already have a heat pump system, you know how they work round the clock all year long to keep you comfortable. You are hindering its efficient functioning if you do not maintain them well. Call us today for heat pump service.
Air Duct Thousand Oaks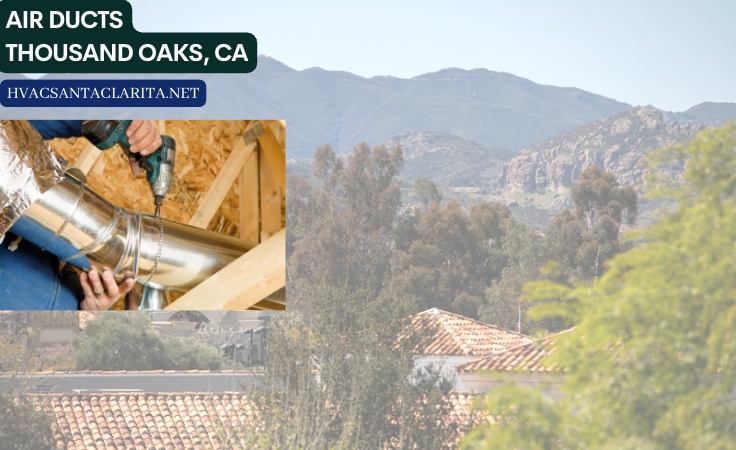 Air ducts are an essential part of central air conditioners and heat pumps. They are often overlooked, yet they make a whole lot of difference. They may be the difference between reasonable and outrageous energy bills or poor and good air quality. Take the initiative and make a difference; contact us today for air duct services.
Duct Replacement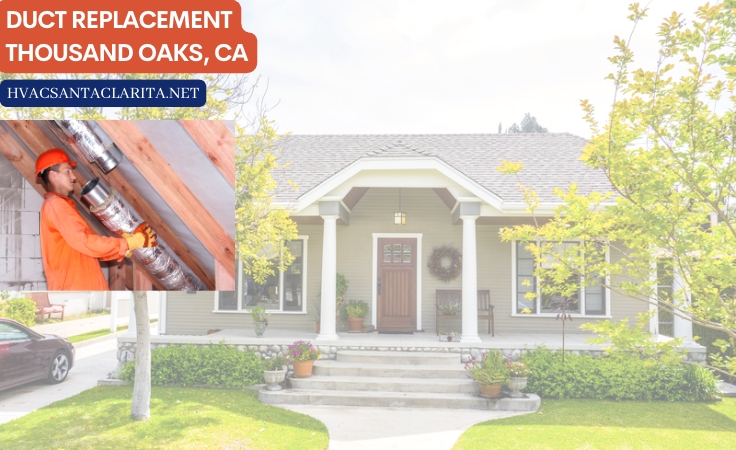 After years of usage, ductwork wear and tear, thanks to the pressurized air they pass around. Sometimes, the solution may be to repair the ductwork. However, depending on the damage, you may need a duct replacement. We, however, recommend that homeowners plan for ductwork replacement after 10 years. Contact us today for duct replacement.
Air Duct Sealing Thousand Oaks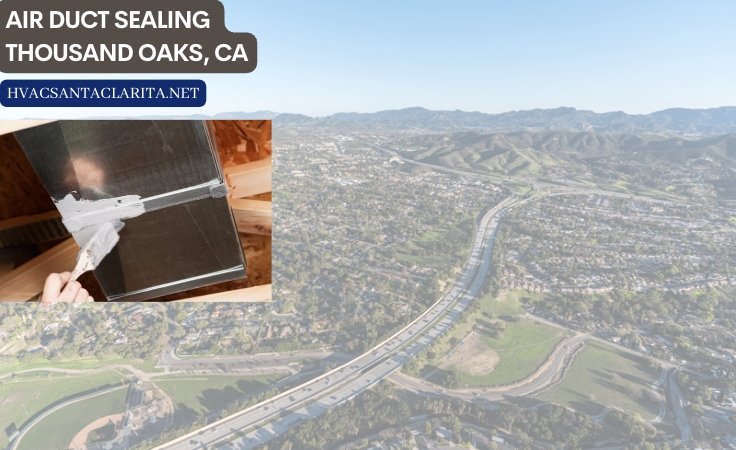 Leaking ducts is one reason you could be having hiked energy bills. It may also be why your house's allergic reactions are on the rise. If your duct has holes or gaps, we will gladly fix that for you. Do not hesitate to contact us for an air duct sealing.
Thermostats Thousand Oaks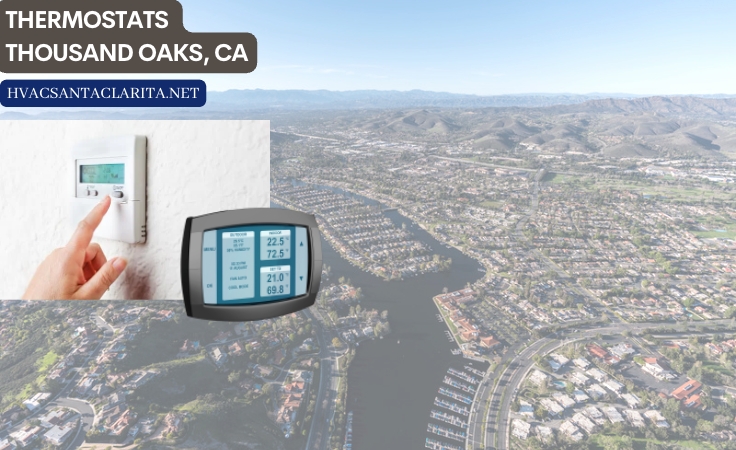 If your thermostat has issues, it will show how your HVAC system functions. You cannot afford to have a malfunctioning thermostat as it also lowers the efficiency of your air conditioner or heating systems. Reach out to us if you would like to repair your thermostat. We also offer thermostat upgrading in Thousand Oaks.
HVAC Santa Clarita will do a great job if you need smart thermostat installation services.
Thousand Oaks Commercial AC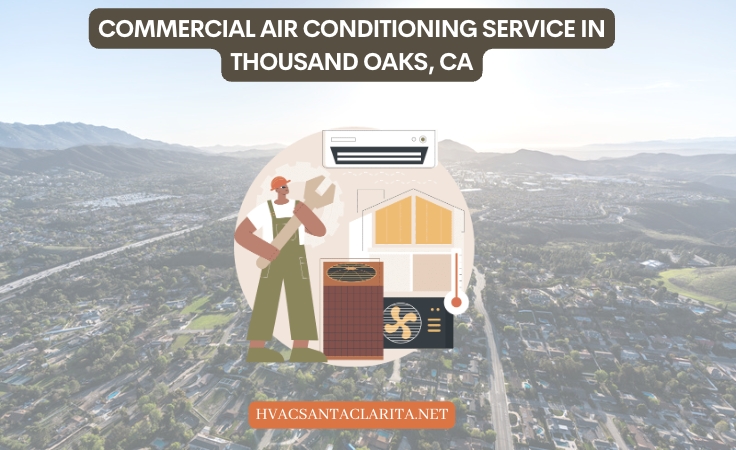 One way to propel your business to the next level is to ensure the HVAC systems are in excellent working condition. We offer commercial HVAC services, including installation, repairs and maintenance. We would gladly help you make occupants of your commercial space more productive and comfortable.
HVAC Brands We Work With
HVAC Santa Clarita strives to bring all the best brands closer to it's clients. We are partners and dealers of the following top air conditioning brands:
Goodman,
LG,
Day & Night,
Mitsubishi.
If you would like to acquire any of these brands, feel free to reach out to us. We also offer repair, installation and maintenance services of these systems.
Other brands we work with include:
Amana,
Bryant,
Daikin,
American Standard, 
Ruud,
Rheem,
Carrier,
Lennox. 
Neighborhoods We Serve
 Please contact us for HVAC services if you live in Newbury Park,  Dos Vientos Ranch,  Thousand Oaks, and Lake Sherwood. We are now servicing following zip codes 91319, 91360, 93012, 91320, 91361, 91358, 91362, 91359, 91377
Why Us? See What Our Friends Have to Say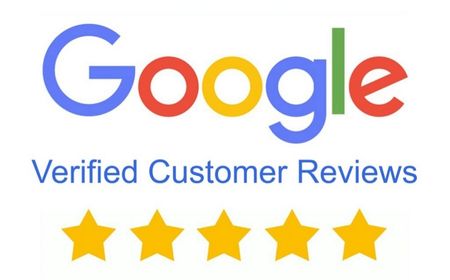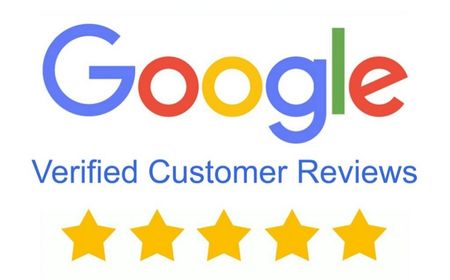 I have always done my AC services with HVAC Santa Clarita. They have never disappointed me even a single time. If you are in Thousand Oaks, I highly recommend this company.
–Jean, Digital Strategist.
I recently needed AC repair, and HVAC Santa Clarita delivered. Air conditioners have always been delicate; I am glad to meet technicians who professionally fixed my AC.
– Paul, Data Analyst.
We have been using a fan for such a long time. We finally decided to get an AC installation. HVAC Santa Clarita held our hands throughout the service. Long story short, we now have a system installed. And they helped us get more than a standard warranty! I recommend this system.
– Stella, Microbiologist.
We have been doing air conditioning maintenance with HVAC Santa Clarita, and it has been smooth. Thousand Oaks residents, if you are looking for regular and timely AC maintenance, look no further.
– Sylvia, Nutritionist.
Not long ago, my air conditioner broke down unexpectedly. I couldn't imagine going for days without a system. Honestly, getting an appointment with HVAC companies in Thousand Oaks can be challenging. Thank goodness, I bumped into HVAC Santa Clarita and got same-day services. Their emergency AC repair is something I would recommend to anyone who doesn't want to wait.
– Andrea, Gynecologist.
I decided to transform my basement into my work-out station. The best choice I had in mind was a ductless mini-split. HVAC Santa Clarita did the installation for me. I will contact them for maintenance services. Thank you.
– Abdul, Baker.
I am a cat breeder, and winters were always challenging until I started getting my heating services from HVAC Santa Clarita. They did my furnace installation well. Since then, they have been doing my maintenance and repairs well. I recommend this service to everyone.
– Daniel, Cat Breeder .
Last winter, my furnace broke down when we needed it the most. We scheduled furnace repair with HVAC Santa Clarita, and they did a great job. They have a team of professional and punctual technicians who did a great job. We are happy with their service.
– Anna-Marie,Architect.
After years of survival with heaters, we had to get a furnace installed. After researching online, we settled for HVAC Santa Clarita to do the job for us. These guys did an excellent job for us. HVAC Santa, we appreciate it.
– Paul, Civil Engineer.
We always have our heating maintenance before winter kicks in strong. For the past two winters, we have had it smooth with our furnaces, thanks to the heating maintenance from HVAC Santa Clarita.
– Louis, Oncologist .
We were tired of servicing our old air conditioner and furnace separately. A friend proposed we get a heat pump. They referred us to HVAC Santa Clarita, who did our installation. We are happy with the service.
– Jeffrey, Body Shop Owner.
HVAC Santa Clarita maintains our air conditioner and ductwork. There is always a clear difference in air quality and energy bills whenever we get their air duct services. If you're looking for air duct system services in Thousand Oaks, your company to work with is HVAC Santa Clarita.
– Collins, Accountant.
We bought a house whose air ducts were hanging loose in the attic. And then we decided to replace them for a fresh start. We are happy with the duct replacement service from HVAC Santa Clarita.
– Rose, Dentist.
We got air duct sealing services from HVAC Santa Clarita several months ago. We have noticed incredible changes after this service. I wish we had done this earlier.
– Shaniqua, Police officer.
It made the cooling process so problematic. A colleague referred me to HVAC Santa Clarita, who helped solve the problem. If you are looking for thermostat services in Thousand Oaks, look no further.
– Terence, Restaurant owner.
I got an air conditioning installation for my nail spa last month. HVAC Santa Clarita did a great job, as all my nail artists and clients are now comfortable. I even got more great reviews because of this. I recommend this company if you are looking for commercial AC service.
– Leila, Nail artist.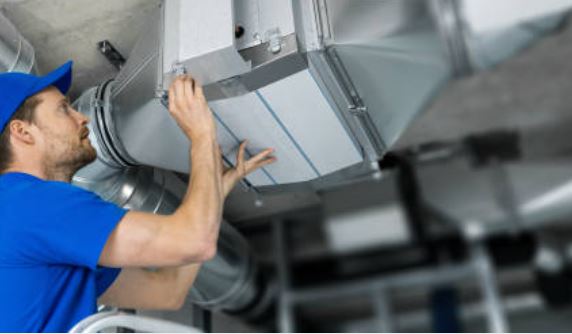 call 661-888-0248
Contact us 24/7 for heating repairs, including emergencies!
Opening hours
Monday 8 am – 8 pm
Tuesday 8 am – 8 pm
Wednesday 8 am – 8 pm
Thursday 8 am – 8 pm
Friday 8 am – 8 pm
Saturday 8 am – 8 pm
Sunday 9 am – 5 pm
Our Address is
HVAC Santa Clarita
26893 Bouquet canyon rd
Santa Clarita CA 91350