What are the best central air conditioner brands?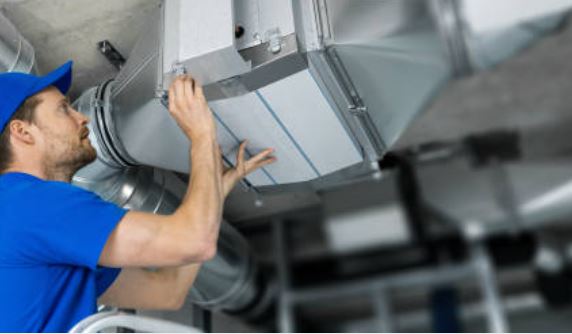 call 661-888-0248
Contact us 24/7 for HVAC services!
When buying a central air conditioning unit, there are many factors you look at; and the brand is on top of them.
The best central air conditioner brands have:
energy efficiency,
reliability,
great deals,
attractive terms and warranties,
superior cooling features and much more.
And it is no secret that no brand will offer you all the good features of central AC units. The trick is to find a good central air conditioner brand that offers many great features for optimal cooling.
And, it is like a game of chess; you have to analyze all possible outcomes. This way, you will end up with not only the best central air conditioner brand but also something whose features were specifically tailored for you.
Whether your ac isn't cooling house, or you are just looking to upgrade your AC, analyzing top brands is necessary.
We will get straight to the best air conditioner brands to save you time.
Goodman Air Conditioners – Cost-friendliest Option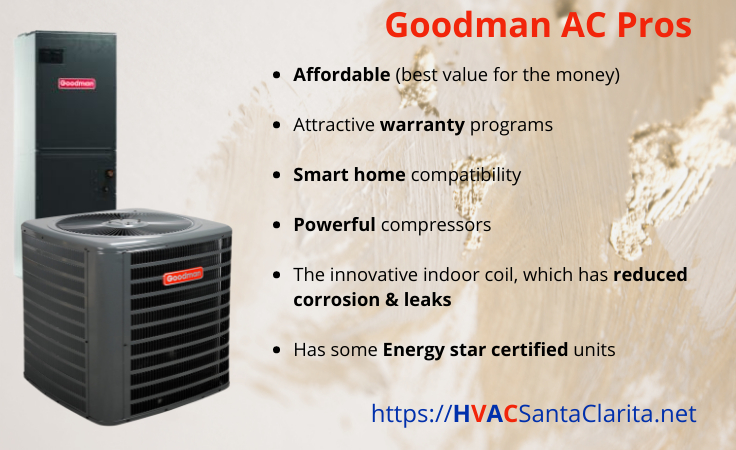 Goodman central AC units are a powerful force in air conditioning industry
One reason homeowners are attracted to Goodman is the reasonable price tag. This is good for you if you love to get great deals for cheaper money.
However, the reason Goodman often pops up as our top suggestion to homeowners is how good quality and solid they are. Their build makes them the best value for your money.
Also, they come along with attractive warranty terms you can rely on.
We often recommend Goodman central air conditioners for rentals or apartments where you cannot perform frequent maintenance. Goodman HVAC systems typically come with preinstalled air filters and other features that do not need frequent maintenance.
They come with a SEER rating of 13-18. If you are looking for high energy efficiency, go for one with a SEER rating of 18.
Also, if you are looking for a smart home-compatible central air conditioner, Goodman was made for you.
Goodman Pros
Affordable and, therefore, the best value for your money,
Attractive warranty programs,
Smart home compatibility,
has powerful compressors,
the innovative indoor coil, which has reduced corrosion and leaks,
has some Energy star certified units
Goodman Cons
Has no factory-designated installers. 
Mitsubishi Air Conditioner – High Energy Efficiency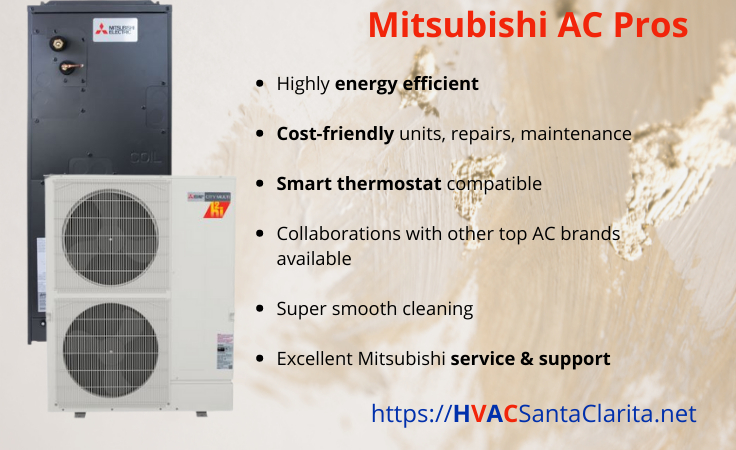 Mitsubishi air conditioners have many residential and commercial central HVAC systems. It is one of the oldest HVAC companies, formed in 1870. However, that is not why we picked them for this list.
Thanks to its carefully designed and sophisticated features, Mitsubishi is a game changer in the cooling industry.
Initially, Mitsubishi was focused on manufacturing ductless mini splits. They, however, now have central ACs of up to 3 tons. This makes it a fantastic choice for residential cooling and small to medium-sized commercial buildings.
You will love that they are highly energy efficient.
They have SEER ratings of up to 27! And this can cut your energy bills by up to 50%. While this SEER rating is record level and a game-changer, you can still go for Mitsubishi air conditioners with lower SEER ratings if you do not have a high upfront budget.
Tip: If you buy Mitsubishi ACs with lower SEER ratings, incorporate them with Mitsubishi's inverter compressor, which Kumo Cloud Controller controls. There is no better way to optimize energy efficiency!
In terms of cost, Mitsubishi HVAC units cost less than other air conditioning brands.
Note: Mitsubishi has some collaborations with other top AC brands, Trane and American Standard; you can look at them.
Mitsubishi Pros
Highly energy efficient consumes approximately 5 to 6 units of electricity when run all night
cost-friendly,
smart thermostat compatible,
Collaborations with other top AC brands available,
cost-friendly repairs and maintenance,
super smooth cleaning,
Mitsubishi has excellent service and support
Mitsubishi Cons
Their remote control has no lights, making it difficult to operate at night.
Day & Night – Affordability and Performance in One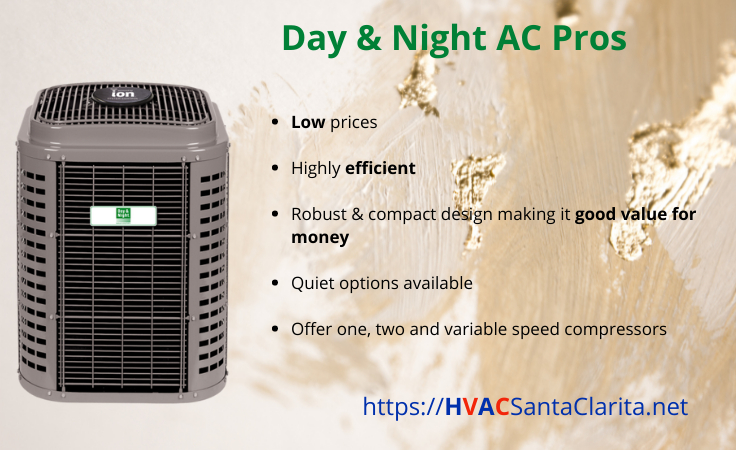 If you are looking for the perfect balance between affordability and performance, a Day and Night AC unit was created for you. It is one of most reliable brands of central AC. 
First, they come with a SEER rating of up to an incredible 26. And they produce noise as low as 56 decibels.
Even with these fantastic features, and incredible performance, Day & Night air conditioners still have a relatively lower price than most other air conditioners on the list. You will likely pay $2000-$6000 to purchase and install the unit.
You will also love that they have outstanding warranties in the business. Almost all Day & Night models come with a ten-year warranty.
Also, for some top-end Day & Night AC models, you will get a hassle-free replacement of parts such as the compressor failure within ten years of purchase. With this service, you will not need to learn how to fix home air conditioner, they cover you.
Since Day and Night air conditioners are well-built and compact, you are less likely to need such replacements. However, you will save so much on AC repair or replacement if it happens.
Day & Night Pros
Low price
Highly efficient,
robust and compact design making it a good value for money,
quiet options available,
They offer one, two and variable speed compressors.
Day & Night Cons
their variable speed compressor has only five speeds
Trane Air Conditioner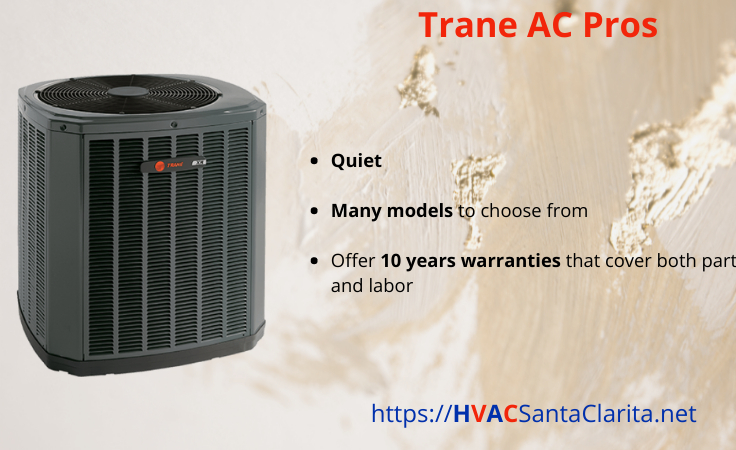 Ingersoll Rand makes Trane air conditioners.
They are a famous air conditioning brand, and we love to think it is because of how accommodating they are in terms of SEER ratings. They have a wide range of 14-22; essentially, there is something for almost everyone.
However, one reason many homeowners reconsider buying Trane air conditioners is their price. Depending on the model, you can pay $5000 to $10,000.
Also, they are a bit bulky. If you do not have adequate room, you are better off forgetting about Trane central air conditioners. Remember that if you squeeze it just anywhere, you will impede airflow, affecting the air conditioner's functionality.
However, despite the bulkiness, they are pretty quiet.
Furthermore, they have many air conditioner and heat pump models you can choose from.
Trane Pros
Quiet
many models to choose from,
offer 10-year warranties that cover both parts and labor.
Trane Cons
Pricey,
bulky, therefore, need more space.
Carrier Air Conditioners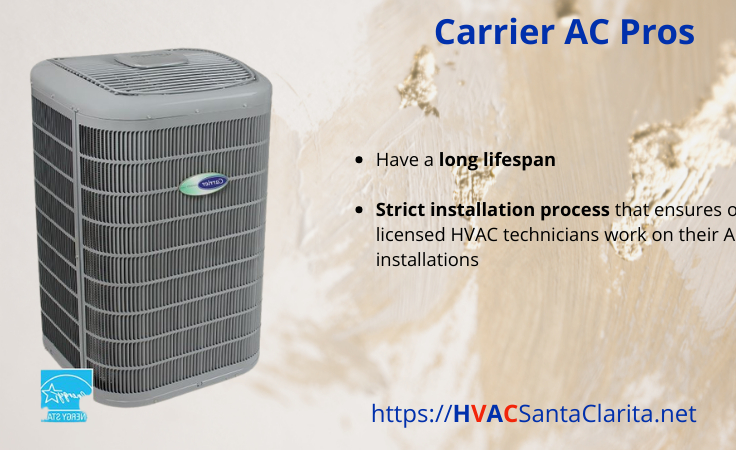 Carrier air conditioners are highly recognized in the industry. It is probably because it has been in the game for a long time. Carrier air conditioning has been doing it since 1902.
But, we love to think they could be highly regarded because they are highly energy efficient.
For example, one of its loved AC systems, the Infinity 21 series, has an incredible SEER rating of 21. And this is thanks to the robust 2-stage compressor design this equipment comes with.
You will also love that their latest brands are getting quieter and quieter.
However, you will have to cough some good money to acquire Carrier HVAC systems. The cost may be worth it, but if you are on a budget, you may want to check other budget central air conditioning brands.
Carrier Air Conditioner Pros
They have a long lifespan,
Carrier has a strict installation process that ensures only licensed HVAC technicians work on their AC installation,
Carrier Air Conditioner Con
They are expensive. Buying the system will cost anything from $5500 for their low-end models to $7500 or even higher for their high-end models.
Rheem Air Conditioner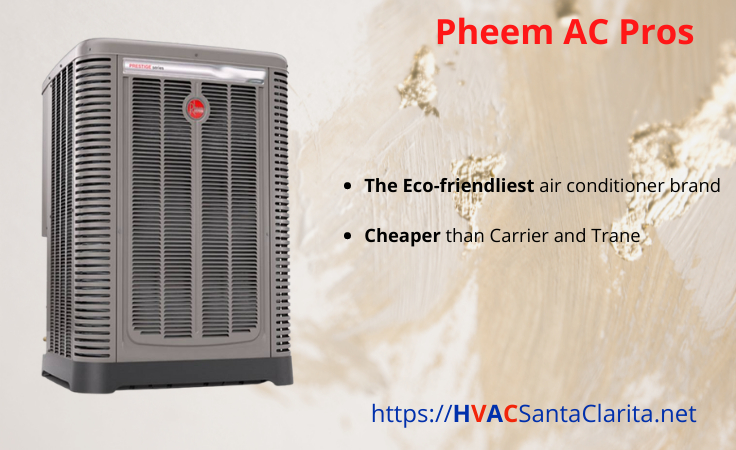 We consider Rheem air conditioners a middle-range brand. It is an excellent example of you getting what you pay for.
They do not come with high energy efficiency as Carrier, but that is still okay as they are not as expensive as Carrier AC units.
However, what you will love most about Rheem is the 10-year warranty they offer on most of their parts. And their customer service system is responsive.
Furthermore, Rheem air conditioners are some of the most environmentally friendly systems. First, the company has a 2025 goal to produce zero landfill waste and to reduce greenhouse gas emissions by 50%.
Secondly, Rheem claims to be cutting its carbon footprint in its manufacturing processes. Additionally, their air conditioners are known to be ecologically friendly.
Rheem Pros
the Eco-friendliest air conditioner brand
Cheaper than Carrier and Trane
Rheem Cons
Rheem does not have company selected installers
Lennox Air Conditioners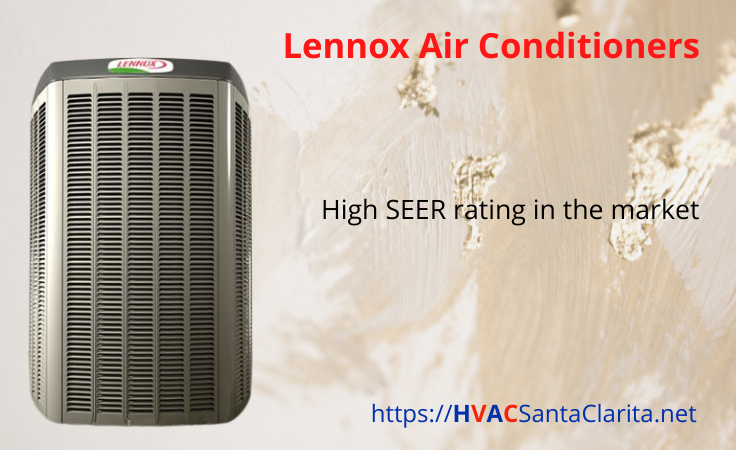 If we were to describe Lennox air conditioners, we would say it is a luxury air conditioning brand. And that screams one thing; you will have to dig deeper into your pocket to acquire a Lennox air conditioner.
Lennox could be your ideal fit if you have the money to splash. The money you will pay may be worth it, thanks to their high seasonal energy efficiency ratio. Their high-end model has an excellent SEER rating of 26! Additionally, repairing Lennox's broken parts can be pretty expensive. A simple thing such as AC thermostat repair could cost you dearly.
It is a good central air conditioner; we are attracted to its high SEER-rated models. However, we don't recommend it first to our clients because we believe they could get other reasonable air conditioners at a friendly price tag.
Lennox AC Pros
high SEER rating in the market
Lennox AC Cons
Amana Air Conditioners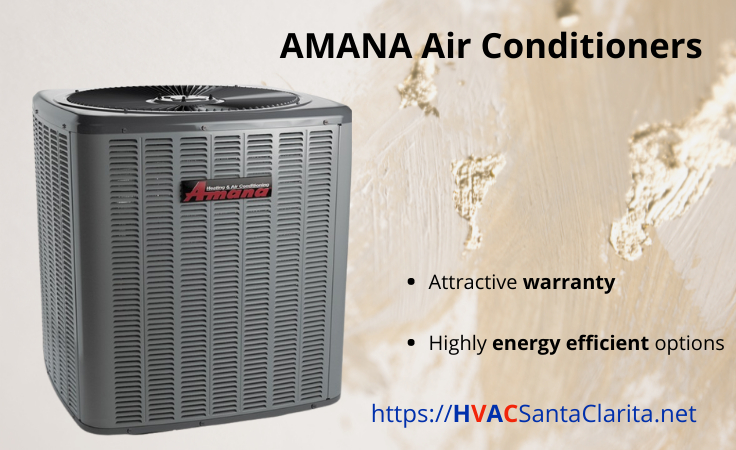 Amana air conditioners could catch your attention if you are looking for a mid-range central air conditioning unit.
They come with a SEER rating of 14-25. Depending on your budget, you can get something low-end or high-end.
They, however, are an excellent choice for homeowners looking for a SEER rating of 18, which is still great. You get the most outstanding value for your money at this range.
Amara central AC unit compressor comes with a limited lifetime warranty. This is one outstanding warranty among many central air conditioner units.
They also offer heat pumps and gas furnace replacements.
Amana Pros
attractive warranty,
highly energy efficient options available,
Amana Cons
lack of proper insulation and protective grills around the compressor; which may result in breakdowns
American Standard Air Conditioners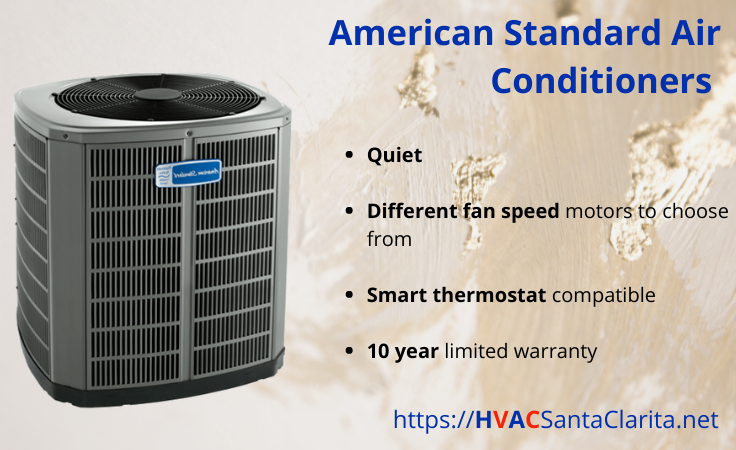 American Standard has been in the air conditioning industry since before the 1900s. This is an incredibly long time for homeowners who would not like to invest in the newcomers in the industry.
Also, American Standard is the sister company of Trane.
American Standard AC units come with a SEER rating of 14.75- 22.
Their systems are either:
single-stage,
double stage,
variable speed compressor.
Therefore, if you are in search of an efficient air conditioner, you will probably land your choice with American Standard.
Also, it is worth noting that these AC units work well with Accucomfort and AccuLink intelligent thermostats. The company also has a smartphone app to help you control, set and adjust your thermostat settings.
They come with sound-insulated compressors that produce noise as low as 57 decibels(1).
American Standard Pros
Different fan speed motors to choose from,
Quiet,
Smart thermostat compatible,
10-year limited warranty.
American Standard Cons
Heil Air Conditioners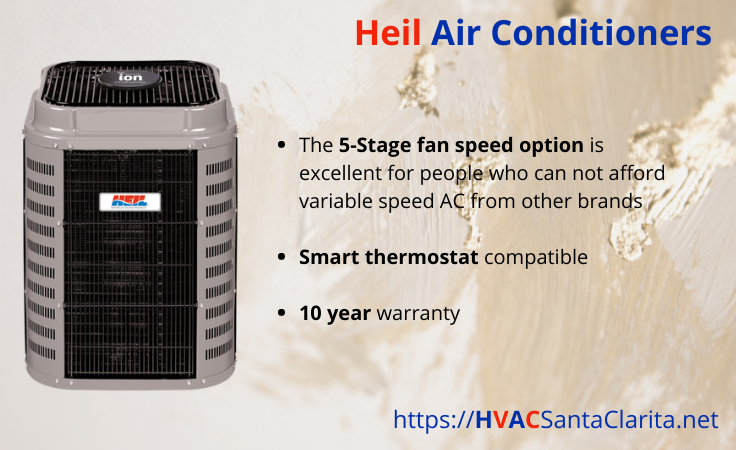 Heil is another of the top AC brands. It is not that known, and it is because it is a relative newcomer in the air conditioning industry. Consequently, you will find fewer customer reviews online.
However, for the short time it has been around, Heil has proven to be among the best central air conditioner brands.. They have a SEER rating of 14-19
Heil offers:
One stage AC brands,
two
five-stage cooling systems, which make it an energy-efficient air conditioner.
This cooling system tech makes it an attractive choice. They come with a Wi-Fi-enabled remote control.
They are also thermostat compatible.
These air conditioners come with a 10-year warranty for general parts
Heil Pros
10-year warranty,
Smart thermostat compatibility that allows for programming,
The 5-Stage fan speed option is excellent for people who cannot afford variable speed ACs from other brands.
Heil Cons
their premium models are costly
Coleman Air Conditioners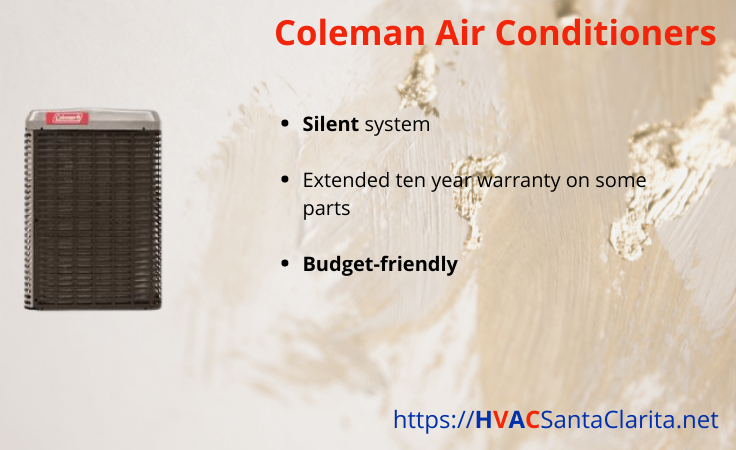 Coleman has been manufacturing air conditioners since the 1950s.
These HVAC systems come in One, dual and variable speed capacities.
However, one reason they stand out is their low noise level. They have models that produce as low as 53 decibels.
They come with a ten-year warranty of limited parts. Coleman could be your brand if you also look for intelligent thermostat compatibility.
They come with a SEER rating of 15-21.
Coleman Pros
Silent air conditioning system,
extended ten year warranty on some parts,
budget-friendly
Coleman AC Cons
many users have complained of coil leaks
Central Air Conditioner brands Frequently Asked Questions.
We answer some questions on some top air conditioner brands. We hope to help you settle on the best brand for your needs.
Do central air conditioner brands matter?
Yes, a central AC brand matters. And it is one of the main things that impact homeowners' choices.
Air conditioner brands are synonymous with their features. Some brands are well known for their high energy efficiency, while others are recognized for their quiet yet powerful performance. On the other hand, some are popular for their low upfront costs but still offer powerful performance. It, therefore, depends on what you look for. Your priority will determine what brand suits you best.
What is a good SEER rating for AC systems?
The lowest SEER rating you can buy in the US is 13. However, the law is recently made it a requirement for homeowners not to go below 14 in SEER rating(2).
The highest rating is 28.
In our opinion, anything above 16 is pretty good, depending on your cooling needs.
What is the lifespan of a new air conditioner?
Many air conditioners will last 15-20 years.
However, depending on how you maintain it and the brand, some will not last longer than ten years. This is why you want to get an air conditioner among the best AC system brands we have discussed.
What is the cheapest AC brand?
There are a lot of budget-friendly central air conditioners you could get.
However, it is not just about getting cheap air conditioner brands. It needs to have a powerful performance too.
Good air conditioners offering performance and low costs include Goodman, York, and Day and Night.
What is the most reliable brand of an air conditioner?
This will depend significantly on what you are looking for.
For a long time, Trane air conditioners have been considered the most reliable. However, their high price makes people think twice and go for cheaper yet equally great AC units such as Mitsubishi.
Final Thoughts on best Central AC brands
It is no lie that choosing the best whole house air conditioner brand will be tricky. However, if you know it is your priority, you will have no problem settling for your ideal central HVAC system.
Are you looking for the quietest operation? Are you looking for a system with strong cooling power? Or is one with a high energy efficiency rating your thing? How about one with a limited lifetime replacement warranty?
With these factors in mind and these top AC brands we have listed, you sure will get your perfect match.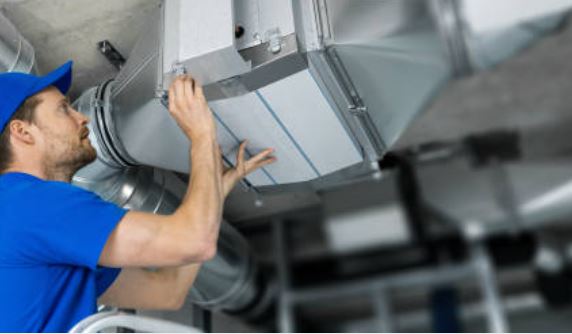 call 661-888-0248
Contact us 24/7 for HVAC services!
Sources
https://www.forbes.com/advisor/home-improvement/best-air-conditioning-brands/
https://www.consumerreports.org/central-air-conditioning/most-reliable-central-air-conditioning-systems-a5246005663/