At HVAC Santa Clarita, we pride ourselves on ensuring our clients have correctly functioning cooling and heating equipment. We service following areas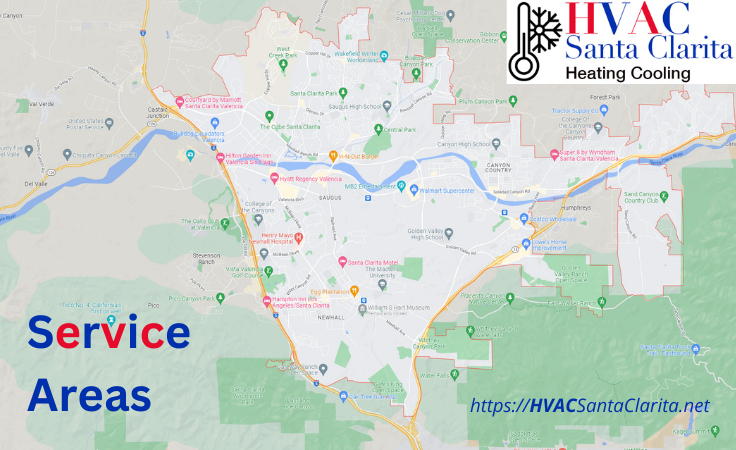 We understand the discomfort of hot summers without proper air conditioning. On the other hand, the frigid winters without heating can feel torturous. We strive to give our clients in Santa Clarita and the neighborhood areas reliable HVAC services.
Your house should be a perfect haven of comfort. You should be able to enjoy efficient heating when winter hits in and cooling when summer gets at its peak. We would love to ensure your heating and cooling system are always at their level best.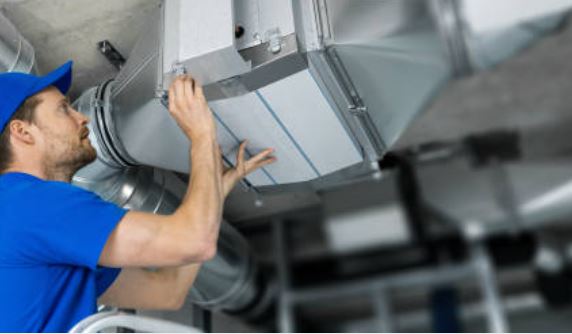 call 661-888-0248
Contact us 24/7 for HVAC services!
In simpler terms, our clients' indoor comfort is our business concern.
Below, we discuss the HVAC services we offer and the areas we cover.
Air Conditioning Services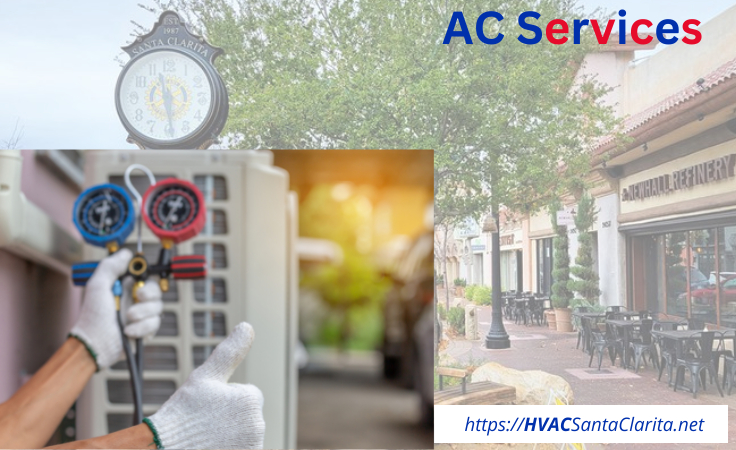 Feel free to contact us if you are looking for air conditioning services in Santa Clarita and neighboring towns. We service all kinds of air conditioners from central AC systems, ductless mini splits and portable and window systems.
We not only service the system for you but also give you professional advice to get the best efficiency from the air conditioning system.
Call us today for affordable air conditioning in Santa Clarita.
AC Repair Santa Clarita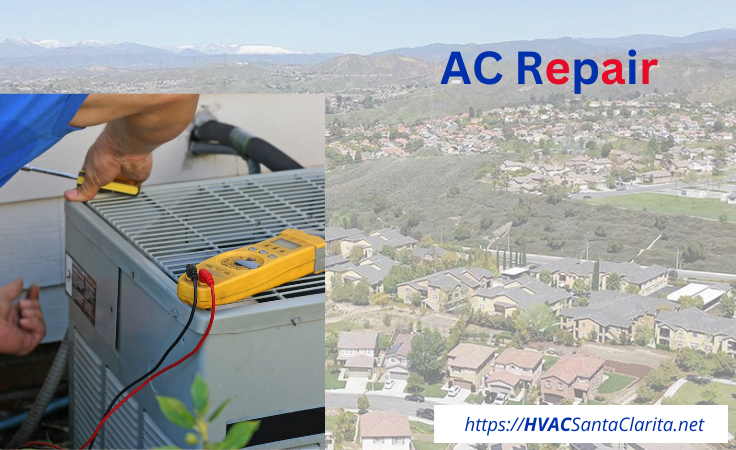 At one point, you will need AC repair for your cooling system. It is just like any other machine. It is more heavily used than many other machines, which makes more sense for them to break down or malfunction at one point.
Some top signs you need AC repair are a system not cooling the room as before or not cooling at all. Also, watch out for weird noises, smells and leakages. If you notice any anomaly with your system, do not wait until it gets out of hand; contact us for AC repair in Valencia CA or Santa Clarita's neighboring towns.
AC Installation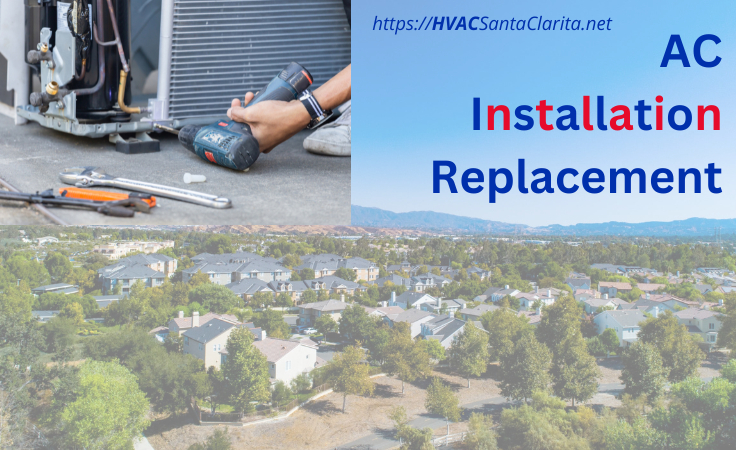 Do you need a new AC unit for your home? Whether you are looking to equip your new house or looking to replace your old cooling system, we are your technicians for that.
We will help you select the best cooling system for your house. We take you through the features of some of the best HVAC brands, such as Mitsubishi, Goodman and Day and Night.
That's right; we do not just install the system for you. We want to ensure that you have the best system at your service. We also select the best location for installation to ensure high energy efficiency for your system.
Do not hesitate to contact us for air conditioning installation nearby Santa Clarita and Valencia, CA
AC Maintenance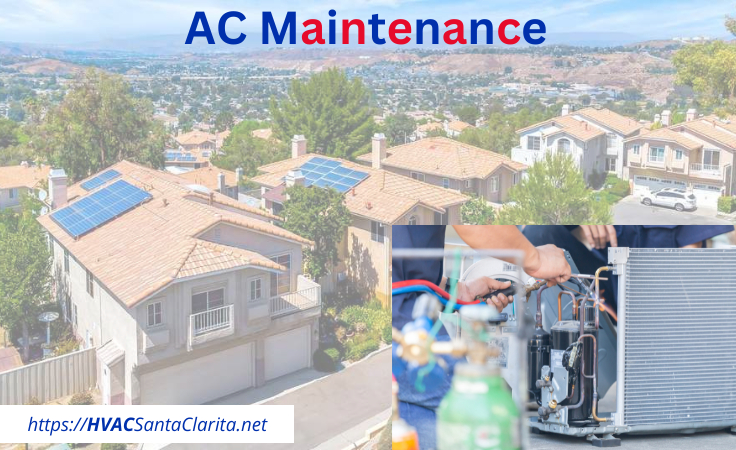 The only way to make your AC last longer and perform optimally is to perform regular AC maintenance. If you don't, you cut years off its lifespan while still increasing your energy bills.
You need to schedule at least one or two AC maintenance services per year. Yes, there are simple maintenance practices that you can efficiently perform if you master them well. For instance, you can change your air filters.
However, maintenance of other parts, such as coils and movable parts, are best left to professionals.
If you want your cooling system to always be on its feet, contact us for annual or bi-annual AC maintenance in Valencia Ca and Santa Clarita.
Emergency AC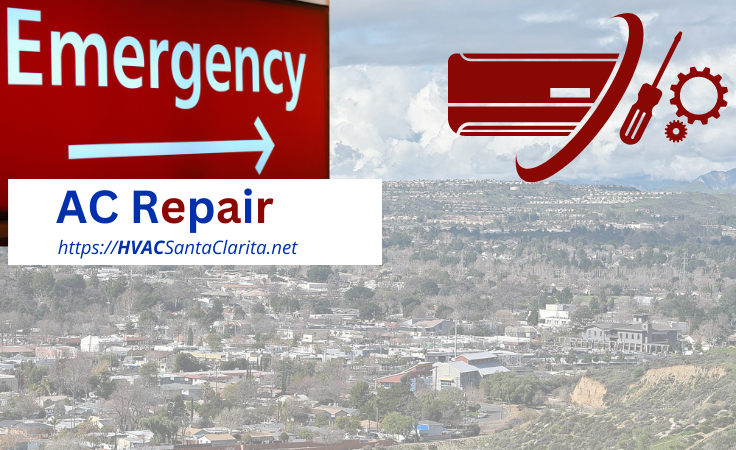 If your AC has anomalies, such as weird noises but is still cooling the house, you need to call for AC repair.
However, if it completely breaks down, you need to get emergency AC repair, or you will soon be scorching in the Santa Clarita summer heat.
Call us immediately if your system breaks down, whether it is a weekend or a holiday. We will get on site, diagnose the problem and revive your system.
You do not have to wait for ages when the summer heat soars. Contact us immediately for Emergency AC repair in Canyon Country, Valencia, Santa Clarita and other neighboring areas for same-day repair services.
Ductless Mini Split Air Conditioning Services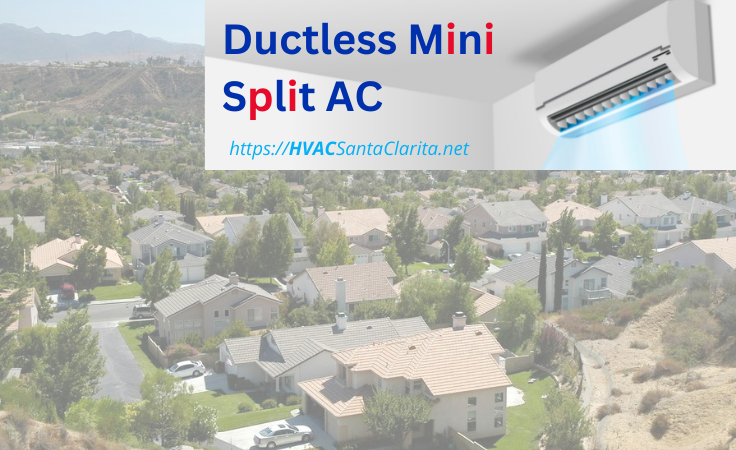 Do you live in a house with no ductwork? A ductless mini-split system will be the best solution out.
The thing, however, with the ductless mini split is how simple yet complicated they are. We will hold your hand and professionally help you choose your ductless mini split system. We will point you towards the right brands and help you choose the best size and efficiency for your cooling needs.
In addition, we will do the ductless mini split installation and other subsequent services such as maintenance and repair.
You know who to contact if you would love to get the best ductless mini split services in Newhall, Saugus, Santa Clarita and Honby.
Heating Services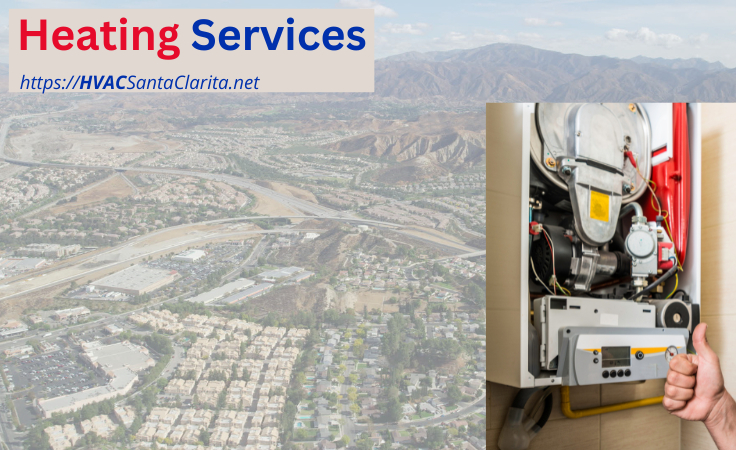 Those frigid winters can burden you, children, pets and plants in your household. It is time to get your heating equipment when winter is around the corner.
Contact us to get your heaters, furnaces, and heat pumps in the right working order for the winter.
If you need to acquire, upgrade or fix your heating equipment, we would gladly get the heating service done for you.
Heating Repair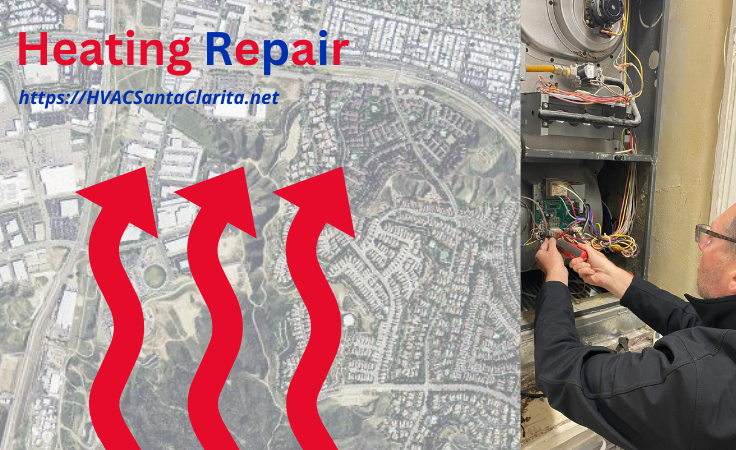 Is your furnace malfunctioning? Or is it not heating the house as needed?
When winter is here with us, the last thing you want is a defective furnace in winter.
Call us to repair a malfunctioning system and replace defective parts.
We would be happy to service your system and have it function properly all winter. There is no better method to keep a household warm and cozy all winter. Call us for heating repairs nearby Santa Clarita Area
Heating Installation or Replacement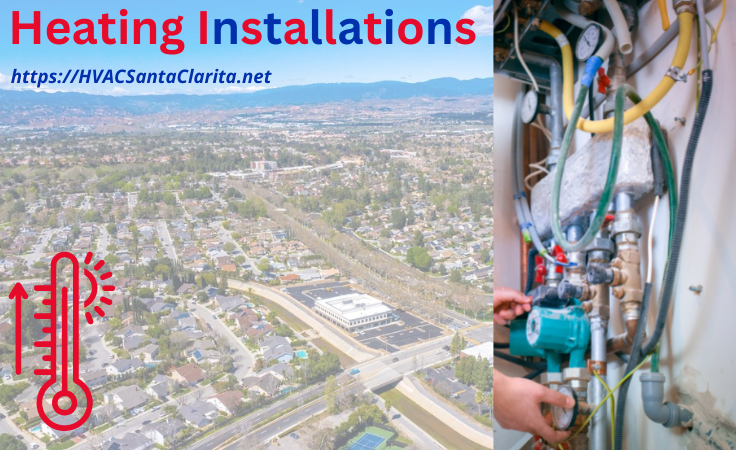 We are the guys to contact if you have no furnace yet.
We are your service whether you are getting it for the first time or replacing your old worn furnace.
And we do not just offer heating installation. We firmly believe in helping our clients get the best value for their money. We will, therefore, start by helping you choose the best heating equipment in case you are undecided. Also, we will help select the best position for its installation.
By the time we are done with the heating installation, you will not only have the most suitable system for you in place but also have it properly installed for optimal heating.
Contact us today for heating installation or replacement in Santa Clarita, Simi Valley, waltz, Mint Canyon and other surrounding areas.
Heater Maintenance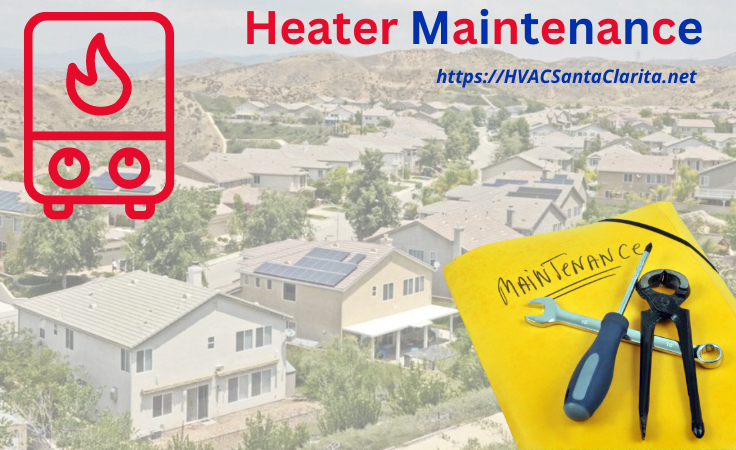 If you do not maintain your heaters well, they will disappoint you by breaking down when you most need them.
You can imagine the horror of your furnace breaking down in the middle of winter.
One great way to avoid such nightmares is to perform heating maintenance before the winter kicks in. Contact us for part maintenance, cleaning, lubrication and diagnosis of brewing problems.
Let us help you keep your heater at the top of its performance. Get in touch with us for heater maintenance services in Santa Clarita and its neighboring towns.
Heat Pump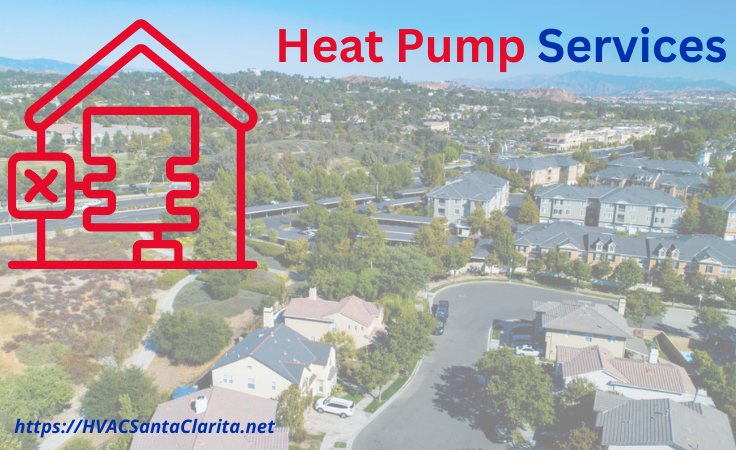 Your heat pump works all year long; it heats in winter and cools in summer. Now, a system on its feet all year long needs top-notch service; if it doesn't get it, you can expect it to let you down at any time. Call us if you are thinking about heat pump vs air conditioner, and we will give you the correct answer.
With a heat pump, you want to get everything correct straight from heat pump installation, heat pump repair and heat pump maintenance.
If you don't get things right with your heat pump, you can expect disappointments throughout the system's lifespan.
Contact us for reliable heat pump services in Santa Clarita CA and the neighboring areas. We would gladly get your heat pump to give you the best outcome.
Air Ductwork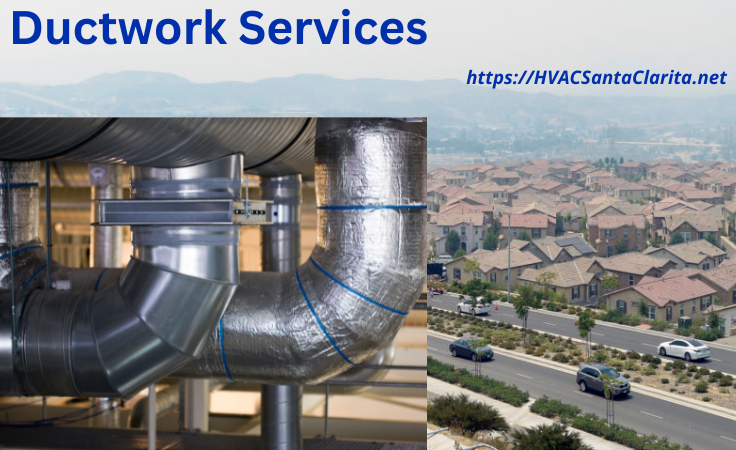 You must take care of your ductwork if you own a central cooling system in your home. Yes, the air conditioner gets the job done, but if the ductwork is not in proper condition, all may go in vain.
First, they are a haven for mold, rodents, dust and all sorts of contaminants.. If you do not watch out for these, they can easily find their way into your indoor air. This is a horror story you don't want to be part of, especially if you have people with allergies in your house.
Contact us for ductwork cleaning and screening for leaks.
We would gladly ensure your ductwork is in perfect condition to deliver quality conditioned air to you. Contact us for ductwork services in Santa Clarita and neighboring areas.
Duct Installation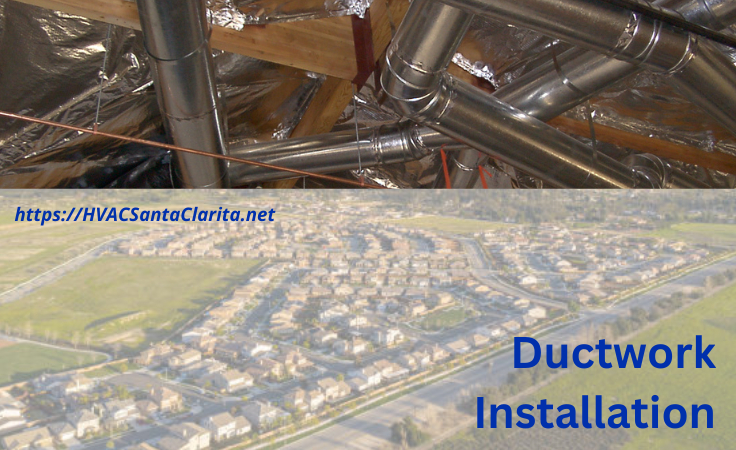 Moving into a house with no ductwork and would like one installed? We are the right company to do the work for you.
Duct installation calls for professionals who will get the calculations and sizes right. You also want them perfectly sealed in joints to prevent leaks.
Contact us if you are in Santa Clarita, Pardee, Bouquet Canyon, and other neighboring areas today for ductwork installation.
Duct Replacement
Ductworks have a lifespan of 20-25 years. However, the deterioration is usually apparent by 15 years.
It will get to a point where repairing or sealing your duct would not be worth it anymore.
We would gladly replace your ductwork and let you enjoy efficient cooling and heating services. With new duct replacement, you will forget about stressful duct sealing and cleaning for some years.
Contact us for duct replacement Mint Canyon Ca, Newhall, Santa Clarita and Waltz.
Duct Sealing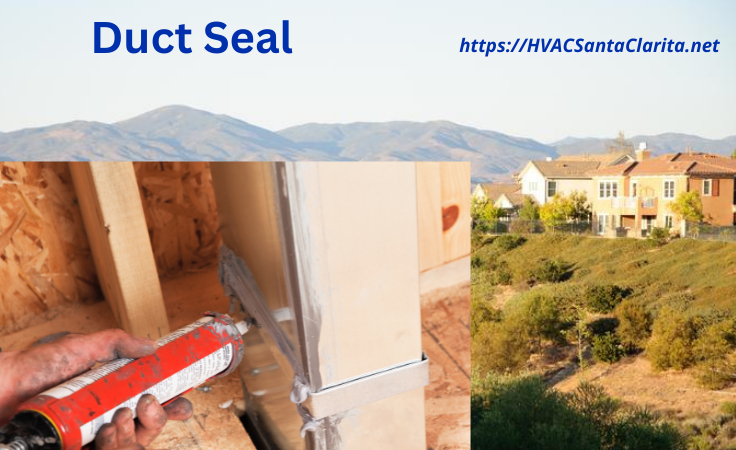 Air leaks are a significant reason you may have inexplicably high energy bills. It may also be why your HVAC system is no longer cooling or heating your house as needed.
The solution to air leaks is duct sealing. Contact us today for professional and reliable duct sealing services (including air seal) Newhall Ca, Santa Clarita and neighboring areas.
Thermostat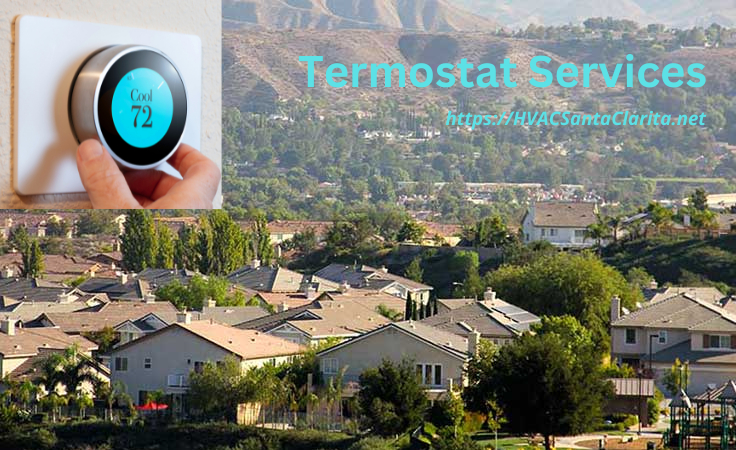 A thermostat plays a huge role in your air conditioner's functioning, which is why we take it seriously here at HVAC Santa Clarita. Having a malfunctioning thermostat can mess up your cooling and heating processes.
Whether you want to install a new thermostat, repair your old one, or upgrade to a programmable one, we will do the job for you.
We will also help ensure your thermostat is appropriately located. A poor location, such as under direct sunlight, begins heating and cooling chaos.
Contact us today for all your thermostat installations, replacements, and repairs in Santa Clarita.
Commercial HVAC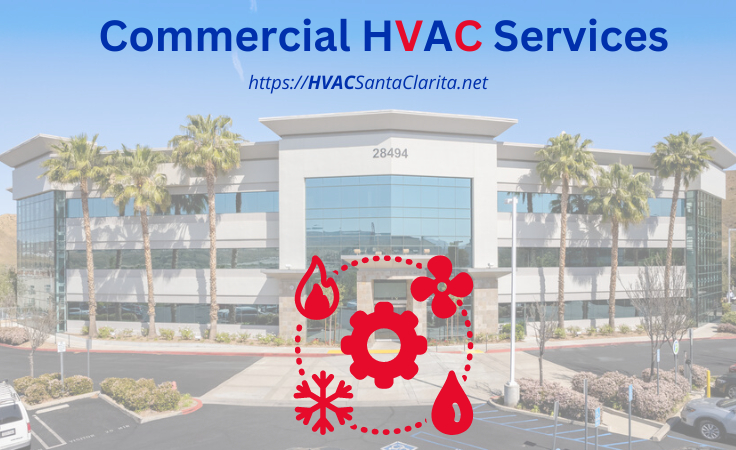 You cannot afford a malfunctioning HVAC system in your commercial building. A defective commercial HVAC can quickly result in losses and reduced productivity for workers.
We perform commercial AC services to promote a comfortable work environment for your workers and clients.
We also understand that selecting the best commercial HVAC for your system can be difficult. If you are looking for a cooling system for commercial space, we will help you select something suitable for your business.
Feel free to contact us for commercial AC repair, installation and maintenance.
We offer our commercial AC packages to schools, restaurants, retail stores, malls, cafes, offices, and other commercial spaces.
HVAC Brands we work with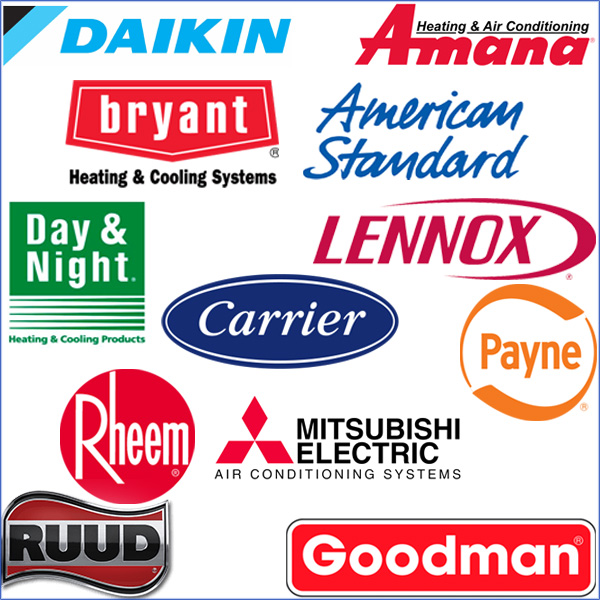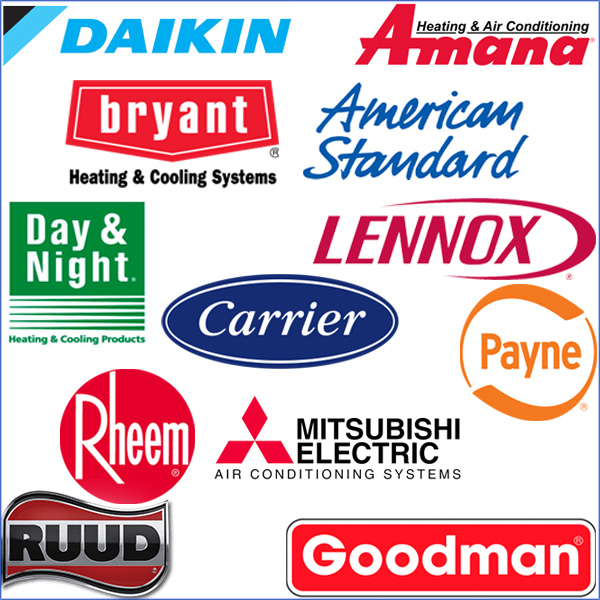 Like any other appliance, the brand you choose can give you an easy or difficult time. This is why we take a keen interest in helping customers choose what suits their cooling needs. We will jointly go through your cooling needs and compare them to your cooling space.
This way, we will help you get what is best for you.
We have also partnered with some of the top HVAC brands to make their appliances more accessible to you.
Feel free to reach out to us for HVAC equipment of the following brands:
Mitsubishi,
Goodman,
Day & Night
Rheem
RUUD
Goodman
Carrier
Payne
Bryant
American Standard
more
HVAC Santa Clarita Services
We offer HVAC services in Santa Clarita and the neighboring areas, such as:
Valencia, Canyon Country, Newhall, Saugus, Bouquet Canyon, Mint Canyon, Honby, Rancho Santa Clarita, Elayon, Solemint, Bouquet Junction, Waltz, Pardee.
If you live in one of these or neighboring areas, you are welcome to contact us for the HVAC services we discussed below.
Service Areas HVAC Santa Clarita – Why Us?
After transforming my unconditioned attic into a study room, I wanted an air conditioning option. I reached out to HVAC Santa Clarita and got a ductless mini split installed for me. They have reliable services nearby Valencia, thanks to their dedicated technicians.
– Michelle, spa owner
I recently got two new puppies but using my then heater was not an option. I was not taking any risks. I contacted HVAC Santa Clarita for a safer heating option. I got a furnace installed. Looking back, my winters would have been much cozier if I got this service earlier. I recommend this service to anyone who lives in Saugus and loves reliability.
– Jeremy, ultrasound tech.
Since we moved to Valencia, HVAC Santa Clarita has been doing air conditioner maintenance for us. A simple "AC maintenance Valencia" online search landed us here, and we are so far happy with the service. Because of the preventive work, our twenty-plus-year unit is still working fine.
– Lucy, pharmacist
Our AC broke down during the recent heat wave. We asked a neighbor to recommend us for emergency AC repair in Bouquet Canyon, Santa Clarita, and they referred us to HVAC in Santa Clarita. We got same-day service, and we are happy with it
– Justin, yoga instructor
See what else our friends have to say.
I was sick and tired of my AC's slow cooling and weird noises. Gladly got in touch with HVAC Santa Clarita, who helped do AC repair for me. They came in three hours to my home (I live in the Newhall area) It has been one smooth summer.
– Joseph, wedding photographer
We got our new house in Saugus, Santa Clarita, and one of the first renovations was getting a new AC system. HVAC Santa Clarita did a perfect air conditioning installation job for us. So far, so good. We recommend them to everyone.
– Natalie, make-up artist
HVAC Santa Clarita has always done my air conditioning services. The main reason I have stayed loyal to them for over a decade is the impeccable service they offer me. Their professional team has always helped me whenever I had issues with my ac and ducts. My house is located in Canyon County.
– Anne, high school teacher
I live in Valencia, CA, and I am just here to recommend HVAC Santa Clarita air conditioning services. Every time I needed repairs and maintenance services for my central AC, they stepped up and did a great job. They also do an impressive job with my ductless basement's mini split. I get value for my money every single time.
– Frank, coffee shop owner
More Testimonials
I had been looking for reliable heater maintenance in Newhall, CA service for a long time. For the past year, I scheduled an appointment with HVAC Santa Clarita just before winter. These guys handed me the smoothest winters ever. For once, I did not experience any breakdowns.
– Frank, appliance supply owner
I moved to my new condo in the Santa Clarita area a few weeks before winter. The first thing I had to work on was the heater installation. After searching for HVAC services in Saugus, I finally landed your company. They got me a Goodman furnace, which has been working perfectly. I don't want to get started on their professionalism; they are tops.
– Susan, veterinarian.
I went online looking for heat pump service because I was fed up with servicing an air conditioner and a separate furnace; it was expensive. HVAC Santa Clarita installed a Mitsubishi heat pump for me. I am happy with their service and recommend it to anyone in Solemint, Ca.
– Leo, truck driver
Moved into an old historic house with no ductwork. I decided to get one to get a central HVAC system. I asked around my Canyon Country neighbors, and many of them recommended me to HVAC Santa Clarita. Thanks to the patient and professional technicians, I had the neatest duct installation.
– Diana, hair stylist
And even more good words about our premium services.
After an incredible 17 years, it was time to let go of my ductwork: I mean, the need for repairs and sealing was expensive. I have been servicing my AC unit with HVAC Santa Clarita, so I called them for a duct replacement as well. As always, they did an excellent job.
– Angele, dentist
My energy bills were increasing, yet I had no new unit. I started searching for solutions on the internet and discovered that the cause could be duct leaks. I talked this out to HVAC Santa Clarita, my long-time HVAC contractor. They got on site, and true to my worries, my ductwork had gaps in their joints. I got professional duct sealing; three months later, I saw a steady drop in energy bills
– Ali, chef
I have wanted to upgrade to a programmable thermostat for ages. When the time finally came, I was glad I chose HVAC Santa Clarita to do the job for me. On top of installing the thermostat for me, they gave me tips on how to use it for improved energy efficiency. I got value for my money.
– Elizabeth, event planner
My studio is located in Valencia, CA's heart of commercial space. I have not been disappointed with the year we have worked with HVAC Santa Clarita. Their commercial AC maintenance and repairs have made my work much more straightforward. I highly recommend them for commercial AC service
– Britney, cosmetologist
Connect with us
Our Opening Hours
Monday 8 am – 8 pm
Tuesday 8 am – 8 pm
Wednesday 8 am – 8 pm
Thursday 8 am – 8 pm
Friday 8 am – 8 pm
Saturday 8 am – 8 pm
Sunday 9 am – 5 pm
HVAC Santa Clarita
26893 Bouquet canyon rd
Santa Clarita CA 91350