HVAC San Fernando Valley services is a new expansion of our working areas. Here at air conditioning service Santa Clarita, we aim to ensure all homeowners enjoy good quality air. Our focus is both the temperature and the quality of the air.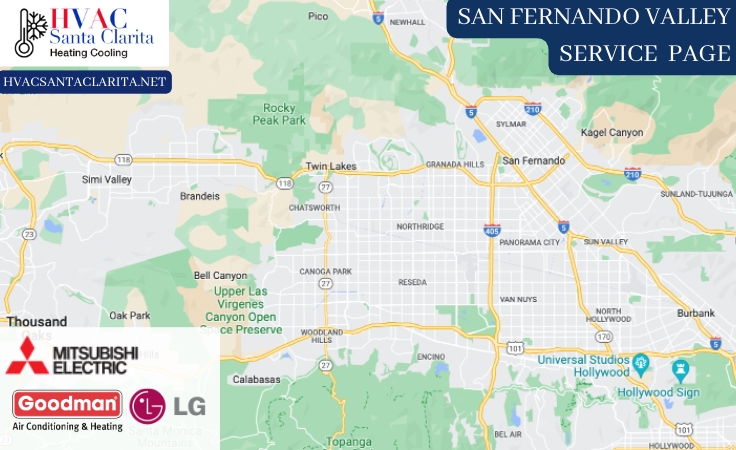 We go above ensuring humans are comfortable. We ensure your pets and plants enjoy an ambient house environment.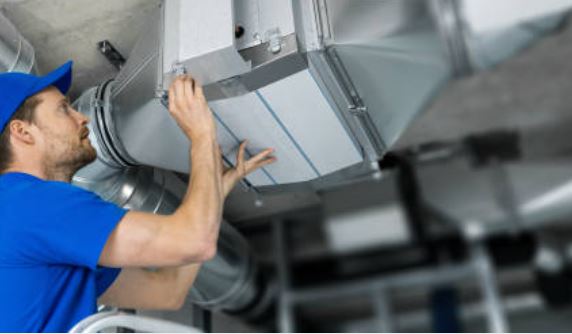 call 661-888-0248
Contact 24/7 for air conditioning services!
If you are in San Fernando, our HVAC services will not only ensure you are comfortable in your house. These services also guarantee you the following:
A longer lifespan for your air conditioning and heating system,
Lower energy costs,
Effectively functioning systems.
Read ahead for our HVAC services.
Air Conditioning Service San Fernando Valley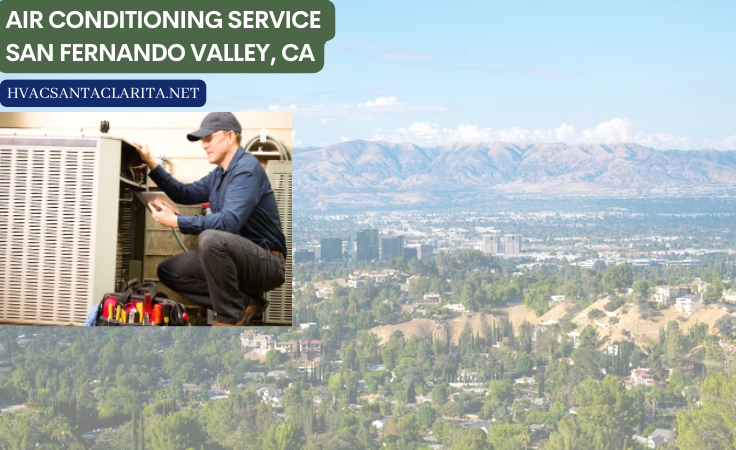 If you are looking for any air conditioning services in San Fernando Valley, HVAC Santa Clarita would be delighted to cover you. We work on all air conditioners, from central ACs, ductless to window AC systems. Our team has the skills and equipment to access AC units on the rooftop, ceiling, attic, crawlspace and basement. Don't worry about these; let our experienced contractors handle any air conditioning services you may need.
AC Repair San Fernando Valley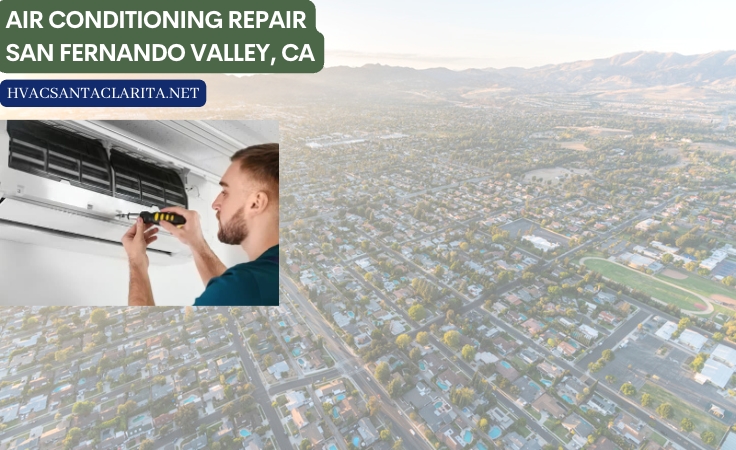 Are you looking for air conditioner repair in San Fernando Valley?
There are many signs that you should call for AC unit fixing. If you spot any of these, reach out to us immediately:
AC is making weird noises such as buzzes, screeches or hisses.
The unit smells weird,
Ice forming on or around the system,
System dripping water.
The unit wouldn't turn on or is short cycling.
If you spot any of these,  contact us immediately for Air Conditioner repair service in San Fernando Valley. 
AC Installation San Fernando Valley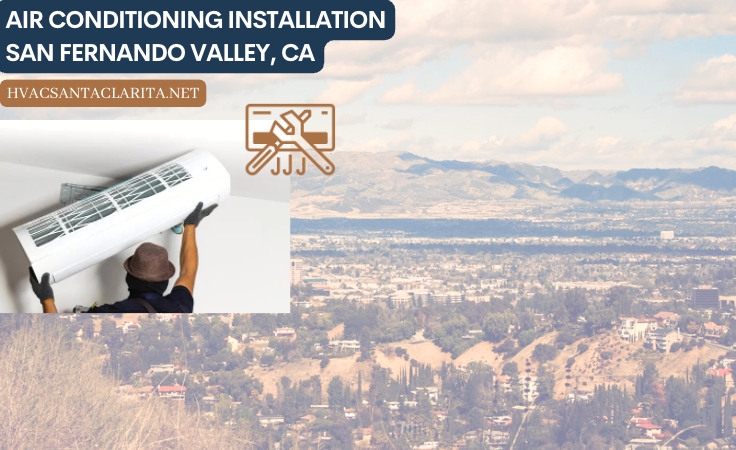 Are you looking to acquire a new cooling system? Whether you are looking to upgrade from a fan or replace your old AC system, we have you covered. We are here for you if you want a professional hand in the basics before the installation process, such as selecting an air conditioner.. Contact us today for AC installation services in San Fernando Valley Ca.
AC Maintenance San Fernando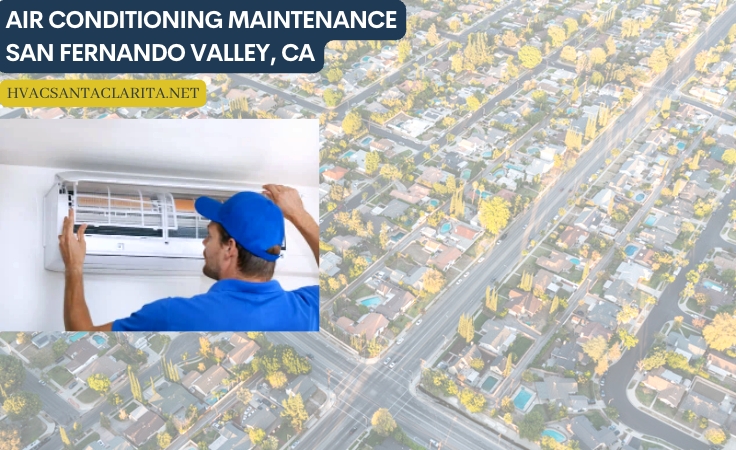 There is ultimately no reason to buy an air conditioner and fail to maintain it as needed. You will be cutting its life short by damaging its parts. You should get maintenance services at least bi-annually. We, however, get that some homeowners forget about it. Be sure to start seeking professional HVAC services before something is wrong. Call us today for AC maintenance services to ensure your system serves you well.
Emergency AC Repair San Fernando Valley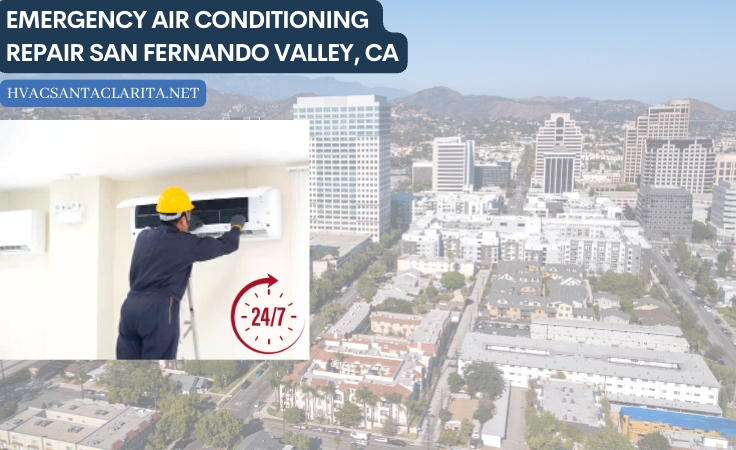 Summers in San Fernando can be super hot. You do not want to endure the heat and stickiness when your AC system unexpectedly shuts down or won't turn on. If your air conditioner puts you in such sticky situations, you do not need to panic. Our emergency AC repair San Fernando Valley service operates 24/7 and will be on your doorstep in no time to fix any problems.
Ductless Mini Split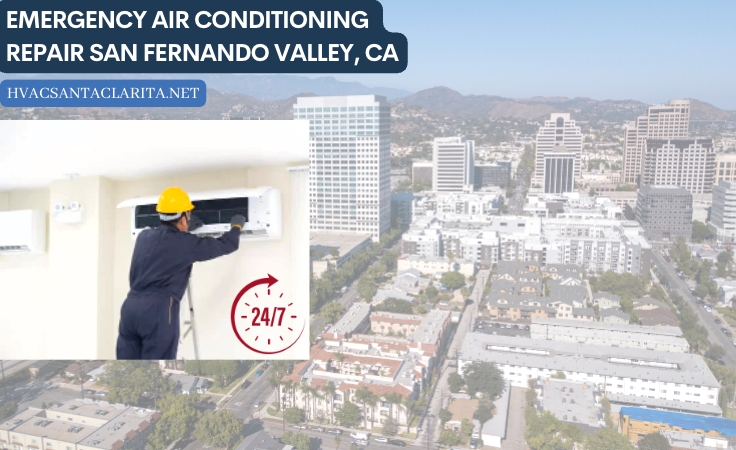 If you want a ductless mini-split in San Fernando, feel free to contact us. We will guide you and have the system properly installed. If you already have the system, call us for repairs and maintenance services of ductless mini split in San Fernando Valley.
Let us help you keep your mini split air conditioner or heat pump in excellent functioning.
Heating Services San Fernando Valley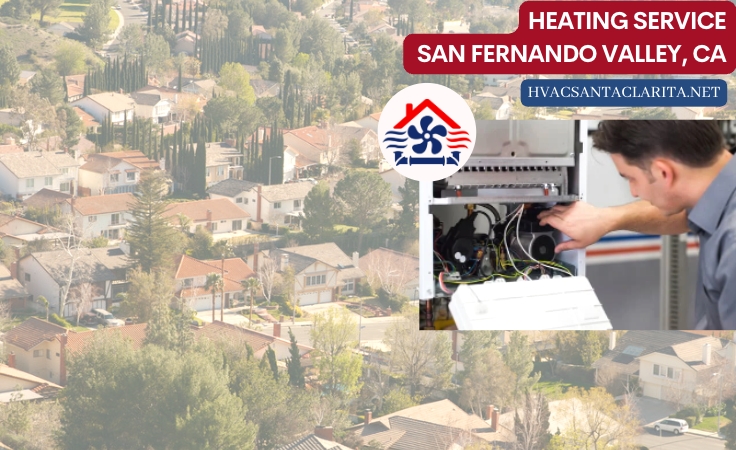 When winter is around the corner, it is time to ensure we have heating systems, and properly functioning ones, for that matter. Our business when the heating season arrives is to ensure all our clients have effortlessly functioning furnaces. Reach out to us for heating systems installation, repairs and maintenance. There is no better way to stay warm all winter long than use our heating services.
Heating Furnace Repair San Fernando Valley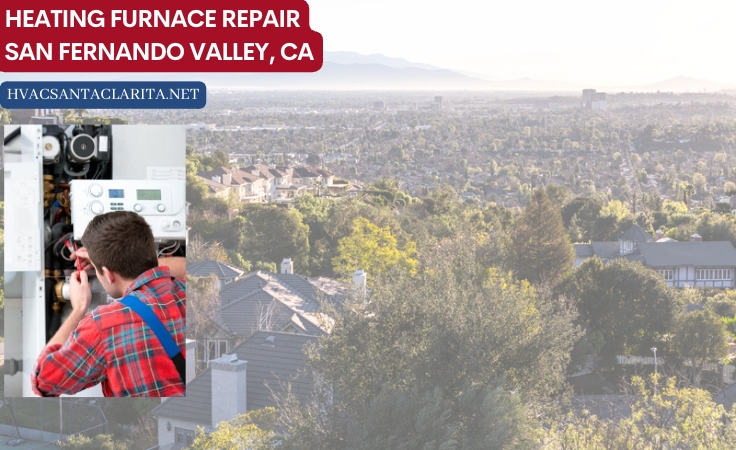 Furnaces stay idle in summer and gather so much dust and debris. Then they suddenly get overwhelmed when it is the cooling season. If you do not service the furnace in between before the heating season, you could expect it to break down or malfunction in winter. If you are faced with such, feel free to call us for heating furnace repair.
Furnace Installation San Fernando Valley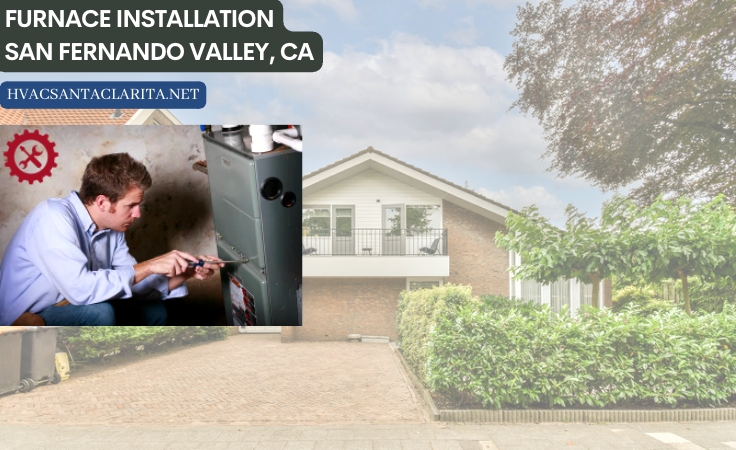 Are you looking to acquire a new furnace? Whether it is your first time or if you are getting rid of your old and worn-out furnace, HVAC Santa Clarita will do an excellent job for you. If need be, we will help you select the right size, brand and model of furnace. We will then do the installation process and ensure you get decent warranty terms.
Reach out to us today for furnace installation services in San Fernando Valley.
Heating Maintenance San Fernando Valley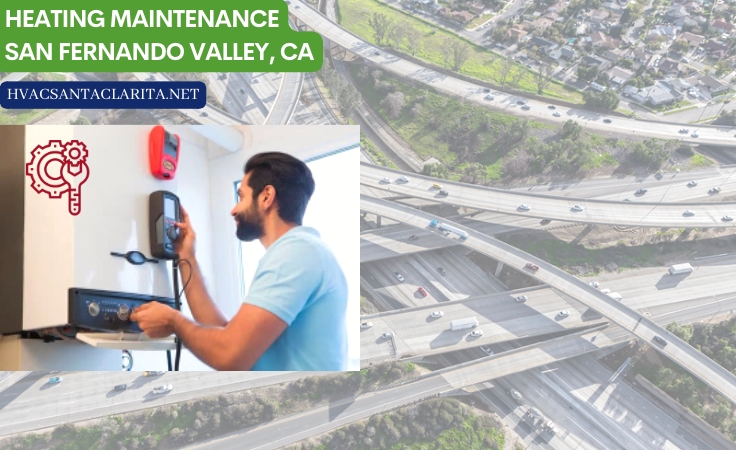 There is no better way to keep your furnace in good shape than to service and maintain it as needed. Besides this, our heating maintenance services will ensure that energy consumption stays low while the system runs.
Contact us today to maintain a well and efficiently functioning heating system for longer.
San Fernando Valley Heat Pumps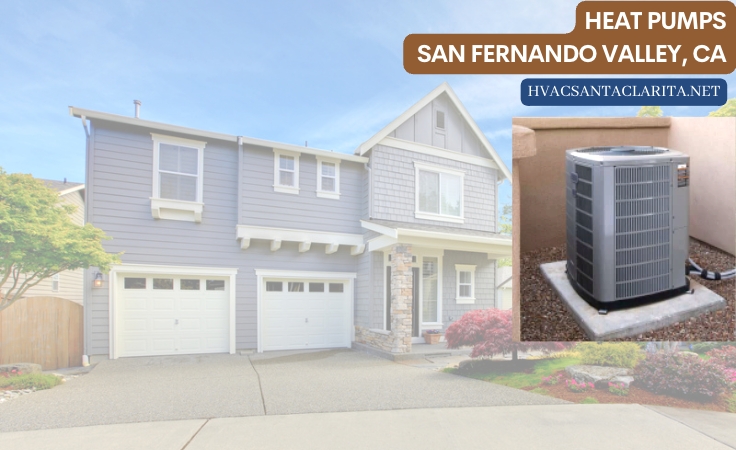 Are you considering getting a heat pump? Let us do the heat pump installation in San Fernando Valley for you.
If you already have the system, we will gladly do the maintenance and repair services for you. Heat pumps work all year long. They need that extra care to be always on their feet.
Contact us today for all your heat pump services.
Air Duct San Fernando Valley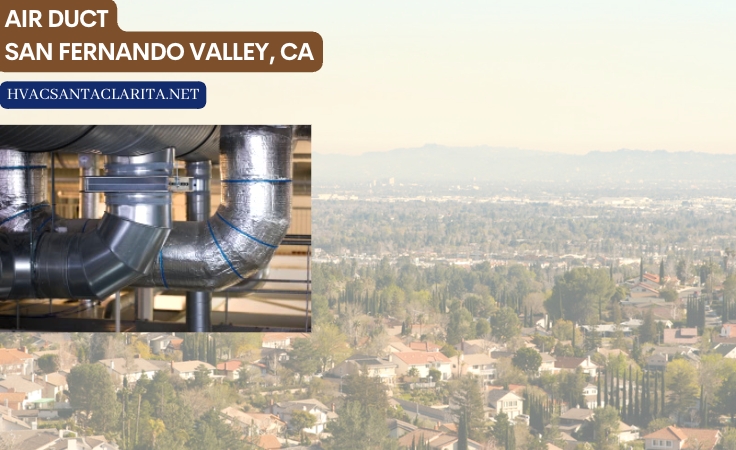 If you have a central HVAC system, you should take care of both the system and the air duct. Overlooking the ducts and focusing on the air conditioner creates many problems.
Our air ductwork service aims at keeping your air quality great while maintaining the efficiency and functionality of your central air conditioner or heat pump. 
Air duct replacement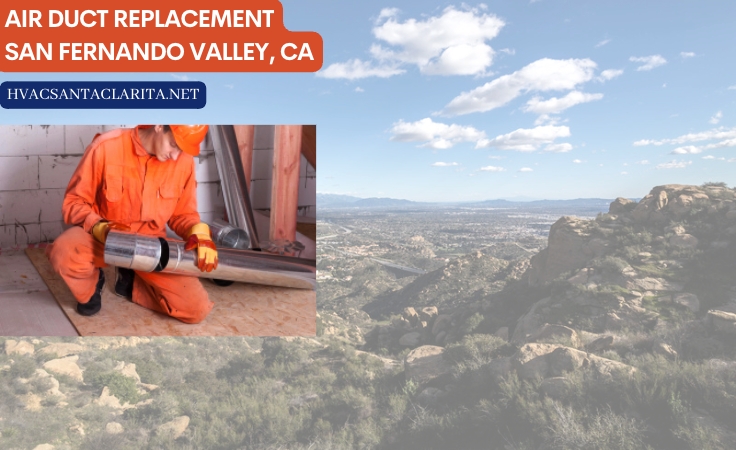 Some signs that you need air duct replacement include:
An always dusty home, no matter what you do,
Noisy HVAC system,
Persistent pest problem,
High energy bills,
Moldy and mildewy smell in the house,
Clear debris around the air vents,
Increased respiratory problems in the household.
If these signs are apparent in the house, the reflex would be to get AC and sometimes duct repairs. However, if these signs persist no matter what you do, the solution is to replace your ductwork.
Contact us for air duct replacement in San Fernando Valley.
Air Duct Sealing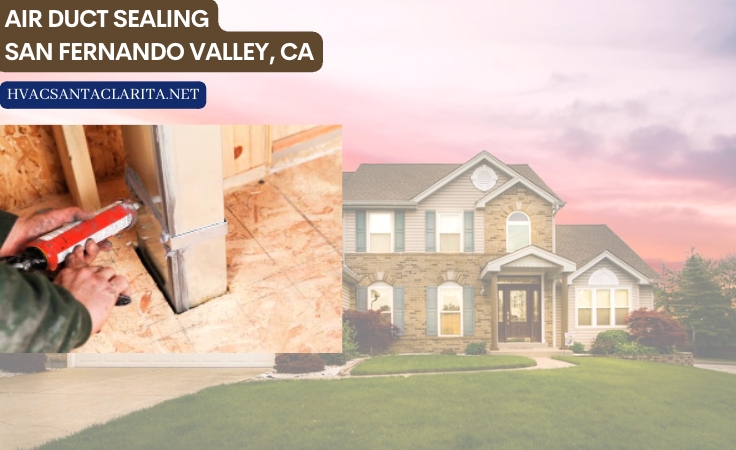 Ai duct sealing services help ensure no conditioned air escapes from the system. If your duct has holes, conditioned air escapes, forcing your system to work harder and more. This means two things: the system wears out quickly from overworking. It also consumes extra energy as it runs more.
Contact us today for air duct sealing services in San Fernando Valley.
Thermostats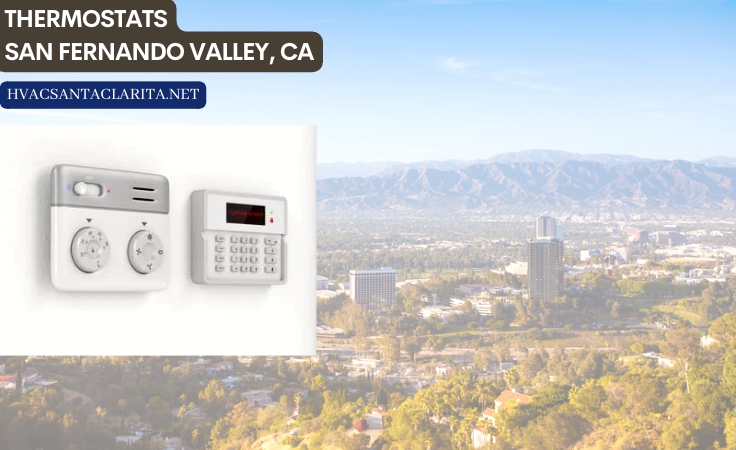 Thermostats are the control panel of your HVAC system. There is no way your air conditioner will work accurately if your thermostat is faulty.
HVAC Santa Clarita will gladly fix your faulty thermostat. All you will have to do is give us a call.
Also, if you want to increase your household's energy efficiency, one smart move is to upgrade to a smart thermostat.
Contact HVAC Santa Clarita for thermostat services in San Fernando Valley.
Commercial HVAC San Fernando Valley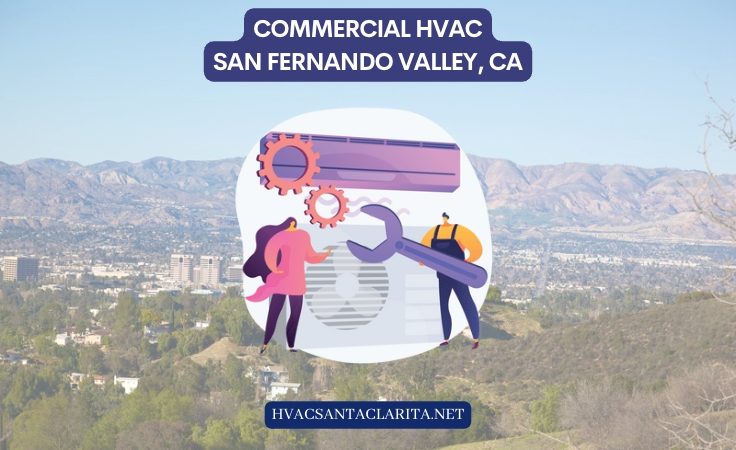 Our commercial HVAC services in San Fernando Valley aim to make the work environment comfortable for workers and clients. With this, the workers become more productive, and the clients happy with the services.
Contact us today for commercial HVAC installation, repair and maintenance in San Fernando Valley.
Areas We Serve
HVAC Santa Clarita serves San Fernando Valley and all the neighborhoods around it.
If you are in the following areas, feel free to reach out to us for HVAC Services:
Encino, Sherman Oaks, North Hollywood, Van Nuys, Woodland Hills, Porter Ranch, Northridge, Granada Hills, Chatsworth, Reseda, Tarzana, Canoga Park, Winnetka, Lake Balboa, Studio City, Mission Hills, Valley Village, Toluca Lake.
Brands we Work With
We are certified dealers of the following HVAC brands:
Goodman,
Day & Night,
Mitsubishi,
LG.
However, feel free to call us if you want services on other HVAC brands. We do installation, repairs and maintenance of the following brands:
Amana,
American Standard,
Bryant,
Carrier, 
Daikin,
Lennox,
Rheem,
Ruud. 
and more
Testimonials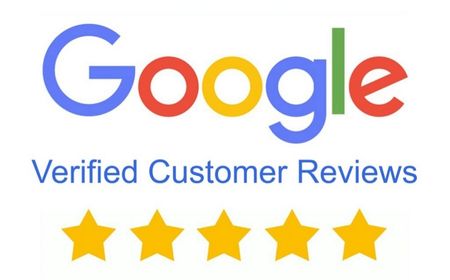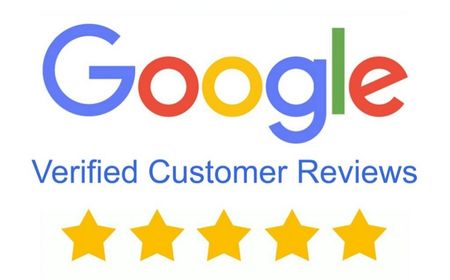 It has been a year since we started getting our air conditioning services from HVAC Santa Clarita. They installed and serviced our central AC and ductless mini-split systems. I am very content with their professionalism.
Arthur, Bookstore owner.
Our AC kept short-cycling last summer. We tried everything to get it back on track but couldn't. When we finally contacted HVAC Santa Clarita, they came to our San Fernando home and repaired the system. They also left us with great troubleshooting tips.. I would be using their services again.
Matteo, Logistics Company Owner.
We recently upgraded our air conditioner to one with higher energy efficiency ratings. HVAC Santa Clarita was heaven-sent to us. They helped us step down from comparing different brands and models. At the end of it, we have a system with a higher energy efficiency, which is functioning well. San Fernando residents, if you have been second-guessing this service, this is your green flag.
Peter, Coffee shop owner.
A few years ago, all we would do to our AC system was to change the air filters just before summer started. We would then get surprised when the air conditioner misbehaved at the peak of the heating system. We recently learned that changing air filters is just an essential air conditioner maintenance practice. Last summer, we called for our first professional maintenance service and believe it or not, this is the first summer we have not experienced issues with our cooling system.
Allan, chef.
This is the second time HVAC Santa Carita has done emergency repair service for us. All this happened outside of business hours, but they still stepped in and ensured everything was back on track on time.
Timothy, Construction Manager.
We recently got a separate ductless mini-split for our baby's nursery. We just wanted to ensure she is comfortable and safe while in there, HVAC Santa Clarita did the installation, and they did a great job. I would be using their services again.
Sharon, Counseling psychologist.
We have gotten all our heating services from HVAC Santa Clarita for years. Their technicians are knowledgeable and excellent at what they do.
Jack, Dental hygienist.
Our furnace has a malfunctioning heating exchanger and a tripped circuit breaker. It struggled to get us to the desired temperatures. When we dialed HVAC Santa Clarita, they came on-site, fixed the system and gave us additional furnace cleaning services. Long story short, we got more value than we expected.
Caroline, police officer.
We got our new furnace installed last winter. These guys did an excellent installation job at an affordable price. Winters have never been this affordably comfortable for us. Thank you, HVAC Santa Clarita.
Sean, Yoga Instructor.
We have always gotten bi-annual furnace maintenance services. Just because of this, our furnace has been serving us effectively for us for as long as we have had it.
Alex, performing artist.
HVAC Santa Clarita was installed, repair and maintain our heat pump system. They respond promptly any time we have issues with the system. And, every single time, we get excellently done services.
Anne, Caregiver.
Recently everything was wrong with our air conditioner. Little did we know the problem was actually with our neglected air ducts. HVAC Santa Clarita did the cleaning service for us. Several days later, the changes are apparent. We are happy with this service.
Arnold, Interior Designer.
I just got duct replacement services from HVAC Santa Clarita. The service was excellent, and the result looked appealing. So far, so good.
Savannah, Elementary school teacher.
After constant research, it was apparent that the problem with our duct system was air leakages. And true to our suspicion, HVAC Santa Clarita confirmed we had leakages. They did a sealing service for us, which was 100% worth it. Thanks for the excellent service HVAC Santa Clarita.
Ruth, Graphic designer.
I just had HVAC Santa Clarita upgrade the thermostat in my apartment. These guys were so good with the service I am fully content.
Reuben, high school teacher.
I got a commercial HVAC upgrade in my restaurant from HVAC Santa Clarita. Right now, my clients are more comfortable and loving it. I will be using these services in my restaurant again.
Charlotte, restaurant owner.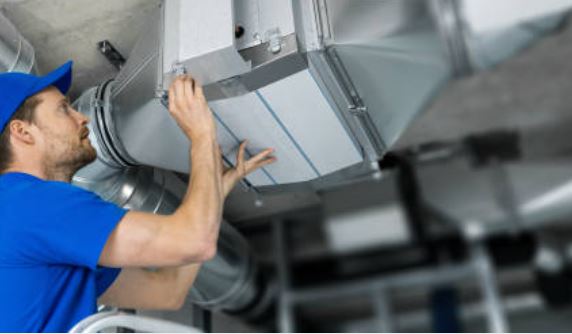 call 661-888-0248
Contact 24/7 for air conditioning services!
HVAC Santa Clarita
26893 Bouquet canyon rd #G
Santa Clarita CA 91350
Opening hours
Monday 8 am – 8 pm
Tuesday 8 am – 8 pm
Wednesday 8 am – 8 pm
Thursday 8 am – 8 pm
Friday 8 am – 8 pm
Saturday 8 am – 8 pm
Sunday 9 am – 5 pm
Our Address is
HVAC Santa Clarita
26893 Bouquet canyon rd
Santa Clarita CA 91350