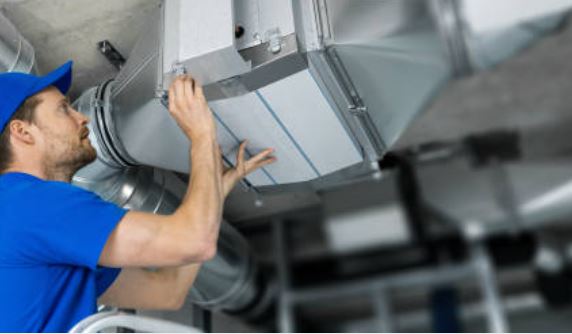 call 661-888-0248
Contact us 24/7 for air duct replacement
Air duct replacement is one of the most often overlooked HVAC system services. Yet, it is one of the most transformative.
Why would you require it if you have existing ductwork?
Many homeowners do not know the need to replace ductwork. And for this reason, the interior air quality deteriorates. This article was written with homeowners in mind.
When is the time to replace ductwork?
How does old ductwork affect the heating and cooling system?
What is the HVAC duct replacement cost?
And most importantly, how to find top-notch air duct replacement nearby Santa Clarita.
Okay, no time to get into too much talk. We will get straight to the details.
What is Air Duct Replacement?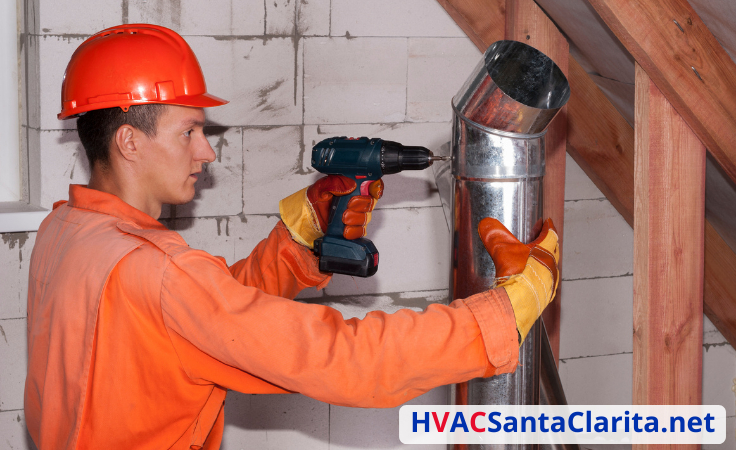 Air duct replacement service is the professional removal of existing ductwork and installing entirely new ducts.
Typically, you can call for air ductwork repair if there is a problem. However, sometimes, air ducts repairs are no longer worth it. Only an air duct replacement will revive the quality of your indoor air.
Several instances call for you to replace ductwork. We discuss some tell-tale signs that it is time to dial for professional air duct replacement below.
Signs you Need to Replace your Air Ducts

All parts of the air conditioning unit experience wear and tear. And would at one point or another need repairs or replacement. However, you may not see the wear and tear with HVAC ductwork. This is because most parts of your ductwork are hidden in the ceiling, behind walls, and generally higher places that you cannot notice.
So, how do you know you have faulty ductwork and need air duct replacement services?
Read ahead for signs that should have you searching the internet for air duct replacement near me.
Poor Air Flow
Proper airflow is an essential part of a correctly-functioning HVAC system.
If your ductwork is old, damaged, filthy or clogged, you are going to suffer poor airflow. A sign that the airflow in your household is deteriorating is sudden stuffiness in the house. If people complain of stuffiness and have problems breathing, you may need to check your air ducts.
Old Ductwork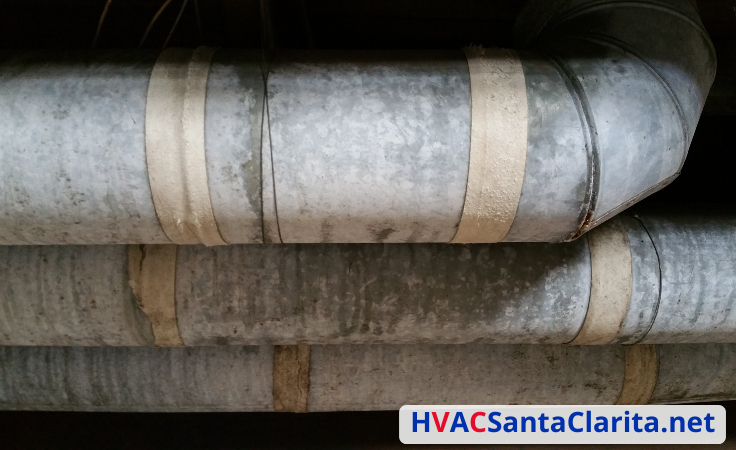 How old is your HVAC ductwork?
Ducts can serve you for more than 10 years, just like the heating and cooling system. However, after ten years, the air duct seals, seams, and joints deteriorate.
These problems will often cause issues with your entire HVAC system. After a decade, you will notice:
poor heating and air conditioning performance,
increased discomfort in the house,
reduced energy efficiency.
And with this, you will realize that you are almost always calling for HVAC ductwork repair. It is not worth the money and the hassle to keep repairing your ductwork every other weekend. Getting duct replacement is a good way of supporting HVAC systems and forgetting about such issues. .
Poor Cooling Performance
One sign of poor performance is uneven heating and cooling. If you are a homeowner, you might discover that one of your rooms is improperly cooled or warmed compared to the rest of the house.
This problem is often due to faulty ductwork that doesn't send hot and cold air to specific rooms.
The easiest way to detect this unevenness is to use a thermometer. If you notice the difference, it is a sign that you need to inspect your ductwork. These problems occur especially when there is a big leak in your air ducts, and it calls for professional air duct replacement.
Mold and Odors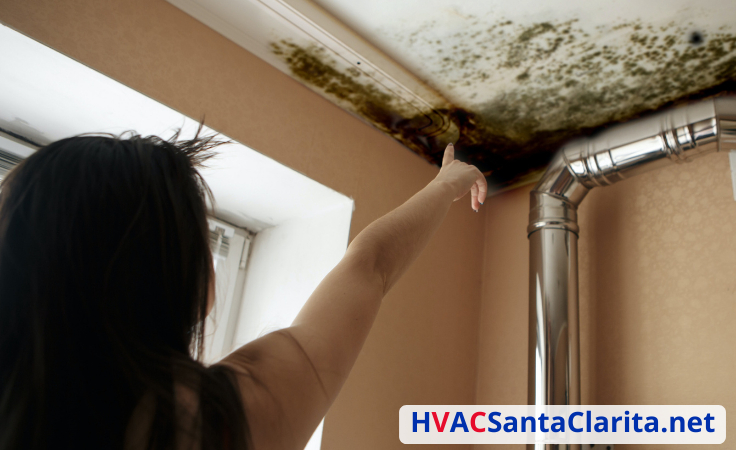 Mold is a serious issue, especially if it gets into the ductwork. The duct networks spread mold spores and odors in your home when this happens.
Mold in your air can cause severe health complications. Sometimes, duct cleaning can help get rid of mold in the air duct. However, sometimes, duct clean does not entirely get rid of mold. And in such cases, a complete duct replacement can help solve the mold problem.
If you have a mold problem, feel free to contact us.
Dents and Punctures
Call for our professional inspection services if you notice any punctures and dents on your air duct. Punctures and dents drastically affect your heating system.
It may start with a simple air duct leak but eventually, get out of hand. Call us today at HVAC Santa Clarita, and we will help you determine whether those punctures and dents call for a replacement or a simple duct seal.
Noisy Operation
The HVAC system makes some noise while working. However, if the noise is annoyingly loud, there is a problem. If you notice screeching or rattling sounds, call for a professional to inspect your HVAC ducts.
Mostly, you will hear rattling or whistling sounds when the joints of your ductworks are damaged. If there are holes in your ductwork, you will hear loud vibrating noises. If you ignore these, they will get worse.
Once you hear any odd noises, feel free to contact us, and we will perform a professional diagnosis for you.
Escalating Energy bills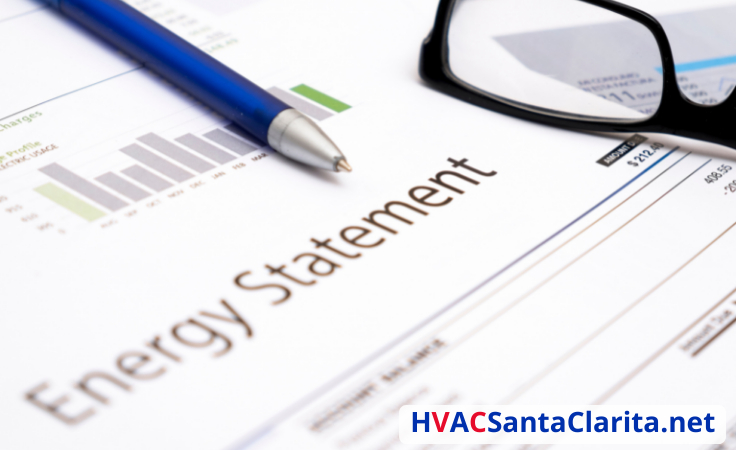 If your energy bills are on a steady rise, your AC unit, and notably your air ducts, could be having issues.
If there are air leaks, cooled or heated air will be lost before it is delivered to where it is needed. This means that the room will have trouble achieving the temperatures set on the thermostat. Therefore, the air conditioner will have to work overtime to achieve the desired temperature and indoor air quality.
The extra working time will escalate your energy bills. You may need a fresh ductwork installation if you notice higher energy bills.
Improper Ductwork Installation
If your ductwork has been installed wrongly, you have no other option but to get a duct replacement.
Yes, the design of your ductwork is a crucial factor in the functioning of your HVAC system. Improper ductwork installation is one of the top reasons for energy loss in many households. Unfortunately, this is a common scenario even with a new HVAC system.
Many times, the problem is usually undersized or oversized ductwork. You will often notice cold and hot spots all over your house. And even after air conditioning all day, your house will never achieve the desired comfort levels.
Contact us at HVAC Santa Clarita, and we will help determine if the size and the design of your ductwork are correct and appropriate for your house.
Pros of Replacing Leaky, Old and Poorly Installed Ducts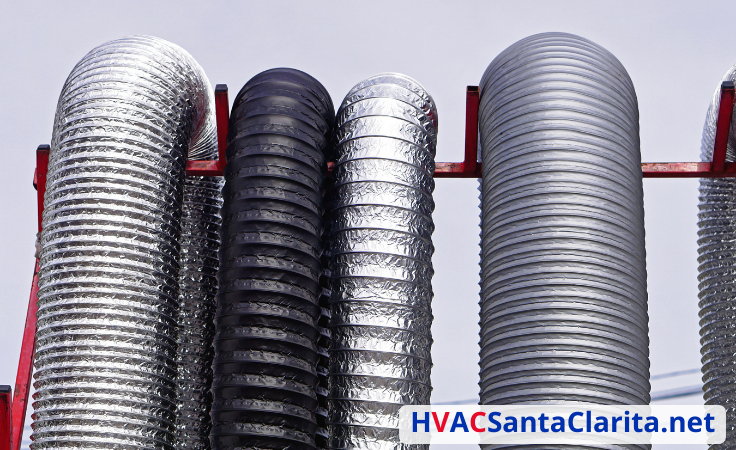 Picture this scenario:
According to the tell-tale signs discussed above, you have noticed a problem with your ductwork.
Then, you contacted professional HVAC contractors, and they determined that truly your ductwork is old, leaky, mold-infested or poorly installed.
The HVAC contractors went ahead and recommended that the best solution for this is getting duct replacement.
So what are the benefits of you getting the complete replacement? Here is why air duct replacement is the best solution:
a reliable solution to mold problems,
a permanent fix to poorly installed ducts,
improved indoor air quality,
increased energy efficiency as there will be no more air leaks,
Reduced costs on frequent repairs.
Air Duct Replacement Cost

The cost of air duct replacement will vary depending on many things.
It is almost the same as installing ducts to give you an estimate. However, it may end up a little more expensive in many cases as the existing ductwork needs to be removed first. Also, before the duct replacement process, there needs to be a professional diagnosis to investigate the specific problem.
Many times, people use ductwork cost calculators to estimate the cost. However, to estimate, the cost to replace ductwork will be $12 to$25 per linear foot(1). This includes the costs of removing existing ducts. However, it excludes the costs of cutting through the ceiling and floor.
Factors that Determine Replacement Costs
As you have seen, the cost to replace ductwork depends. And, what another house in your neighborhood used will most probably differ from the amount you will use.
This is because different distinct factors cause this variation. We discuss factors that determine how much your ductwork replacement will cost below.
Material Grade and Costs
What material are you using to install ductwork? Are you having sheet metal ducts or flexible ducts? Metal ducts are more durable but more expensive(2). If you go with this option, you will purchase the material and installation costs. However, flexible ducts can be an excellent option to lower your budget. This is because they are cheaper to install and buy. They are less durable, though.
The Size of Your Home
HVAC ductwork replacement will be more expensive in bigger homes. You can contact us to help determine how big your duct network needs to be depending on the size of your home.
You will have to pay for more material and more labor costs for bigger homes.
However, the size is not usually the end-game. The design and the layout of your house can also cause a considerable difference. For instance, a simple two-story house can cost less in duct replacement than a sprawling ranch house of the same size.
Whether Return Ducts are Used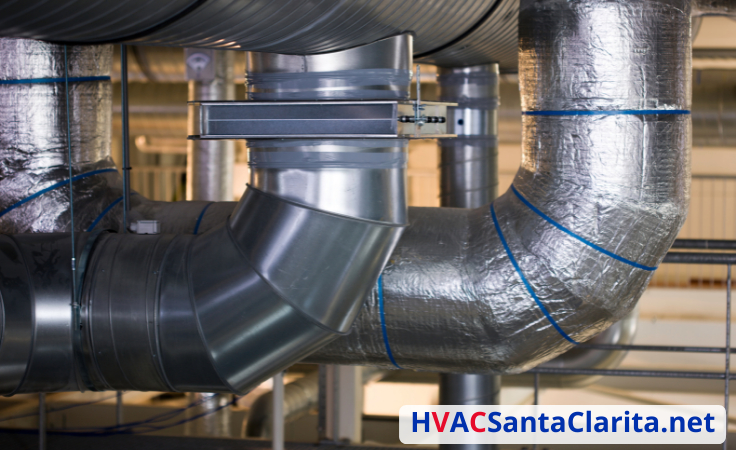 Do you have return ducts?
Many houses have an open floor plan, and therefore the first floor does not require an HVAC system. This is because air will be quickly drawn back to the air handler or furnace.
Therefore, you can escape buying extra duct material with this case scenario. Most homes have return ducts. Some homes with open floor plans and a first-floor HVAC system don't require them, as air is quickly drawn back to the furnace or air handler.
Mold Remedy
You should note that mold remedy is a separate project.
And as noted above, one of the reasons you should call a professional for air duct replacement is mold in the duct and central air conditioning system.
If our crew comes on board and funds significant mold levels, a treatment project has to be done first. And that would mean you will have to pay more to facilitate mold treatment.
Air Duct Accessories
At HVAC Santa Clarita, we often recommend to our clients to get insulated air ducts. It would save you a great deal, especially in electricity bills.
However, getting insulation is entirely your choice. If you choose to get insulated air ducts, you will pay more upfront on air duct replacement. However, your monthly utility bills will be lower.
Hiring Professional For Air Duct Replacement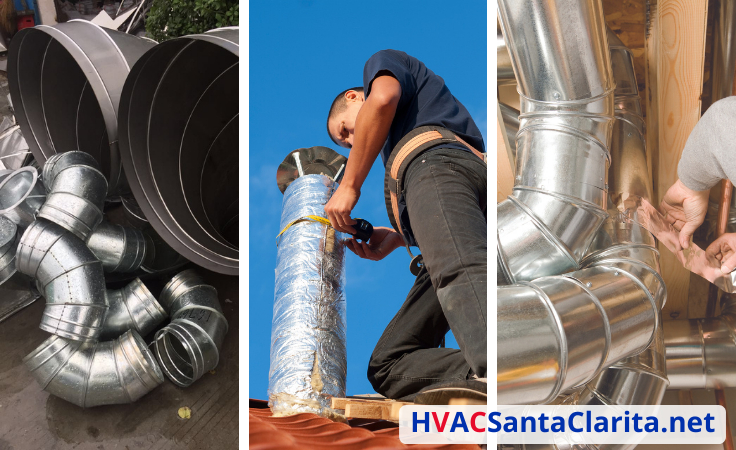 A lot of people consider DIY air duct replacement. After all, there is a lot of information and guides on the internet.
However, if you are unsure what you are doing, you better call for a professional air duct replacement service. Many people mess up and waste a lot of money and resources.
First, you need to know the correct combination of duct sizes to use through the system. This will be based on air volume handled by your air blower. It will also depend on how long your duct runs. Figuring this out does not have room for second-guessing. Give a professional a call.
Also, remember that will not be enough air pressure reaching the furthermost corners of your house if your air ducts are too small. And, rooms near the air handler or furnace will be too air-conditioned or heated. Eventually, there the blower will be overworked and fail.
Besides, you need to ensure every connection is air-tight during duct replacement. Otherwise, air will leak, and you will need to call for air duct repairs.
How to Hire Professionals for Ductwork Replacement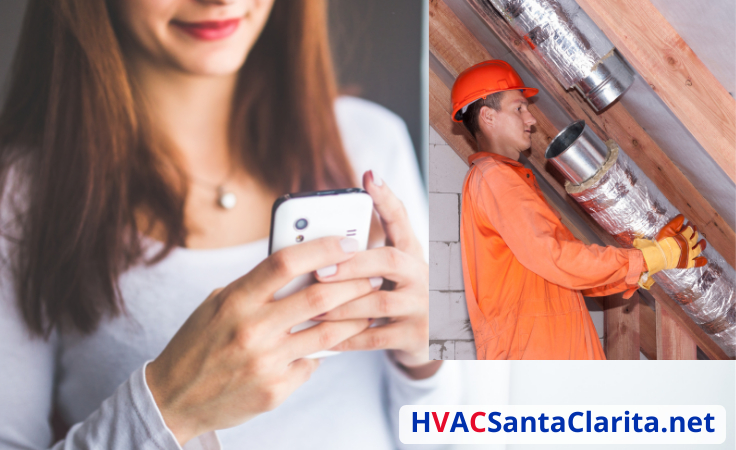 How do you hire a professional duct installer?
Here is how to get a professional to replace your ductwork system:
Ask questions- when you call us at HVAC Santa Clarita, you will get free expert advice from experienced and professional HVAC contractors. We will provide you with all the vital guidelines before replacing ducts.
Gather free estimates: We provide you with free estimates on duct installation. This is an excellent way to make comparisons and get second opinions.
Check warranties, reviews and credentials: be sure to check what previous clients have to say about the service.
Air Duct Replacement Frequently Asked Questions?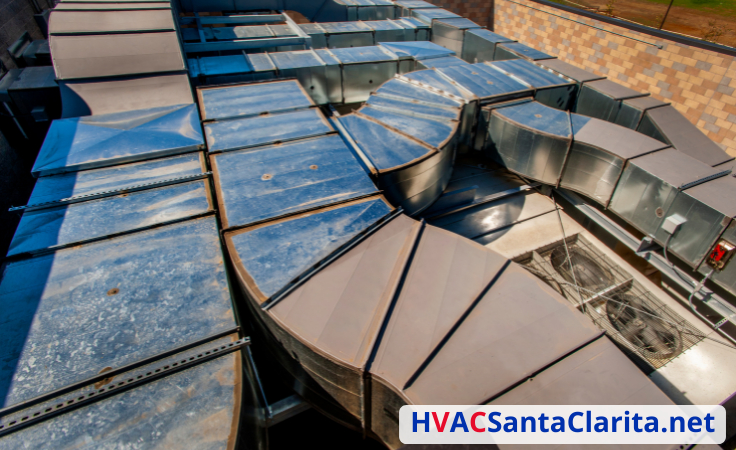 We conclude our air duct replacement guide by answering some FAQs. We hope that these enlighten you more on this HVAC ductwork service.
How often should I replace my ductwork?
Generally, ductwork has a lifespan of more than ten years. After ten years, you should start planning to install new ducts. There will be a gradual deterioration in performance and frequent failures.
How Long does it take to replace ductwork?
Ductwork replacement is an hour's job. A single morning or afternoon is enough for a simple two-story house. However, depending on your house's layout, plan, and design, it can sometimes take up to 3 or 4 days.
Can I replace my ductwork?
It is certainly possible. However, we highly discourage it, especially from previous data. Many people mess things up and spend much more money calling a professional to make the corrections.
Is replacing ductwork worth it?
It is entirely worth it to replace your ductwork when needed. It saves you on energy bills and, most importantly, improves indoor air quality.
Final Thoughts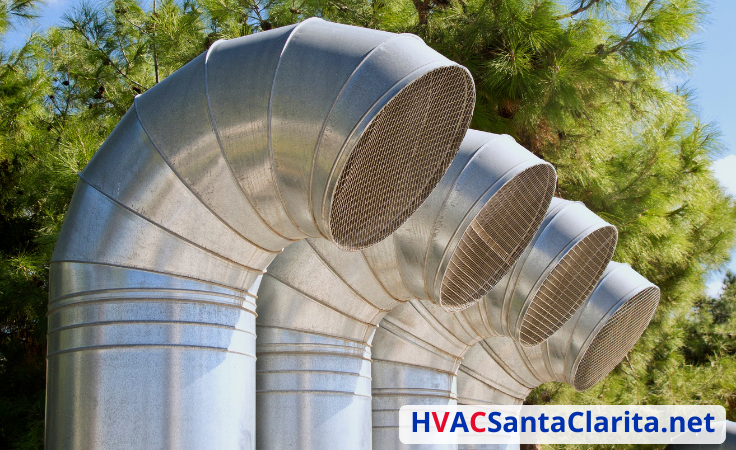 It is time we call it a wrap now. If you notice that your HVAC system has any issues or is old, feel free to contact us. We will do a thorough checkup on your system and determine whether an air duct replacement is the best solution.
We will professionally take you through the complete process and ensure you enjoy nothing but 100% customer satisfaction.
Sources
https://www.homeadvisor.com/cost/heating-and-cooling/install-ducts-and-vents/
https://www.thumbtack.com/p/air-duct-replacement-cost
Why Us?
SEE WHAT OUR FRIENDS HAVE TO SAY
The costs of air duct repair were becoming high. We finally replaced our ductwork system, and we are glad we chose to work with HVAC Santa Clarita. I highly recommend their fantastic service.
– Steve, business owner
Our gallery needed us to install new ducts as the old ones were problematic. I bumped into HVAC Santa Clarita online, taking us through the air duct replacement process. They did an exemplary job. Don't look elsewhere if you are searching for commercial ductwork replacement services.
Aaron, graphic designer
We had new ductwork, but it was pretty unfortunate that they were poorly installed. There were air leaks, and our study room was always unbearably hot while the rest of the house remained super cold. We could not figure anything out until we finally got help from HVAC Santa Clarita. They replaced our entire duct system, and we are all happy with the service.
– Patricia, teacher.
My neighbor recommended HVAC Santa Clarita for my air duct replacement. I am glad that they were clear and transparent in their operations. They replaced my old ducts, and now the air quality in my house is top. I am even happier with their affordable service.
Claries, Dance instructor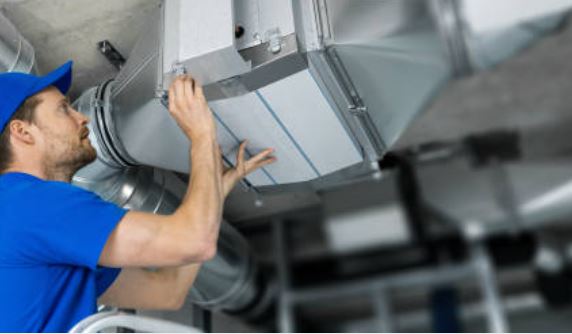 call 661-888-0248
Contact us 24/7 for air duct replacement