One of the parents' worries is setting the ideal room temperature for the newborn.
The thing with babies is they will not tell you what the best temperature for them is. It is up to the parent to find the best room temperature for the newborn.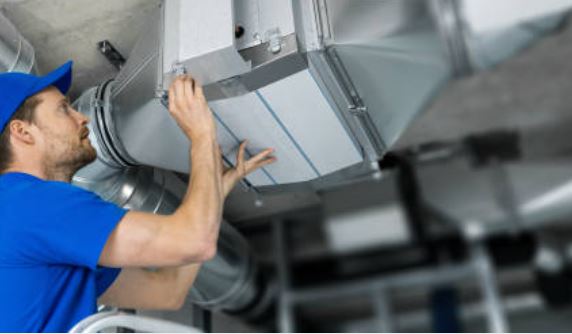 call 661-888-0248
Contact us 24/7 for HVAC services!
It can be pretty challenging to figure out what the ideal temperature is.
What if heating the room makes it too hot for them?
What if the air conditioning in the room makes it too cold for them?
Keep reading to find the best room temperature for newborn.
What is the Ideal temperature for Newborn babies?
The recommended ideal temperature range for babies is between 68 to 72 degrees Fahrenheit or 20 to 22 degrees Celsius(1).
Note: babies are more sensitive to room temperature changes. They, however, start regulating their temperature at around 11 weeks.
Due to their temperature sensitivity, you must closely monitor the temperature changes. Room temperature is something crucial for your baby. You, therefore, want to keep a keen eye on it.
Why Is Room Temperature Important for Sleeping Babies?
Here are reasons a comfortable temperature for baby room is suitable for your baby:
It helps promote better sleep. A too cold or too hot bedroom interferes with sleep quality and can cause frequent nighttime awakenings.
Overheating, either through over-layering or through heating equipment, increases the risk of sudden infant death syndrome (SIDS)
It takes some time for babies to start self-regulating temperature and develop a regular sleep cycle. This is why you need to step up and regulate the temperature for them.
Monitoring Your baby's room Temperature
The best way to monitor the room temperature is to use the thermostat.
Professionals recommend putting your baby's crib in your bedroom until they are 6-12 months old. You can share a room but not a bed. This is a great way to monitor temperature changes throughout the night.
Note: both adults and babies sleep better when it is cooler. Therefore, turn your thermostat some degrees lower to achieve what is comfortable for your baby.
How to Keep the Right Room Temperature for Your Baby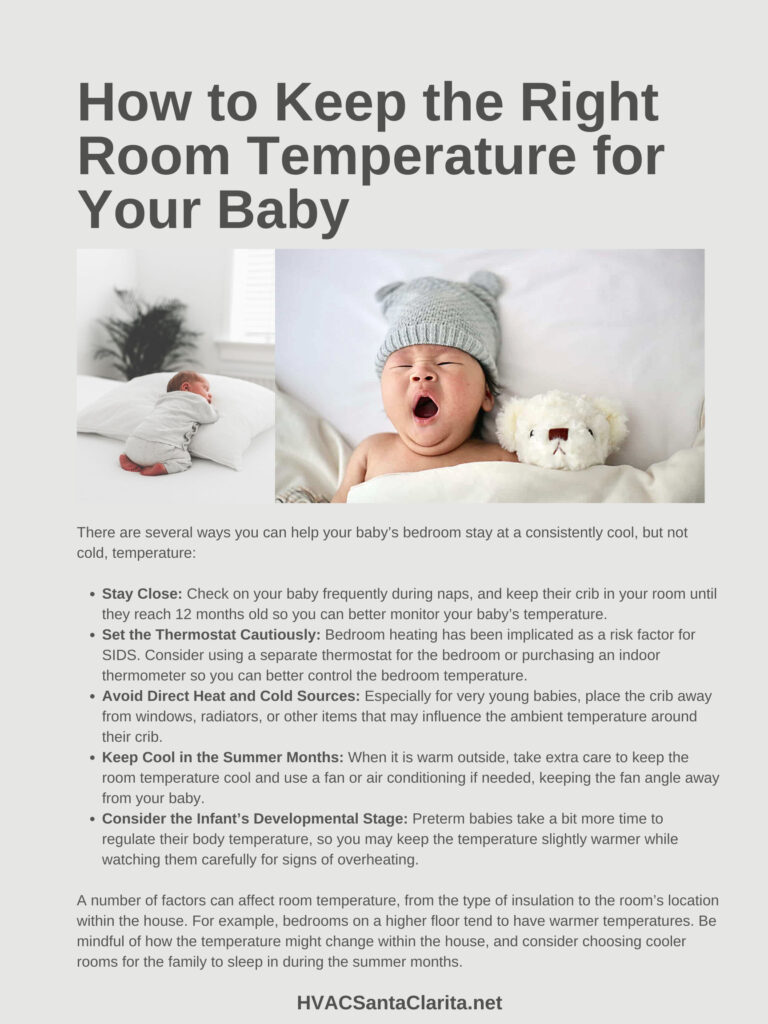 If you have a central air conditioning unit, it becomes challenging to only cool the rooms you use.
Remember: Your central air conditioning thermostat controls the temperature of your entire house. However, the temperature of the individual room may differ. This is due to factors such as:
the number of windows a bedroom has,
how insulated your house is,
And duct problems such as duct leaks.
This is why you need an indoor thermometer to keep track of your room's temperature. However, a good and permanent solution would be installing a ductless mini split.
You may also want to maintain your air conditioning before the baby arrives. You do not want to deal with AC breakdowns when the baby is here. AC maintenance Santa Clarita will help you get your air conditioning ready for your baby's arrival.
Preparing your HVAC system for Newborn Arrival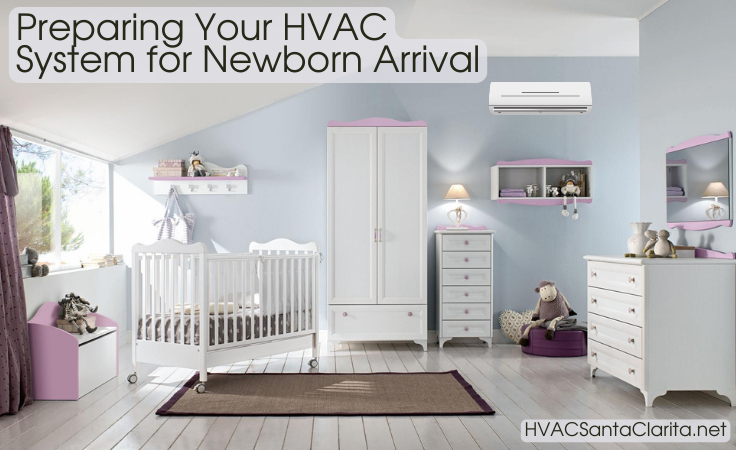 You should maintain your HVAC system just before your baby arrives.
Here are a few last-minute touches you can do to ensure you always have the ideal room temperature for your baby:
Install a ductless mini split to cover the room your baby will be sleeping in,
Ensure your thermostat is not faulty. Upgrade it if it has any issues,
Perform AC repair if you are headed for the cooling season. Search of emergency AC repair near me if your system reeks down suddenly;
Ensure all parts of your heating system is in good condition if you are headed for the heating season,
Ensure all your ductwork is in good condition to ensure proper distribution of cooled or heated air as needed,
Have your air filters changed to also ensure fresh air
Ideal Temperature for Newborn Frequently Asked Questions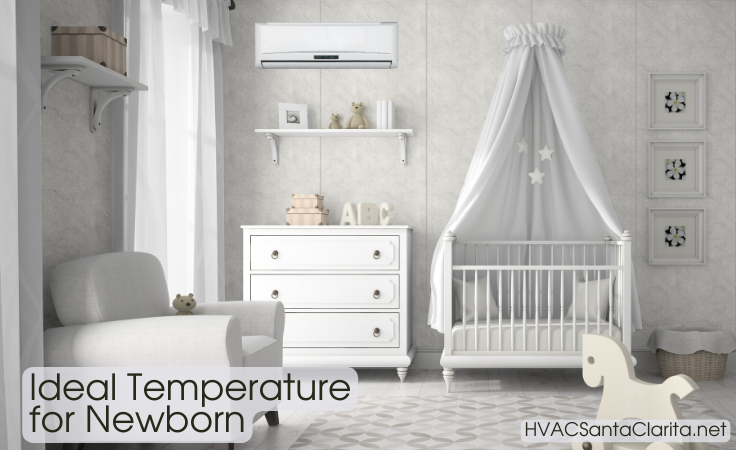 We answer some frequently asked questions concerning the ideal temperature for a newborn. These will help you create a safe infant sleeping environment for your newborn.
What's the Right Room Temperature for the Baby?
The ideal room temperature for babies is 68 to 72 degrees Fahrenheit. You do not want the room to be too hot or cold for your newborn. If it is cold outside, this temperature plus little warm clothes will keep your baby safe.
And just like adults, a baby sleeps better when their body temperature is lower. Therefore, lower your baby bedroom temperature by a few degrees during the nighttime.
How Hot is too Hot and risky for the baby?
Most pediatricians recommend that you maintain your baby's temperature between 68 and 72.
However, you must watch for anything above 75 in your baby's room temperature. Do not go above 75 if you want to create a safe sleep environment for your baby.
What is the perfect Room Temperature for a Newborn during the Day?
Again, the temperature should always be 68 to 72 degrees. 75 during the day may be high, but not as risky as at night.
At night, however, 75 and above can be risky. This is because SIDS is only a risk when the baby sleeps(2). You, therefore, have to be extra keen with your nighttime body temperature.
What is the ideal temperature for the baby's room during summer?
Regardless of the temperature outside or the season, ensure your indoor temperature is around 70 degrees Fahrenheit. Dressing your baby according to the temperatures will also help you ensure they are not too hot or too cold. Yes, throw in an extra layer when it is chilly.
Final Thoughts on best room temperature for baby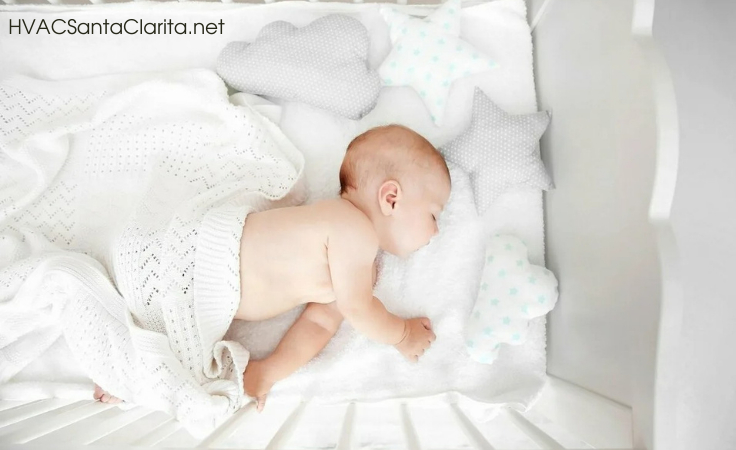 Maintaining the right temperature for a newborn can be challenging for many parents, especially first-time parents.
It is even more challenging to ensure they're safe during sleep time. The good thing is that the optimal room temperature for babies is also comfortable for adults. Therefore, you can co-exist with your baby while reducing the risks of sleep-related infant deaths.
The best way to ensure your new baby is safe is to ensure the HVAC system is in good condition. This way, you have your baby covered during hot and cold weather.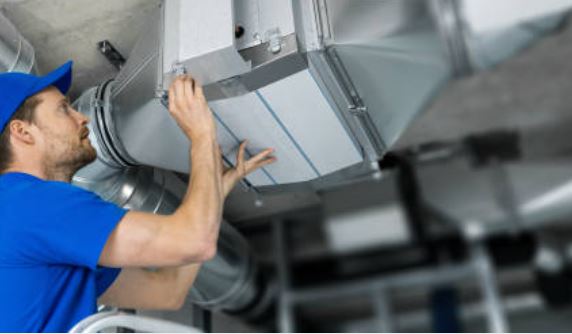 call 661-888-0248
Contact us 24/7 for HVAC services!
Sources
https://www.healthline.com/health/baby/room-temperature-for-baby
https://www.whattoexpect.com/first-year/baby-care/what-is-right-temperature-for-baby/