Forced air vs central air is one of the most searched in the HVAC industry.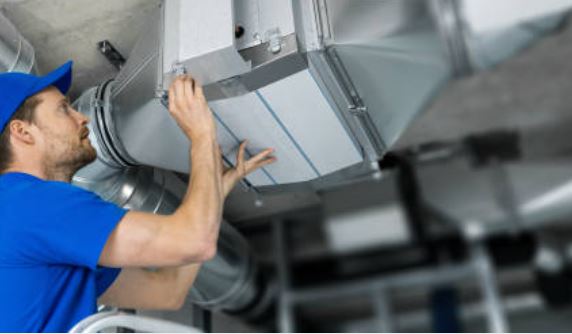 call 661-888-0248
Contact us 24/7 for HVAC services!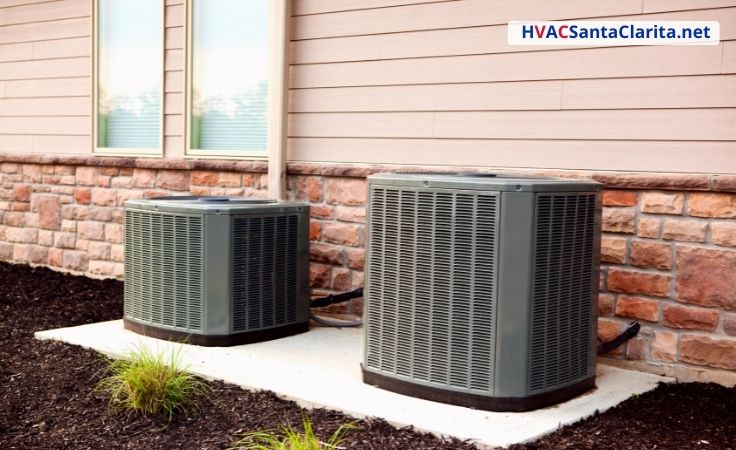 The terms forced air and central air are often used interchangeably. This is because they may refer to the same system in the house.
There are, however, very distinct differences between the two.
We are here to point out the differences between the two. Ultimately, we will highlight the pros and cons of forced air and central air. This way, we hope you can choose the best HVAC system for you. It will definitely minimize your AC repair service costs in the long run.
Let's go!
What are Forced Air Systems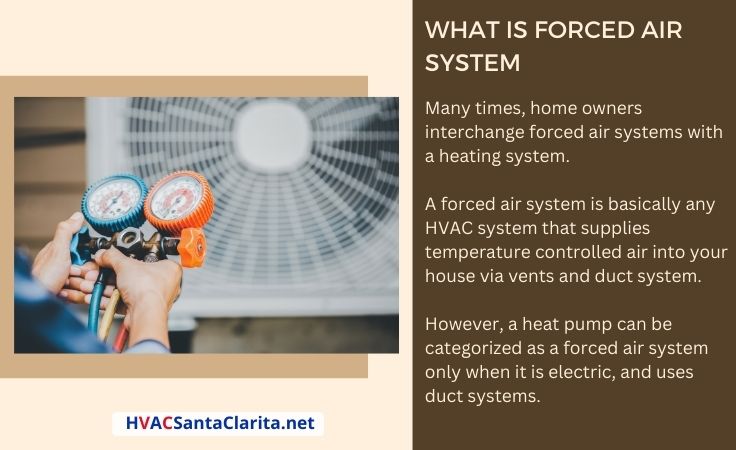 Many times, homeowners interchange forced air systems with a heating system. Well, there is some extent of truth to this. However, this cannot be very clear to homeowners.
A forced air system is an HVAC system that supplies temperature-controlled air into your house via vents and duct systems.
Note: For your forced air system to work well, your duct network has to be in perfect working condition. Search for "ductwork near me" to find solutions to ensure your network is in excellent condition. 
What's Central Air Conditioning?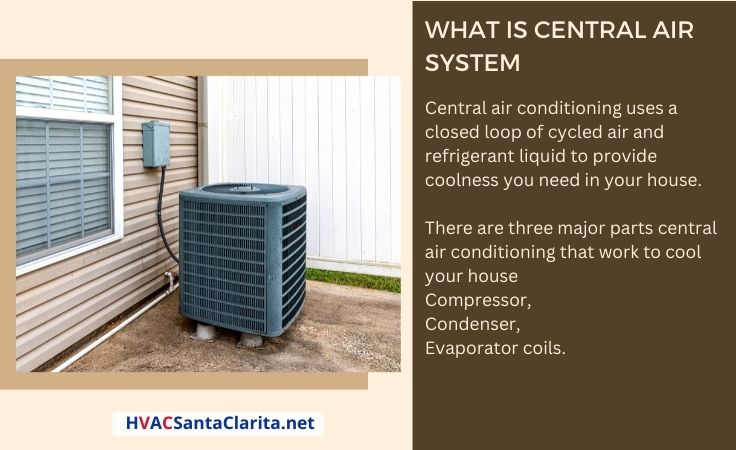 Central air conditioning uses a closed loop of cycled air and refrigerant liquid to provide the coolness you need in your house. The majority of air conditioning services are usually allocated to central AC repairs.
Three significant parts of central air conditioning work to cool your house:
compressor,
condenser,
evaporator coils.
The compressor and the condenser are both in the outdoor unit. Together with the evaporator coils, they work to facilitate the absorption of heat from home.
The heat is dispersed outside, and cool air is pulled through the vents to your house(1).
What Are the Differences Between Forced Air vs Central Air Systems?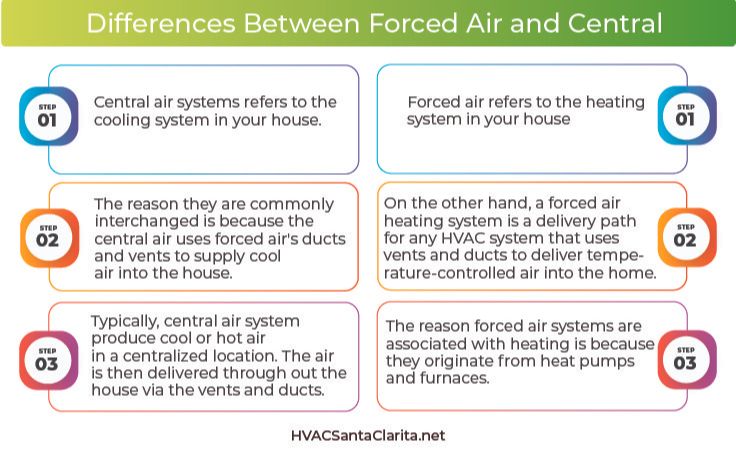 As you may have already noticed from the descriptions above, central air systems refer to the cooling system in your house. On the other hand, forced air refers to the heating system.
They are commonly interchanged because the central air uses forced air ducts and vents to supply cool air into the house.
A central air system typically produces cool or hot air in a centralized location. The air is then supplied throughout the house via the vents and ducts.
Note: Your central air conditioner is an independent system. It uses an outside unit to provide cooling. It is not dependent on the furnace.
Conversely, a forced air heating system is a delivery path for any HVAC system that uses vents and ducts to deliver temperature-controlled air into the home. Forced air systems are associated with heating because they originate from heat pumps and furnaces.
You have to understand these differences before seeking air conditioner service and installation.
Deciding Which Air System Is Right for You
Settling for the right air system can be pretty challenging for many homeowners. Lucky for you, we have technicians who can help you through the process, and even the heat pump vs central air debate, which is more appropriate for selecting.
If you are unsure what system is best for you, start by considering what is compatible with your home. For instance, a central air conditioning system would suit your house well if you have an existing ductwork system.
Also, you want to consider the climate of where you live. If you need more cooling in summer, a central air system suits you. If you need heating in winter, you are better off with a forced air system.
However, if you need both, a heat pump will do a great job as it cools and warms the house. You have to change from one mode to another.
Pros and Cons of Central Air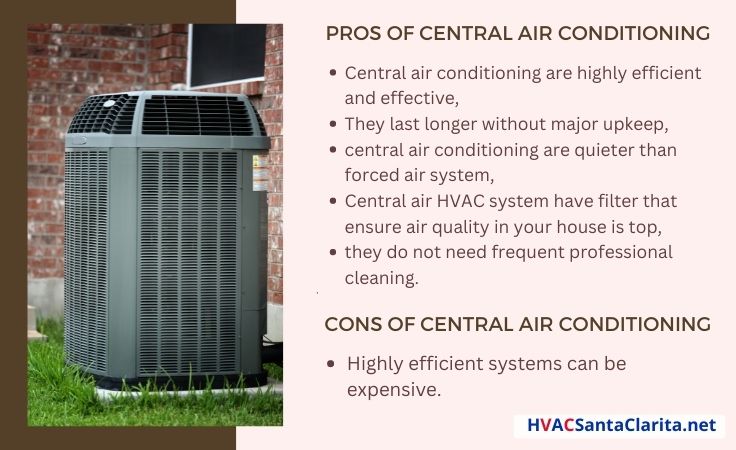 Central air conditioning is highly efficient and effective,
They last longer without significant upkeep,
Central air conditioning is quieter than a forced air system,
Central air HVAC systems have filters that ensure the air quality in your house is top,
They do not need frequent professional cleaning.
Cons of Central Air
Highly efficient systems can be expensive.
Pros of Forced Air Systems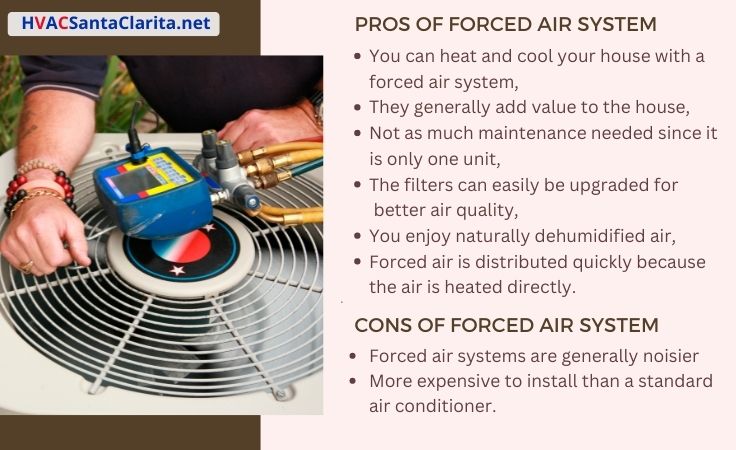 You can heat and cool your home with a forced air system,
They generally add value to the house,
You won't need as much AC maintenance as it is only one unit,
You can quickly get a filter upgrade for improved air quality,
Forced air distribution is quick because the air heating is direct.
Cons of Forced Air System
Forced air systems are generally noisier
More expensive to install than a standard air conditioner.
Frequently Asked Questions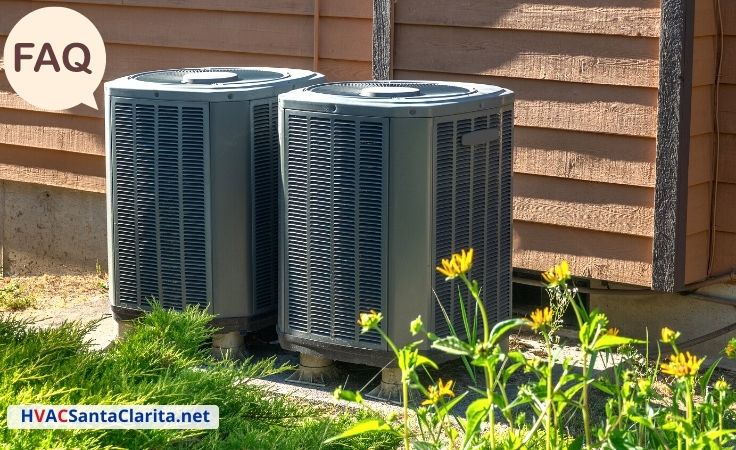 We answer some central air vs forced air frequently asked questions below. Hopefully, this helps you understand the difference better.
What are the differences between forced air and central air?
The most notable difference between the two is that forced air circulates air within a house, conditions it, and circulates it back to the house. On the other hand, central air refers to cooling systems in that the forced air system delivers air through the ducts and vents.
If you want to avoid duct installation, a mini split ductless air conditioner install is still a great option. 
Central air is often referred to as a cooling system, while forced air is used for part of the entire heating system.
How does forced air heating work?
Forced air systems most commonly run off natural gas, oil or propane. The system takes cold air in the house through a vent and redirects it to the furnace. Here, burning fuel heats the air. The blower fan then sends it out through another vent.
Why are forced air heating systems popular?
Fulfilled air heating systems are common because some have heating and cooling systems all in one. The convenience of buying a 2-in-1 system is an attractive aspect for many homeowners (2).
Is forced air the same as central air?
The difference between the two is minimal yet distinct. It makes sense to see why people interchange the two.
An easy way to differentiate these two is to know that air conditioning refers to the cooling system, while forced-air refers to the air distribution system.
From this, it is clear that forced air systems work all year long. It is, therefore, ideal to have an HVAC contractor make repairs in case of breakdowns. However, having a Goodman AC repair company you can contact in case of breakdowns or malfunctions is also good.  
Final Thoughts
The difference between forced vs central air is small yet distinct. And many times, homeowners and even HVAC contractors interchange the terms.
Once you understand these HVAC technical terms, you will never interchange them.
The pros and cons listed above will help you settle if you are looking for what system suits you. Feel free to contact us in case you need any more clarification.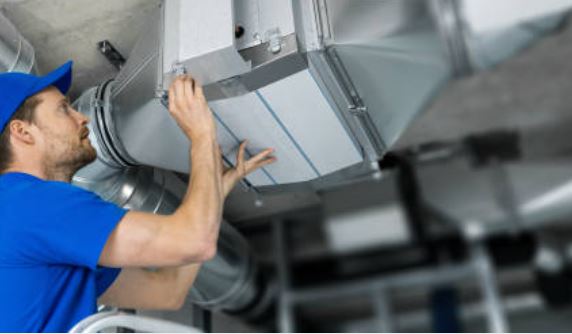 call 661-888-0248
Contact us 24/7 for HVAC services!
You might also be interested in
Ductless Mini Split vs. Central Air >>>
How to Choose Central AC Unit >>>
Our Address is
HVAC Santa Clarita
26893 Bouquet canyon rd #G
Santa Clarita CA 91350
Opening hours
Monday 8 am – 8 pm
Tuesday 8 am – 8 pm
Wednesday 8 am – 8 pm
Thursday 8 am – 8 pm
Friday 8 am – 8 pm
Saturday 8 am – 8 pm
Sunday 9 am – 5 pm
Sources
https://medium.com/@bluestartau/advantages-and-disadvantages-of-forced-air-systems-6ce607eca845
https://homeguides.sfgate.com/the-disadvantages-of-forced-air-heating-13408336.html