Welcome to our ductless mini split for the basement guide.
You are in the right place if you want to transform your basement into a relaxed, comfortable, and tranquil space. Ideally, you will need to install air conditioning indoor and outdoor units to achieve a serene basement.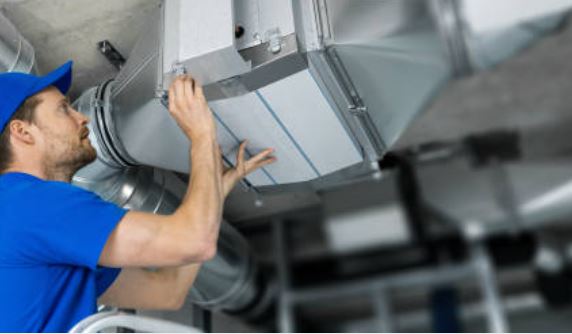 call 661-888-0248
Contact us 24/7 for HVAC services!
However, the basement location and features do not make it straightforward for you. You have to think and analyze everything before you settle for the type of air conditioning system to install.
Lucky you, we have done the homework for you from our years in the AC services business. We bring you the details of the best air conditioning option for your basement: a ductless mini-split system.
You are probably wondering, "Why is it the best? And what does it have over other heating and cooling options?"
Find out below.
Challenges of Heating a Basement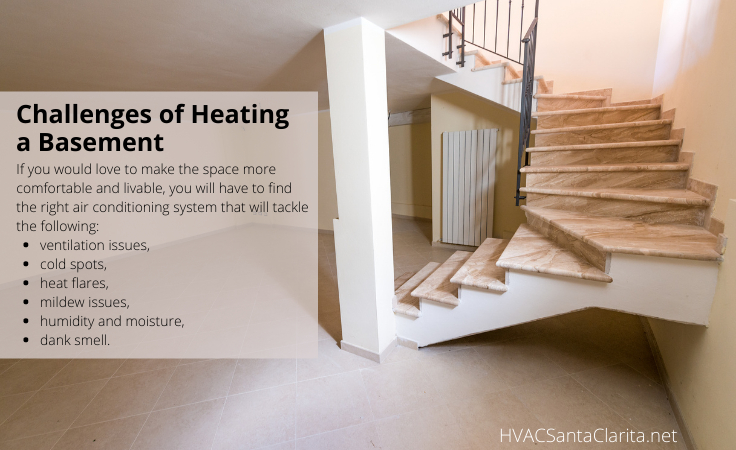 The nature of the basement space makes it challenging to heat and air condition it.
First, being underground, a basement can get too hot or too cold. Temperature imbalance is pretty common in basements. This is caused by changing weather conditions and other factors such as humidity levels in the room. The type of insulation your basement has also affects this.
Typically, a basement is a damp and enclosed space under the house's main floor. And, many times, it has a low-hanging ceiling. The ceiling is usually 8 to 9 feet from the basement's floor.
Other than their location, basements' concrete foundation also contributes to the coldness in the basement. Although some well-constructed basements have padded foam insulation to support against vapor penetration, there may still be moisture issues now and then.
Even if the basement is built with a precast panel wall, you may occasionally face a moisture problem. And generally, they have high humidity levels.
These conditions create an excellent thriving environment for mold and mildew. You want to avoid this from the start, and the solution is getting a perfect heating and cooling system.
Also, depending on your location, your basement can get too hot. The situation is even much worse if you have poor ventilation. And this is often the case; many basements have no windows. This means that getting cold air into can be challenging.
Another issue is they often have a dank smell.
If you would love to make the space more comfortable and livable, you will have to find the right air conditioning system that will tackle the following:
ventilation issues,
cold spots,
heat flares,
mildew issues,
humidity and moisture,
dank smell.
What Air Conditioning Systems Options Do You Have?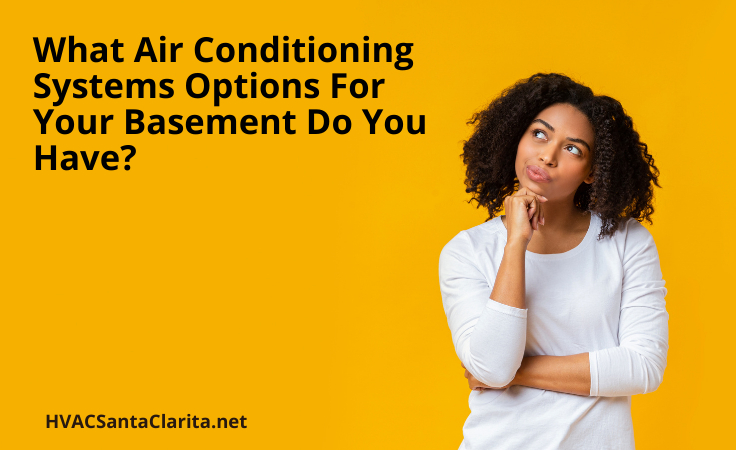 You have several heating and air conditioning options you can choose from. Yes, mini-split systems are the best, but you could still go for the other options for one reason or another.
One option would be to extend the ductwork from the existing HVAC system to the basement. First, this would involve loads of heavy duct adjustment. This may also end up being costly for no good reason.
Secondly, this choice makes your basement entirely dependent on the central air conditioner. The switch to the central air conditioner remains in the main house. You may have to keep heating and cooling the basement even when not using it.
These are the reason mini splits take the day in the ductless mini split vs central air conditioning option for the basement.
Another option to cool a room addition would be window air conditioners. This is automatically canceled out as many basements typically have no windows.
The only viable basement cooling option is a ductless system.
Proceed to why ductless systems give the other options a run.
Why Does Your Basement Deserve a Mini-Split?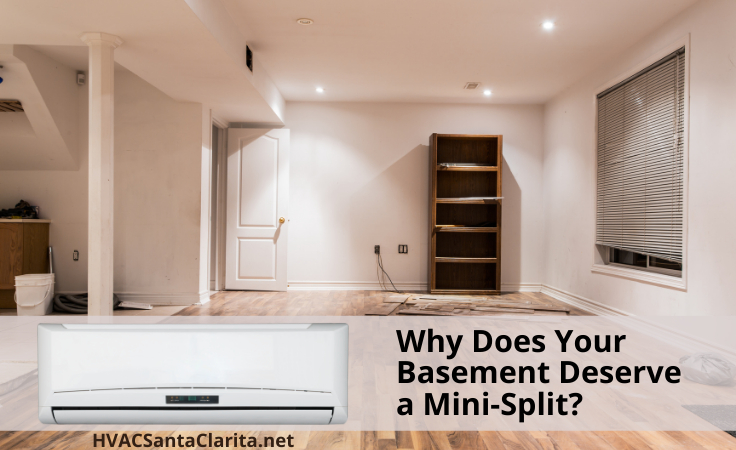 If there is an air conditioning system that would make your basement comfortable and livable, it would be a ductless mini-split. This is because it has all the features to tackle the challenges of heating and cooling a basement.
We explain below the capabilities of ductless mini splits that can turn around the ambiance in your basement.
Easy Installation
First, it is super straightforward to install a ductless mini-split. You do not need any duct network. For this reason, we recommend it for single-zone cooling and heating areas such as the basement.
A ductless mini split AC installation will involve your HVAC professional's affordable and straightforward procedure. It would be as straightforward as installing the outdoor compressor unit and connecting it to the inside air handler. It is not labor-intensive at all.
The only labor needed would be cutting a small hole on the wall where the refrigerant lines, condensate drain lines and power cable will pass to connect the outdoor and indoor units.
Even more convincing on the ease of installation, some DIYers have followed our "how to install a ductless mini split" and successfully did the installation. 
Dual Function
Depending on the weather, your basement can get extremely hot or cold. This means you may need a system to heat and another to cool the space.
Luckily, a ductless mini-split saves you from this. With a mini-split system, you don't need a separate ductless heater for basement. This is because they come with an air conditioner and a heat pump, all in one device.
Powerful Performance
One thing that makes the ductless mini-split stand out from the rest is its powerful performance.
If you get one installed, you are assured of consistent comfort. This is unlike many traditional air conditioning appliances with limited heating and cooling capacities. Many ductless mini splits are powered by inverter technology(1). This powers them with both rapid heating and cooling capacities. You will have your desired temperatures even when the winter hits sub-zero degrees or on those hot summer days.
Better Humidity Control
The high humidity levels are a significant concern in the basement. And, installing any traditional air conditioning system will require installing a separate dehumidifier.
However, you do not need a separate dehumidifier with a ductless mini-split. This is because they are designed to have a high-performing dehumidification function.
Installing one will lower the dehumidification issue, hence preventing the growth of mold and mildew.
Energy Efficiency
Ductless mini-split systems are highly efficient; they will help save energy and cut down the electricity bills.
With traditional air conditioning, the indoor units lose a lot of energy through the ductwork. As you know already, a ductless mini-split system has no duct network. This automatically makes it more energy-efficient than any other traditional indoor unit.
Furthermore, ductless mini splits are energy-star certified. They come with super-high energy ratings, both heating and cooling. They are designed to help reach your desired temperatures, all with low energy consumption.
Advanced Air Filtration System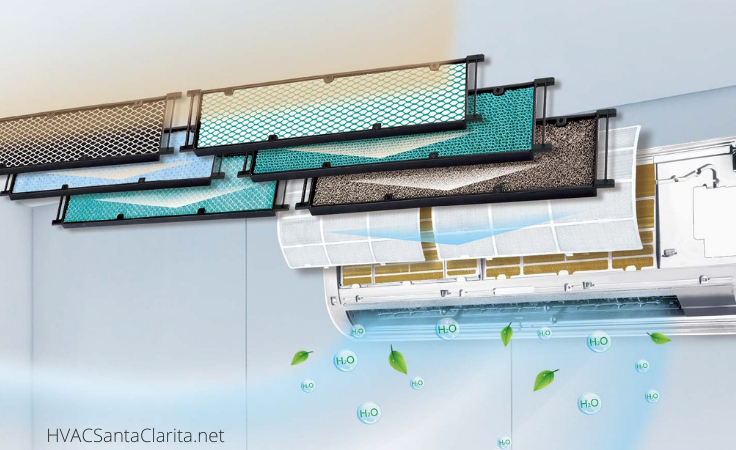 The air quality in the basement is often low quality due to:
high humidity levels and mold and mildew growth,
poor ventilation in the basement,
dank and damp smell that comes with weather changes.
Therefore, if you are getting air conditioning for your basement, you want it to have an advanced filtration system. This is the surest way to achieve quality air in your basement.
Installing a ductless mini-split in your basement will help eliminate air contaminants lurking in the air.
Mini-split comes with powerful air filters that perform a multi-stage air filtration process. This process ensures filtration of:
dust
bacteria,
allergens,
and other airborne contaminants
Mini splits also oxidize odors. This is an outstanding feature your basement can benefit from.
Customize Comfort
With a mini-split system, you have great control over the system. With this aspect, you can personalize the air to suit your needs.
They come with remote controls that enable you to create your ideal ambiance. Some models even have mobile phone app remote controls.
With this, you can not only get what you desire. You can easily switch the device on and off whenever you want.
The personalization is further supported by the sensor and the infrared functionalities that come with mini splits(2). These allow you to adjust the airflow and the overall temperatures of your basement.
HVAC Santa Clarita Ductless Mini Split for Basement Installation Service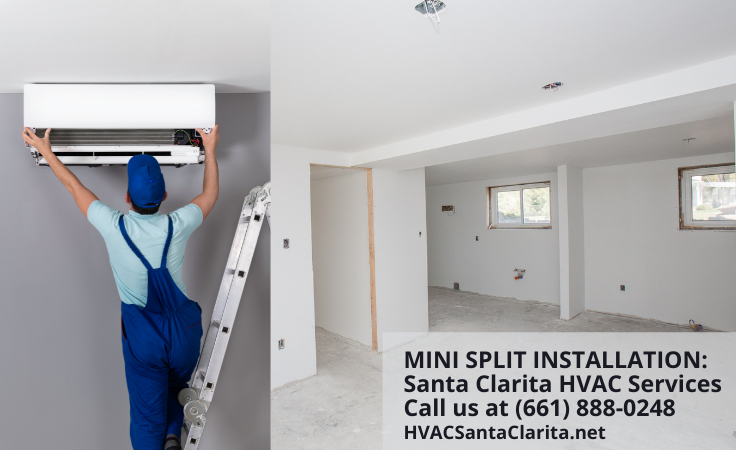 It is now clear that a ductless air conditioner is hands down the best option to heat and cool your basement.
Your next move should be to install the ductless system. If you are looking for "AC installation near me", look no further. We at HVAC Santa Clarita would be more than glad to get the work done for you.
We will calculate the dimensions of your basement and ensure you get the right size cooling and heating system. Contact us today for installation services or to consult with a professional HVAC technician.
We would be delighted to assist you in transforming your basement into a peaceful and livable haven, no matter what you plan to use it for.
Ductless Mini Split for Basement Frequently Asked Questions.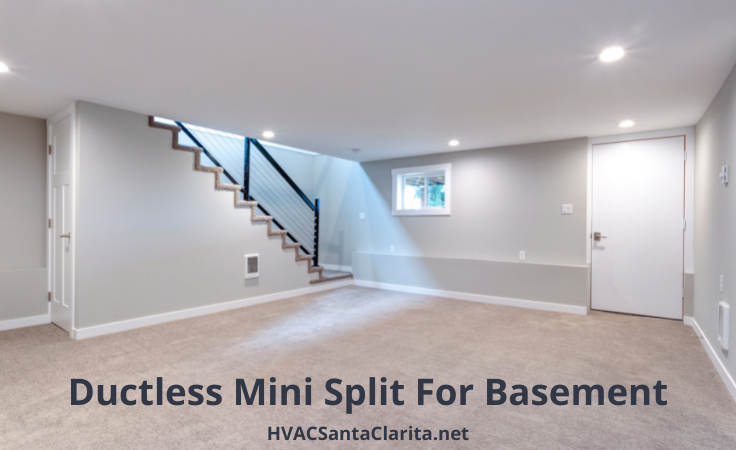 We answer some FAQs below to help clear the dilemma surrounding AC ductless unit for basements.
What kind of AC can I use in a basement?
You can have portable air conditioning, an extension from the existing system of the house, and a ductless mini-split system.
However, it is not about what you can install. It is about what will give you the best results: a mini split AC system.
Are ductless mini-splits expensive to run?
Ductless mini-splits are cheaper than other traditional heating and cooling options. The first is because they have high energy efficiency ratings. Also, there is no possibility of losing treated air through the ducts.
How much does it cost to run a 12000 BTU Mini Split?
Mini Split AC Cost to Run
| | | |
| --- | --- | --- |
| Mini Split AC Unit (BTU) | Wattage | Cost Per Hour |
| 12,000 BTU Mini Split AC | 3,516 W | Costs $0.46 per hour |
| 14,000 BTU Mini Split AC | 4,102 W | Costs $0.53 per hour |
| 18,000 BTU Mini Split AC | 5,725 W | Costs $0.74 per hour |
| 21,000 BTU Mini Split AC | 6,154 W | Costs $0.80 per hour |
Are ductless mini-split systems suitable for the basement?
Yes, they are an excellent heating and cooling option for your basement. They are super energy-efficient, yet they have a high-performing capacity. You also do not need a duct network, making it a perfect match for the basement.
Final Thoughts on Ductless Mini Split for Basement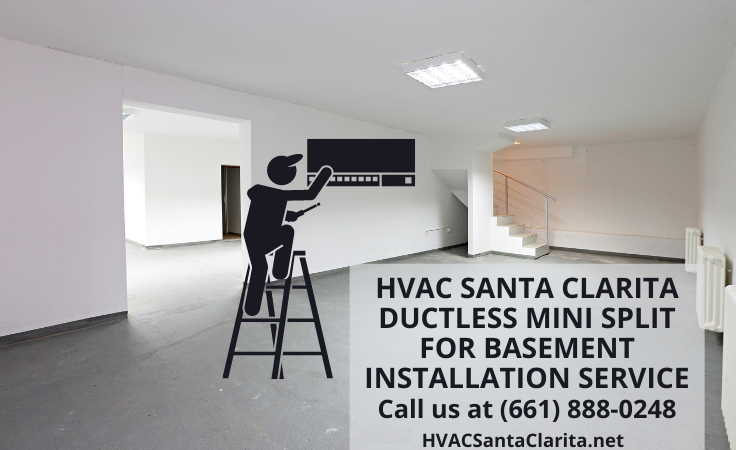 Whether you want to revamp your basement into your little workspace or escape zone, nothing will beat getting proper heating and cooling.
A ductless mini-split will help you transform your basement into a comfortable space. It comes with many advantages that you could never get from the other heating and cooling systems.
Contact us today for a ductless mini-split system for basement installation service. We would be happy to help make your basement more useful.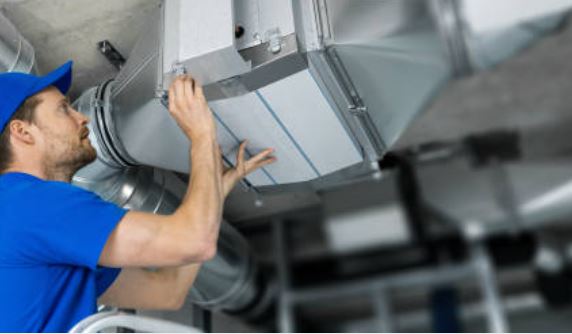 call 661-888-0248
Contact us 24/7 for HVAC services!
Sources
https://www.houzz.com/discussions/4496152/sizing-a-ductless-mini-spit-size-for-basement
https://www.homedepot.com/b/Heating-Venting-Cooling-Mini-Split-Air-Conditioners/N-5yc1vZc4m1