Are you looking to install a ductless mini split system in your garage?
It is a genius idea to make your garage space more livable.
Garages are more than just for parking cars. You could use it as your workshop for whatever activity you do, such as woodwork. You could also turn it into a family bonding place. For example, play cards or put on a pool table and have fun with your family.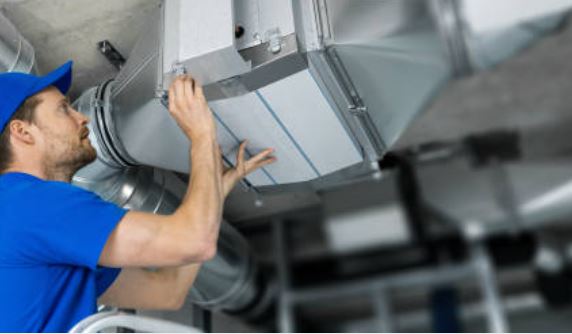 call 661-888-0248
Contact us 24/7 for HVAC services!
However, all this can be super uncomfortable if your garage has no air conditioning. And this is the case for many houses, especially because many garages do not have ductwork.
If your garage has no ductwork, a proper way to cool the air is to install a mini-split air conditioner.
The big question comes in: are ductless mini-splits good for a garage?
And, what size mini-split is suitable for your garage?
Read on to find all you need to know before installing a mini split in your garage.
Ductless Mini Splits for Garage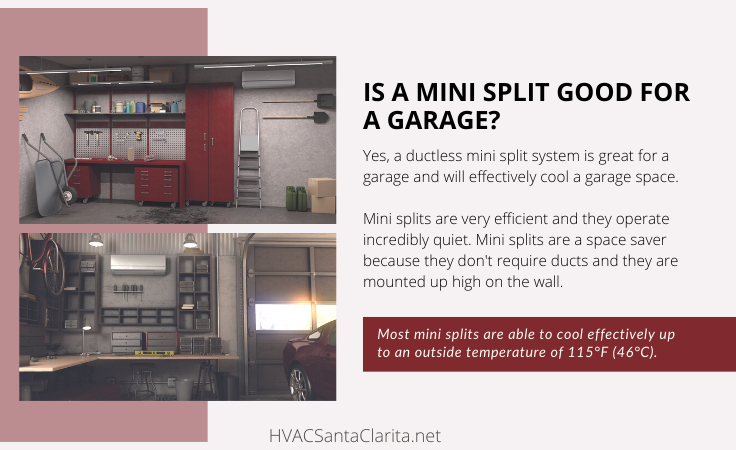 There are several choices you could consider to heat and cool your garage. These include garage heaters and, of course, mini splits.
However, just because you can use garage heaters does not mean you should. First, ductless mini-splits are an appealing option for the garage as they do not need ducts. Secondly, they are extremely energy efficient.
You can also mount them high up on the walls. This leaves you with enough space on the floor for whatever activities you need it for.
Can a Ductless Mini Split Cool a Garage?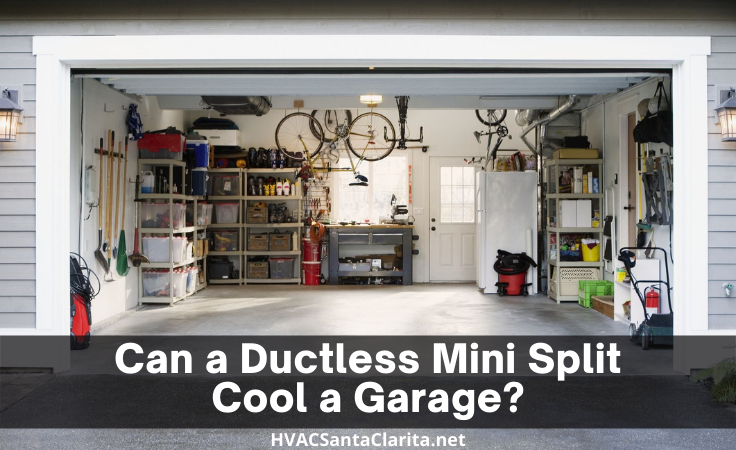 A ductless mini-split is an excellent cooling option for your garage. They can lower the garage temperatures from 95°F (35°C) to 75°F (24°C).
In the cold winters, temperatures can drop to 32°F (0°C) or lower. In this situation, mini-split heat pumps can maintain your garage's temperature at 75°F (24°C).
Many mini-split 75°F (24°C) brands can also effectively cool your space up to an outside temperature of 115°F (46°C).
Mini-splits are especially a good option for warmer regions. They may lose half their heating capacity when the temperature drops below 17°F (8°C). You may need to install a special mini-split called an arctic mini-split for such cold temperatures.
During AC installation for your mini-split, you need to ensure the cooling capacity of the air conditioning device matches your climate. This is usually specified in the manufacturer's sheet of instruction.
So, the simple answer to whether a mini-split is a great air conditioning option for your garage is yes. You, however, have to be sure you are getting the right one for your climate.
What Size of Ductless Mini Split is Appropriate for Your garage?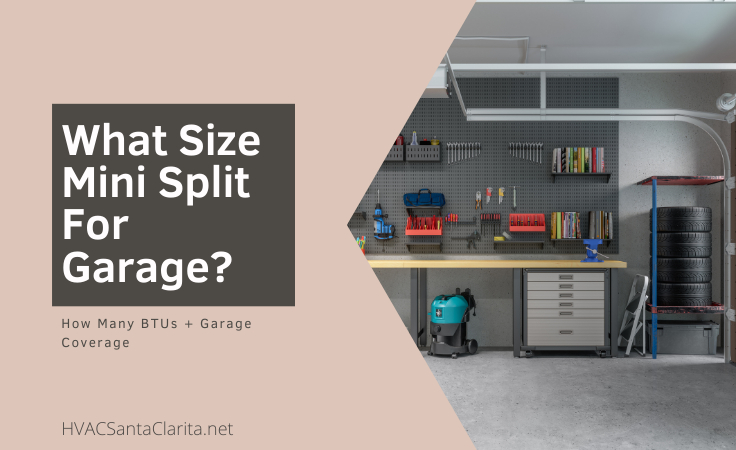 Just like any regular indoor unit or outdoor unit, you have to get the right size cooling system for your garage. This also applies if you would love a ductless mini splits for sunrooms. 
Many people think that getting a more extensive heating and cooling system will give better results. This is not always the case. We give you a quick guide in helping you determine how many BTUs are needed for your garage space.
Best mini-split air conditioner size for Small Garage
The larger the garage, the more BTU is needed.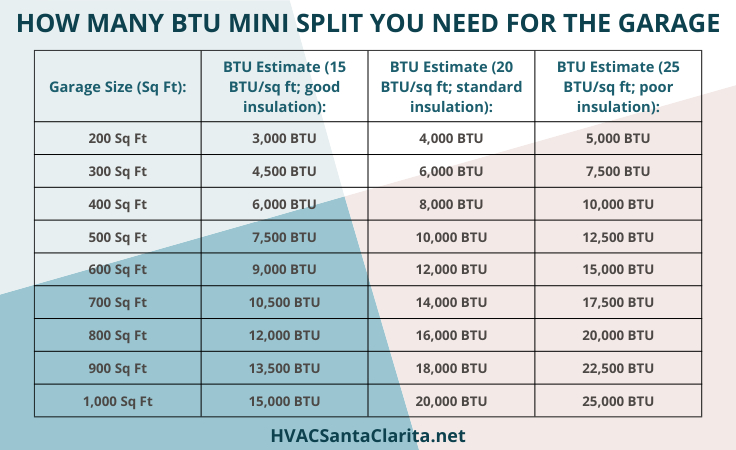 You will need a 6,000 or 9,000 BTU mini-split for a small one-car garage.
You will need a more powerful air conditioning system for a two-car garage. Install 9,000 to 12,000 for your two garage spaces for best results.
The Best ductless mini-split system for Big Garage
Typically, a three-car garage can be anything from 32 ft by 22 ft to as big as 40 ft to 30 ft.
These are significant size variations and may also affect the ideal size mini-split for your three-car garage.
However, for 32 ft By 22ft, we recommend you go for a 15,000 to 18,000 BTU mini-split. For large garages of over 40 ft, you will need a 30,000 or 36,000 BTU mini-split.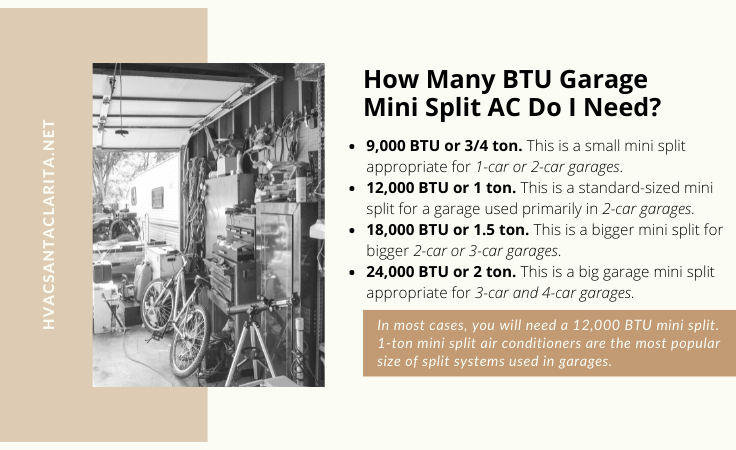 Ensure you know the dimensions of your garage Before installing your air conditioning system. A simple "AC service near me" search will land you professional help from HVAC experts if you are unsure.
HVAC Santa Clarita Mini Split Installation Service
If you use your garage only for car parking, you miss out big time. You could use it for your workout, family time, or as your workshop. However, this will only be bearable for you if you have proper air conditioning in your garage, which is not almost always the case.
If your car park area does not have a heating and cooling system, HVAC Santa Clarita would be delighted to do the AC installation for you. Think of an HVAC mini-split as supplementary to your central air conditioning unit. You will love how it will transform the climate in your garage and make it suitable for you to spend more time there.
Also, studies show that a mini-split and a mini-split heat pump are suitable for energy efficiency. They are known to lower the heating and cooling energy bills by up to 30%.
If you would love to make the environment in your garage more conducive for you to spend time in it, feel free to give us a call. We will give you free recommendations depending on your dimensions and install a ductless mini-split to help condition your garage.
How Much Does it Cost to Install Ductless Mini Split in a Garage?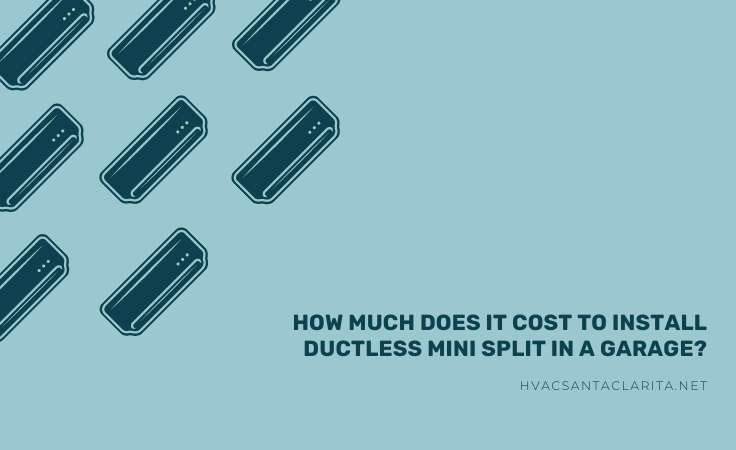 Well, first things first, you need to understand that the cost varies heavily depending on the dimensions of your garage.
Whatever the size, a ductless mini-split will be about half the cost of installing an entire air conditioning system. You will skip the worries about installing a duct network and the ductless mini split vs central air debates. This makes a ductless heating system suitable for adding parts to your house.
Depending on several factors, you can pay anything from $3000 to $10,000 for ductless mini split installation in your garage. This cost depends on BTU size in tons, the SEER rating, and the mount type(1).
You can call or message us to receive free estimations.
Can I Install the Ductless Mini Split Myself?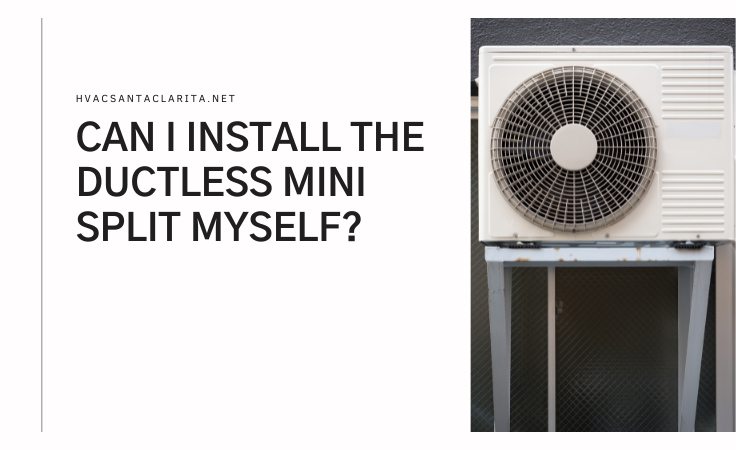 Yes, you certainly can install the ductless mini-split on your own. It is an age of DIY, and everyone wants to save some money.
However, just because you can do it does not mean you should. Do not even try if you don't have the needed knowledge. This is because some work may need a professional hand and understanding.
First, the refrigerant line of your mini-split must be cut and charged. We highly recommend that all matters involving refrigerants should be left to professionals. You do not want to get anything wrong.
If you choose to do the AC installation yourself, we recommend only doing the air handler and the air condenser. You can then call an HVAC professional to set up the refrigerant line.
Other than setting up the refrigerant line properly, a professional HVAC technician will ensure:
you get the correct size mini-split depending on the dimensions of your garage,
the mini-split is installed in the correct location,
get an outdoor unit for support installed correctly if you need it.
We would be glad to help install your mini-splits; give us a call today.
Ductless Mini Split for Garage Frequently Asked Questions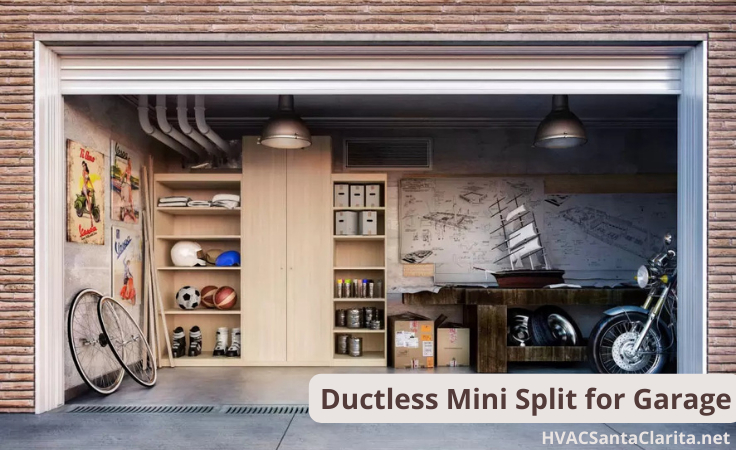 We respond to some of the FAQs on ductless mini split installation in the garage. We hope this clears any queries you could be having. If your question is not answered herein, feel free to contact us for consultation.
Can I put a mini-split in my garage?
Yes, a mini-split is hands down the best way to cool your garage. You, however, have to ensure you get it correctly installed. And even more importantly, you have to ensure that you install the correct size.
How much does it cost to add a mini-split to a garage?
The cost of installing a mini-split in your garage will depend on the SEER rating, BTUs of the system, and whether you are getting a single zone system or a multi-zone system. However, the total cost of installing is often between $3000 and $10,000.
How many BTUs do I need to cool my garage?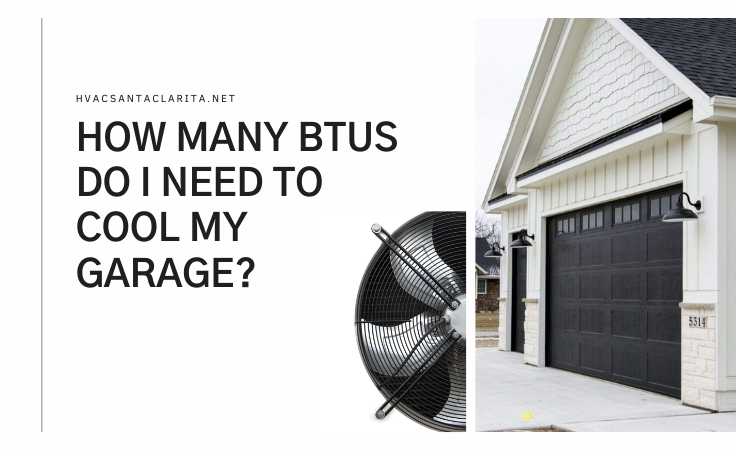 This depends enormously on how big the garage is. If you have a bigger parking space, you will need more BTUs. However, it would be ideal if you remembered that this might also differ depending on whether you have insulated walls or not. You may need more if your garage walls are not insulated. This is why you need to ask for a local expert's recommendation.
However, to give you an estimation, 50 BTUs per square foot should work fine(2).
What is the cheapest way to heat and cool a garage
There are cheaper ways to cool your garage other than installing ductless mini-splits. One way would be to use open windows. Unfortunately, not all garages come with windows. Using a garage heater and cooler could be another option. Although these can help you condition the air as needed, they are not as effective as installing a ductless mini-split.
Is it hard to install mini-split yourself?
Ductless mini-splits are more straightforward to install than other air conditioning devices. So, we would say that it can be a perfect project for DIYers who understand how cooling systems work.
We, however, retain that if you are in any doubts, it is good to work with a professional.
Is a Mini Split a good idea for the garage?
Yes, ductless mini splits are a perfect idea for your garage. First, they have a 20+ SEER rating and 8+ HSPF rating for high energy efficiency. Besides, they are hands-off and amazingly quiet. You also do not need to install any additional ductwork network for the. You will love how mini-split systems will effortlessly transform your garage's ambiance.
Final Thoughts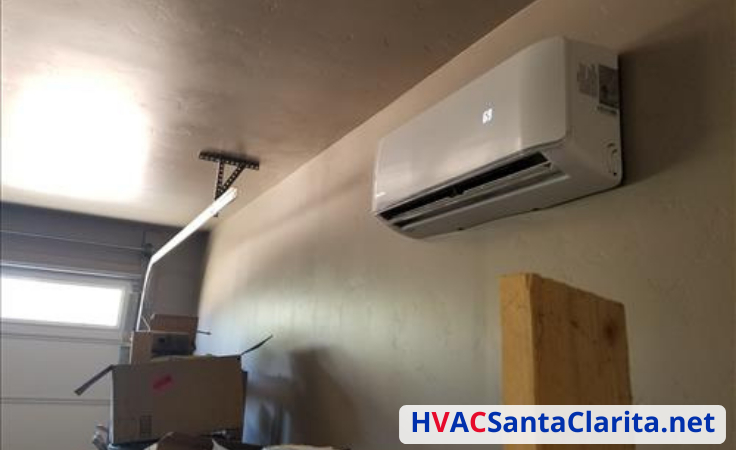 Your garage space can be much more than just parking your car. You can transform your garage into whatever you want to; there is an endless list of activities you can do there. However, this can get unbearable as most garages do not have heating and cooling systems. Even worse, they may have no windows.
Installing an air conditioner on its own can be too much out of the way as you will need to start by installing ductwork.
The best option to make your garage more livable would be to install mini-split systems. They come with many advantages and would help you treat the garage space as you want it.
Give a call today to install a ductless mini-split system in your garage. We will help you create a perfect ambiance in your garage!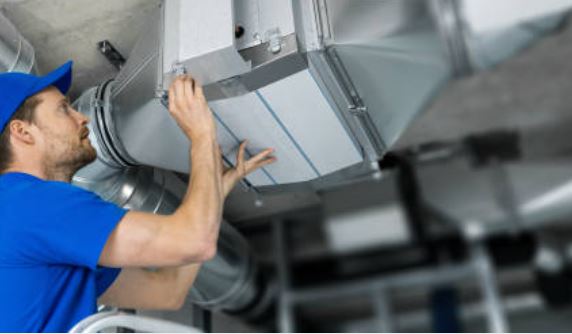 call 661-888-0248
Contact us 24/7 for HVAC services!
Sources
https://www.homedepot.com/b/Heating-Venting–Cooling-Mini-Split-Air-Conditioners/N-5yc1vZc4m1
https://www.energy.gov/energysaver/ductless-mini-split-air-conditioners