Air cooler vs air conditioner which is the best cooling option for me?
Now that summer is here, many homeowners are looking for the best way to cool their houses.
We receive inquiries concerning which between air coolers and air conditioners has the best cooling capacity.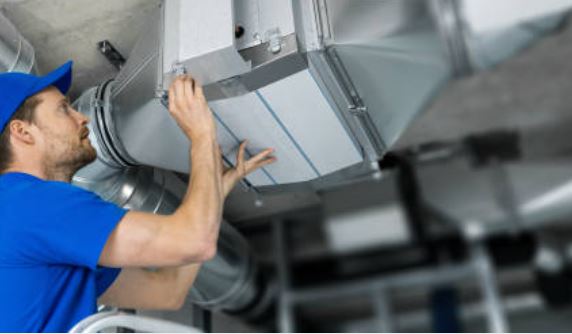 call 661-888-0248
Contact us 24/7 for HVAC services!
This article answers exactly that. We tell you the different features of these two cooling gadgets. This information would help you choose what works well for you. Depending on your needs, you will always have top air quality and lower monthly utility bills if you make the right choice.
Let's get straight into the details.
Air Cooler vs Air Conditioner: Working Principle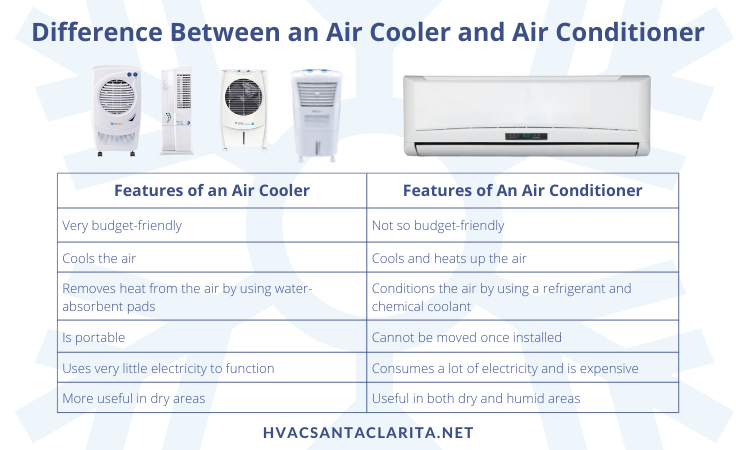 An air cooler works on the evaporative cooling principle to eliminate heat from the air. It blows water close to wet and water-absorbent pads to cooling effect. The wet pad is transformed into vapor, then blown into the air.
The air cooler has a fan that blows the cool air into the circulation.
On the contrary, an air conditioner uses a chemical coolant refrigerant. An air conditioner has a compressor that absorbs hot air. The evaporative coil then absorbs heat from the air with refrigerant.
The refrigerant with the heat then transfers into the condenser unit for cooling. The condenser unit has a fan that disperses the cool air throughout. An air conditioning unit has a dehumidifying effect. It strips the air of moisture while cooling it.
From this, you can see the working principle of an air conditioner is more complex than that of an air cooler.
Air Conditioner vs Air Cooler Price
Air coolers are way cheaper than air conditioners. And that is if you are looking at the price tag. In this case, an air conditioner can sometimes cost up to 10 times more than an air cooler. The upfront cost will depend on the size and model of your gadget.
Air conditioning installation and maintenance prices can go even higher.
Therefore, an evaporative air cooler would be ideal if you are on a tight upfront budget.
Air Cooler vs Air Conditioner Power Consumption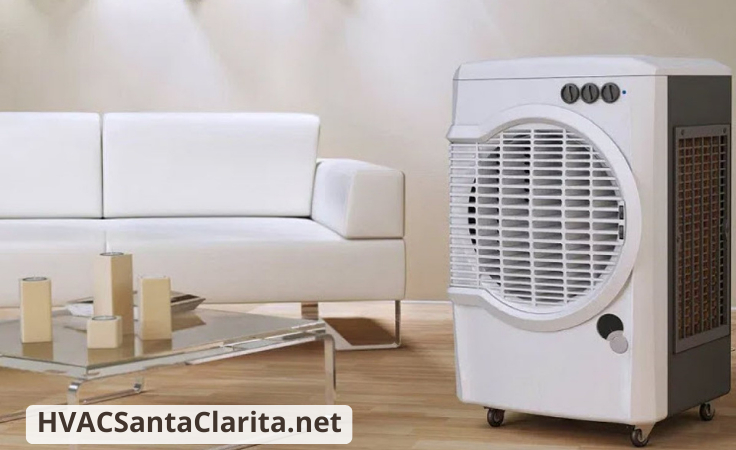 This is one crucial factor to consider while comparing these two cooling gadgets. This is because you will have to cater to the power consumption of the gadget all through its life.
Generally, an air conditioner is more expensive than an evaporative cooler. Evaporative air coolers can cut down electricity consumption by up to 80%.(1)
You may also want to check portable AC vs central AC power consumption if your heart is already settled for air conditioners.
Air Coolers vs Air Conditioners Maintenance
With an air cooler, you can need up to 10 buckets of water(2) to run the system for the day. You will need occasional filter changes, cleaning, and professional AC maintenance for an air conditioner.
Now the thing is, with an air conditioner, you do not need day to day maintenance. However, whenever you need maintenance it will cost you more money. A simple "AC maintenance near me" would direct you to a local expert.
That is your choice; would you rather spend some time daily maintaining your air cooler or pay an expert some good money to perform the maintenance?
Air Cooler vs Air Conditioner Quality of Air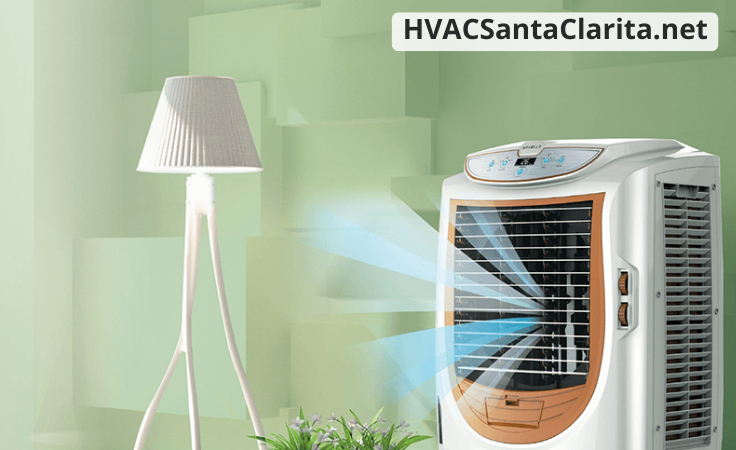 There are two sides to this. With a cooling gadget, we are not looking for just cooler air.
Traditional air conditioners have air filters that help filter out particles and debris. However, an air conditioner circulates the indoor air in the room repeatedly.
Evaporative coolers may not have air filters, but they do not circulate air around and around. They pull fresh air from the outside and cool it down. Also, evaporative air coolers do not get overly dry the air.
There are two sides to this. But generally, if you have asthmatic people in the house, an air cooler would be a great choice since they do not circulate the air repeatedly. If it is becoming difficult for people with allergies and asthma to breathe, you definitely could use some AC services.
Air Cooler vs Air Conditioner Eco-friendliness
Going green should be an important goal for all of us. Often, all homeowners care about is cooling their houses and never their effects on the environment.
When it comes to Eco-friendliness, air conditioners are not as good. Air conditioners use hydro-chlorofluorocarbons and chlorofluorocarbon as refrigerants and chemical coolants. These elements are harmful to the environment.
On the contrary, air coolers use water as their cooling agent.
Air Cooler vs Air Conditioner Easy Installation & Portability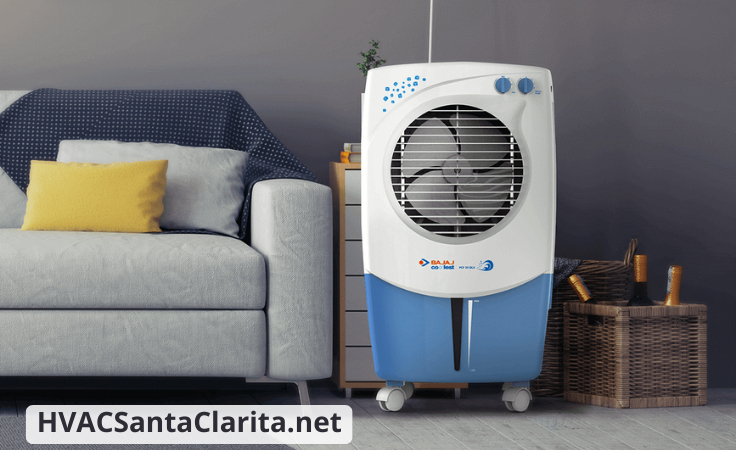 You do not require the installation of a portable air cooler. Air conditioner installation can be expensive and cumbersome.
With any air conditioner, maybe apart from a portable air conditioner, you will have to make arrangements for installation. Search for "air conditioner installer near me" to connect with your local HVAC expert.
For an air cooler, they come as an appliance that you just plug in. Some of them also come with castors that allow you to move them from room to room.
Air Cooler vs AC Moisture Effect
Where do you live? Is it a highly humid place or not? This should be an essential factor in the selection between the two.
First, you need to know that air coolers lose effectiveness in humid climates.
On the other hand, air conditioners have a dehumidifying effect. Therefore, it is a good option if you live in a highly humid climate.
Nonetheless, air conditioners can work pretty well in all environments.
Pros and Cons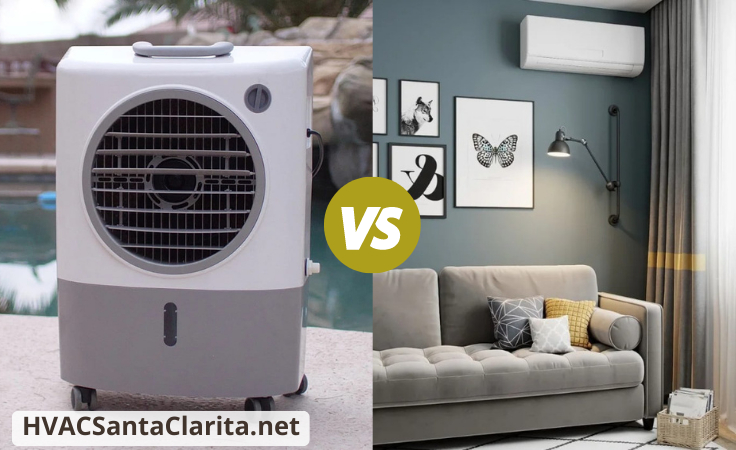 Air Cooler Pros
consume less energy which makes them cheaper to run,
lower upfront costs,
uses no chemical; therefore, environmentally friendly,
excellent for allergic people and asthma patients.
AIR CONDITIONING…
Pros
Lowers ambient temperature pretty fast
Works well in a humid environment.
Cons
Costlier to buy, install, run and maintain,
The refrigerant is not environmentally safe.
Air Cooler or Air Conditioner: Which is Best?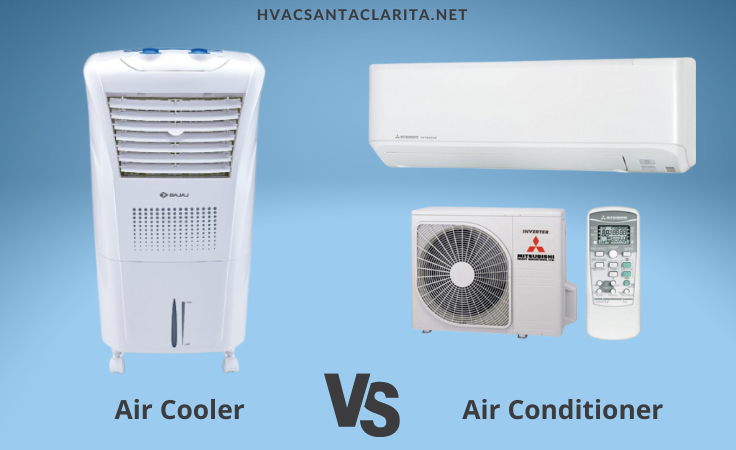 You could have known what is best for you from the pros and cons of air conditioners and air coolers. However, many people at this stage are still not so sure which is the most ideal for you.
We would tell you to listen to your preferences if it were up to us. Your lifestyle should broadly impact this decision. If you have a small house, an air cooler will work fine. However, if you have a large house or an office space, we recommend using an air conditioner.
Also, it would be ideal if you remembered that an air cooler could only cool up to a specific small extent. However, you can easily customize the unit to cool to your desires with an air conditioner.
Furthermore, you may want to look at other additional features such as quiet operation, remote control, and speed. Be sure to check usability and efficiency.
FAQs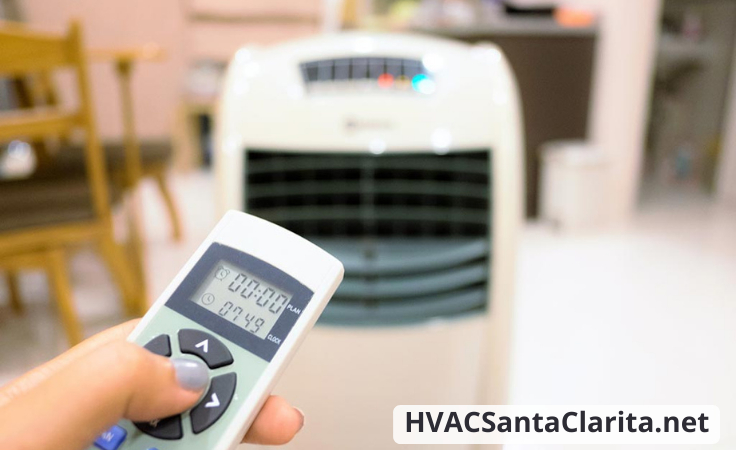 We answer some frequently asked questions on air conditioners vs. air coolers. We hope these answer any queries you might be having.
Which is better, an air cooler or an air conditioner?
This depends on your preferences, budget and climate. If you are looking for cooling more than humidification, go for an air cooler. If you are looking for a moderate extent of cooling, and moisturization, go for air coolers.
What are the main disadvantages of an air cooler?
The extent of cooling for an air cooler is not as great. You cannot customize much with an air cooler. You also have to keep a keen eye on the daily performances. Also, you have to ensure that there is enough water in the tank for it to keep running.
Also, the amount of moisture can be a disadvantage or advantage depending on where you live and your preferences. If you live in a humid environment, an air cooler adding more humidity to the air will make your indoor space clammy.
Do air coolers cool the room?
Yes, they can effectively cool a room while using very little electricity. They can lower indoor temperature by 15 degrees.
Is an air cooler like an air conditioner?
Well, they are all cooling gadgets with different cooling methods. The end goal is the same, but the cooling mechanism and effects are entirely different.
Do Air Coolers Use a Lot of Energy?
The energy consumption of air coolers is very much lower compared to other cooling gadgets. They are an excellent economical alternative to AC units, mainly because they are cheaper to buy and run.
Final Thoughts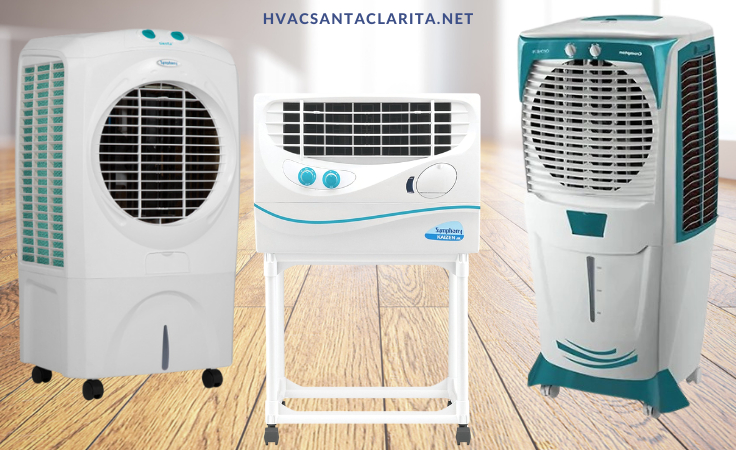 It's time to call it a wrap for this air cooler versus air conditioner debate.
Now the ball is on your court for you to choose.
Have a lower upfront budget and would also like lower electricity bills? Go for an air cooler.
Would you like to cool your house considerably during those hot summer days? An air conditioner will work well for you.
Would you like to go to reduce your carbon footprint on the planet? An air cooler is more environmentally friendly for you.
The choice is yours, depending on what a comfortable environment is to you.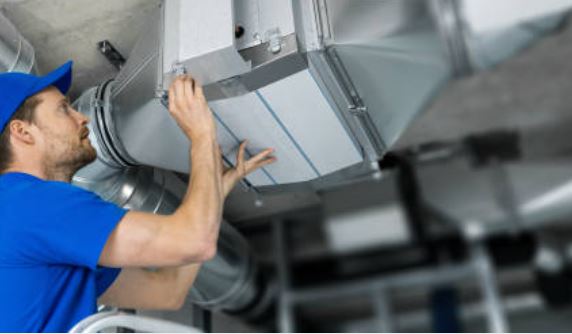 call 661-888-0248
Contact us 24/7 for HVAC services!
Sources
https://www.coolblue.nl/en/advice/differences-air-coolers-and-portable-air-conditioners.html